The talk about the Buffalo Bills moving up in the NFL draft just isn't going away. In fact, it's getting louder everyday.
ESPN's Todd McShay said he's been told by three different sources that the Bills want to move up, likely for Jadeveon Clowney, Greg Robinson or Sammy Watkins. McShay hasn't always been the most reliable guy, but their interest in moving up has been reported by other outlets, as well.
So, what would it cost to get into the top five? I'll project the top five as if the Bills owned each of the picks, guess who they would most likely be targeting at that position and what it would cost to get there.
1. Buffalo Bills select Jadeveon Clowney, DE, South Carolina
If Doug Whaley makes the move to acquire the number one pick then it'll be for Jadeveon Clowney and nobody else. Clowney stands alone as the most talented player in this draft, and pairing him with Mario Williams gives the Bills two of the most talented ends in the league. It'd be bold, but Whaley has indicated that he would be willing to make such a move.
Cost: Buffalo trades picks 9, 41, a 2015 1st and a 2015 3rd.
That's a steep cost. A cost I think is just too much for Buffalo to pay. If Houston, or anybody, demands a 2015 1st then Whaley has to say no. EJ Manuel has some promise, but if he fails this season then the team will need the ability to take another signal caller early in next year's draft.
2. Buffalo Bills select Greg Robinson, OT, Auburn
In a trade with St. Louis, the Bills would likely be targeting Greg Robinson. Robinson will be a target for St. Louis, so Whaley would have to convince the Rams to not take the player  they're targeting. This would be an interesting move, but would it really be worth it to give up so much to get a guy who will either play right tackle or force them to move their already successful left tackle to the right side?
Cost: Buffalo trades picks 9, 41, 109 and a 2015 2nd
The cost drops dramatically once the discussion shifts away from Clowney and the first overall pick. However, that's still far too much to pay for a player who will play tackle.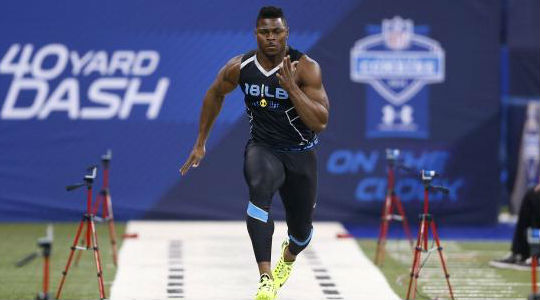 3. Buffalo Bills select Khalil Mack, OLB, Buffalo
This is another scenario where Whaley will be negotiating with a team who may want to take the player he wants to trade up for. Jacksonville may want to take Mack themselves, but they have many needs that extra draft picks may help fill. Mack would fill the outside linebacker spot opposite Kiko Alonso. Imagine Alonso-Spikes-Mack in the 4-3. The run defense would be fixed. Mack hasn't been mentioned as a target for Buffalo. Maybe that's exactly what Whaley wants.
Cost: Buffalo trades picks 9, 41 and Manny Lawson
Manny Lawson worked very well last year in the 3-4 defense, but Jim Schwartz will be running the 4-3 this season which makes him a questionable fit. He only had 3.5 sacks in his two previous years in a 4-3 system. Jacksonville runs a mix of both defenses, so Lawson can help them in their 3-4 sets. This doesn't destroy Buffalo's draft over the next two years and swaps out one questionable fit for a good fit.
4. Buffalo Bills select Sammy Watkins, WR, Clemson
I believe the most likely range for Buffalo to move up is somewhere between picks four and six. If Watkins or Mack fall beyond Jacksonville at three then Whaley should grab the phone and see what it will cost to get one of them. Watkins doesn't offer the size that the team lacks at wide receiver, but he plays much bigger than anybody currently on the roster. He's got blazing speed, great hands and can "play above the rim." Jumping Oakland and Tampa Bay would be smart if they want Watkins.
Cost: Buffalo trades picks 9, 73 and Stevie Johnson
Stevie Johnson!? He's a fan favorite, for sure, but the value of wide receivers has been low lately. Johnson would likely fetch a fourth-round pick in a best-case scenario, so he adds that type of value here to help Buffalo replace him. This would be worth it if they believe Watkins will end up being the number one receiver they haven't had in years.
5. Buffalo Bills select Jake Matthews, OT, Texas A&M
It's tough to say if Buffalo would target Evans or Matthews here, but I'll go with Matthews since Atlanta currently sits at six. This would be another scenario where Whaley moves up for a right tackle, so it'd be a questionable move. Right tackles are far more valuable in today's NFL than they used to be, though. Putting him opposite Glenn would allow EJ Manuel to get a little more comfortable in the pocket. Comfort should translate to confidence.
Cost: Buffalo trades picks 9, 73 and a conditional 2015 pick
This could be the sweet spot for any of the players mentioned if they slip. Oakland might be looking to trade down, and Buffalo wants to go up. If Matthews ends up being the target, giving up a the third-round pick could be worth it. Manuel must be healthy if this team wants to see what he has. Getting him a top receiver may be even more important, though.
Maybe it's all a smokescreen, but there's no doubt that every team talks around draft time. If Doug Whaley wants to get an elite prospect, and wants to move up to get them, he'll have to pay the price. Next Thursday will be thrilling, no doubt.