Every intricate draft scenario could shatter in 10 minutes. Planning for months is tricky on account of having to anticipate eight decisions the Buffalo Bills don't control. Dreams could evaporate in a second, which is good practice for the regular season. Specifically, some dumb four-win team could take one of the sweet players our team wants. All this scheming relies on the actions of desperate general managers whom we wish could be trusted to act incompetently.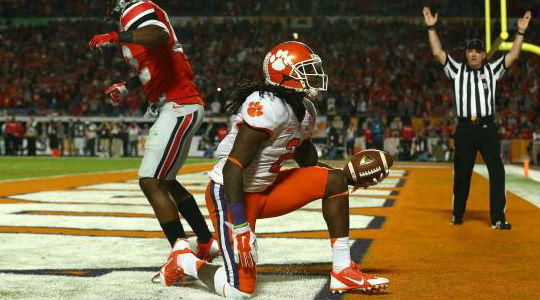 Other franchises are stubborn about releasing their plans for some reason. For one, the irrepressible Sammy Watkins visited the Bills. But will he come back? The most energizing receiver available might only return to Ralph Wilson Stadium as a visitor, and he probably won't bother reminiscing about a one-afternoon fantasy of getting a permanent locker. If fate finally decides to give Buffalo a break and make the teams in front pass on him, the front office should conclude they're definitely in the market for his particular skills.
A player who displayed shockingly electric ability as a collegian could add tremendous quality to a team with a high quantity of inventory at the position. Watkins would make it a dozen wideouts in what we'd call the Paula's Special. Of course, there's a chasm between being a Bill in April and September. But making the Clemson man teammates with C.J. Spiller would create ample opportunities for versatility.
Watch the draft prove chaos theory. Everyone else's seemingly random interests will affect all that follows. The interest that, say, Oakland has in Watkins will help determine the fate of Stevie Johnson and T.J. Graham. The latter would have to utilize his speed during training camp in order to solidify his place as a player who can turn talent into results.
Meanwhile, Johnson's future relates to the franchise's direction, as his cap savings amount to a rounding error. If he remains despite the potential infusion of rookie talent, the Joker could put smiles on faces by helping Watkins learn how to run routes imaginatively while sharing the wealth of his experience going from young wild card to jack of veterans. Oh, and Mike Williams has a chance to make everything more confusing in the best way if he can elude cornerbacks and extend the field upward with his jumping ability. He will optimistically help the Bills enter the third dimension.
Wondering which prospects will fall is the only more complicated scenario than final-week wild card projections. It'd be nice to find players who make it possible to be part of those baffling plots or even lock up a spot before them. The dynamic Watkins would offer Buffalo the welcome combination of best player available who meets a need, but only in the potentially implausible scenario that he's still waiting to take Radio City Music Hall's stage.
The end of Watkins' availability wouldn't be the end of the world. Doug Whaley could console himself in a Sammy-free situation by going for a right tackle so EJ Manuel can have adequate time to throw to the receivers already under contract. But having to get an offensive lineman in the second or third round could be a nice problem to have.
Really sucking would have made this easier. The Bills have been bad but not thoroughly awful, which means they have to console themselves with memories of winning more than one-quarter of last year's contests instead of having more draft destiny control.
Besides, tanking doesn't always work: Cleveland's fans deserve better in exchange for endemic misery. But we can't worry about the emotional fragility of other fan bases. Narrowing a million permutations down to one will systematically happen soon, and the Bills knowing what they want among who will be left is all they can prepare for now.