Nine days until the 2014 NFL Draft! We're so close that I can almost hear Roger Goodell welcoming us and putting the Houston Texans on the clock. With the draft nine days away and the Bills making their first selection at pick nine, I thought it'd also be a great time to make nine Bills related draft predictions.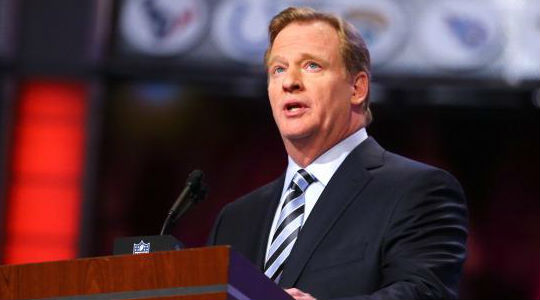 Here are 9 things I think, 9 days away from the 2014 NFL Draft.
1. The Bills are more likely to trade down than trade up
Buffalo has been linked to the top pick in the draft by Dan Pompei and Pete Prisco. Doug Whaley even gushed about the possibility of adding Jadeveon Clowney to the Bills recently. That said, it's likely a pipe dream. Making a move from nine to one would cost Buffalo too much in terms of picks.
The Bills currently sit at six picks in a deep draft. By trading back, Buffalo could swap firsts and pick up an additional pick or two. Some trade partners could include the 49ers, Cowboys and Browns.
The 49ers have been linked to Oakland's first round pick, but if that trade falls through the team could look to the Bills at pick 9. The 49ers supposedly covet Mike Evans, but if he's off the board they may want Odell Beckham Jr. with Buffalo's pick. This is pure speculation, but the 49ers have 11 picks, six of which are in the first three rounds.
A report surfaced on Monday that the Cowboys want to get Johnny Manziel. There's truly no telling where Manziel will get drafted, but if he's still on the board at 9, the Cowboys could come calling. If this happens, it'd be the second consecutive year that the Bills traded down to pick 16 in the draft.
Last, the Browns could come calling. Mike Pettine obviously knows the Bills brass well and if he wants to add a second top ten player, Buffalo may get a call. The Browns have been linked to Derek Carr at pick four recently, but imagine the team drafting Sammy Watkins or Mike Evans at four and then trading up to nine for Carr? Cleveland's offense is quickly upgraded and Buffalo could grab a late first, early second and mid-round pick.
2. If Buffalo stays put at pick nine, they'll draft an offensive player
Nothing too bold here. At pick nine, the Bills will have some intriguing offensive weapons available. These picks possibly include Jake Matthews, Taylor Lewan, Eric Ebron and Odell Beckham Jr. If Matthews is on the board, I think you see the Bills sprint to the podium to draft him. Having a strong tackle combination for the next 5-10 years is intriguing to any team in the league. Lewan is the third best offensive tackle and the drop-off after him at tackle is noticeable. Ebron would give the Bills an athletically gifted tight end and Beckham Jr. is a wildcard. Two terrific Bills writers certainly like him.
3. Buffalo will draft a running back by the end of the 4th round
The Bills brought in six running backs for pre-draft visits and also talked with Andre Williams of Boston College. Buffalo brought in the top RB prospect, Carlos Hyde, while showing interest in 2nd-3rd round backs like Jeremy Hill, Lache Seastrunk, Terrance West and Williams. Why bring in and talk to so many day two rookies if you don't plan on drafting one of them? With C.J. Spiller and Fred Jackson both potentially being free agents in 2015, it's probably a good idea to be proactive at running back.
4. If the Bills don't draft Eric Ebron in the 1st round, they won't draft a tight end at all
I'd consider this somewhat bold considering the Bills said they want to give EJ Manuel as many weapons as possible. Ebron, the top tight end of the class, will likely be available at 9. If the team stays put and goes another direction, it tells you all you need to know about how the Bills feel about the tight end position. The team did bring in Troy Niklas and Austin Seferian-Jenkins for pre-draft visits, so they're possibilities in round two, but Buffalo seems to like their tight end corps. Scott Chandler, Tony Moeaki, Chris Gragg, Lee Smith, Mike Caussin and Brandon Kaufman won't strike fear into the heart of opposing teams, but the group has potential.
5. Buffalo will draft at least one cornerback
The Bills brought in six cornerbacks and the team could use some depth at the position. Stephon Gilmore, Leodis McKelvin and Nickell Robey make a solid 1-3, but after that? Well, there's a lot of question marks. It seems Corey Graham is moving to safety so I can't count him here. Ron Brooks? He's been disappointing and his roster spot isn't safe this year. The same can be said for Mario Butler and Brandon Smith.
If the Bills trade back at some point and get additional picks, two cornerbacks aren't out of the question. One cornerback? I'd guarantee it at this point.
6. No quarterbacks will be drafted by the Bills
EJ Manuel had an up and down rookie season. There's no arguing that. His injuries cost him a good portion of his season too. That said, Buffalo won't be looking to add a signal-caller this year in the draft. Manuel showed promise at times and there's no reason to throw another quarterback into the equation right now. Buffalo's draft picks need to be used elsewhere to draft more pressing needs.
That said, I'm sure the team will bring in an undrafted free agent. Keith Price may be one intriguing option at the position. A player like Price could push Jeff Tuel for the third quarterback spot. More realistically, he'd fight Dennis Dixon for a spot on the practice squad.
7. Buffalo will target a big wide receiver late
Unless Mike Evans falls to nine, I don't see the Bills targeting a big wide receiver until late in the draft. Brandon Coleman of Rutgers and Cody Hoffman of BYU are two big wide receivers the team could target late in the draft. Coleman's right knee appears to be completely healed and I'll admit to being higher on Hoffman than most. Hoffman could be available in round seven and would be a steal at that point.
8. Mike Williams will lead the Buffalo Bills in receiving in 2014
Buffalo traded their sixth round pick for Mike Williams, so I'm counting this one as a draft prediction. Williams has had his issues off the field, but on the field he's an extremely talented wide receiver. He may stand at 6'2″, but Williams plays a lot bigger than this. He's exactly what Whaley was looking for in terms of a weapon for EJ Manuel. I'm predicting Williams achieves eclipses 1,000 yards for the first time in his career and adds close a minimum of seven touchdowns.
9. Del Reid will steal the show on Time Warner Cable Sports' Bills Draft Coverage
On Monday, Del Reid made the following announcement on this Twitter account:
I'll be the social media fan reaction guy for @TWCSportsNY's #Bills draft special. Should be fun! RT @celestealbone: wait. What? Explain!

— Del Reid (@mrdeadlier) April 29, 2014
Del is the king of social media in Buffalo, so there's no doubt that he'll do a fantastic job for Time Warner Cable Sports. Don't forget to check out Time Warner Sports' coverage of the draft while flipping between the NFL Network and ESPN. Congratulations Del!
Have some Bills related draft predictions? I'd love to hear them! Leave your predictions in the comment section!