The 2014 NFL Draft is just under two weeks away and that means it is time for me to do my own Samuelson Slant 2014 Mock Draft. I'll go through the entire first round and then complete Buffalo's picks in the rest of the draft. I'll even add some insight into my thought process for the first 10 picks of the draft, but if you have any questions or comments on any of the picks I'm happy to address them.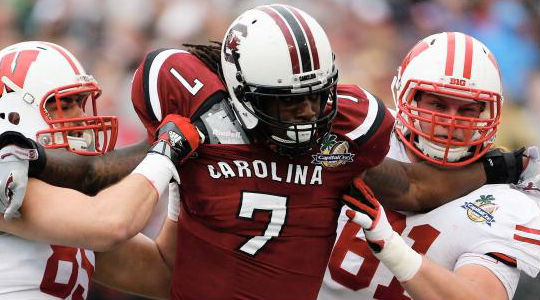 1. Houston Texans: Jadeveon Clowney, DE, South Carolina  
In my opinion, Clowney is a once-in-a-lifetime talent that Houston will ultimately decide they can't pass on, unless another team is willing to pay an outrageous price. People have raised questions about his work ethic at times, but this off-season I believe he has dispelled most of those concerns just in his preparation for the combine and his pro day.
I'm also a big believer in maturity being a factor in his work ethic. When you are as naturally gifted as he is, it isn't always easy to want to work hard. He is still young and given the right locker room structure I think he will develop the right mentality. This process will be accelerated by the fact that Houston would pair him with J.J. Watt – one of the hardest working and best character players in the NFL. This combination will instantly become the most formidable pass-rushing defensive end duo in the NFL.
2. St. Louis Rams: Khalil Mack, OLB, Buffalo  
I've seen Mack going anywhere from No. 2 to No. 9 in different mock drafts. His draft position parity has more to do with the rise and fall of this year's QB corps than anything Mack himself has or hasn't done. The Rams would like to trade out of this spot to a team that is desperate for a QB, but if they remain at two, Mack is the pick.
3. Jacksonville Jaguars: Blake Bortles, QB, UCF  
The Jaguars are one of the teams that need a QB. While they could go with any of the big three in Teddy Bridgewater, Johnny Manziel or Blake Bortles, I think they go with Bortles because of his prototypical size and great arm strength. While it's also hard to pass on a WR as talented as Sammy Watkins or Mike Evans, I think we can all agree Chad Henne is not the long-term solution at quarterback.
4. Cleveland Browns: Derek Carr, QB, Fresno State  
Personally, I think this might be too high to take Derek Carr because I worry about his over-inflated numbers and lack of elite arm strength. He could turn out to be a solid QB however and the Browns must get a QB with one of their first round picks. Carr has been linked to Cleveland and if he is "their guy," they should take him.
5. Oakland Raiders: Sammy Watkins, WR, Clemson
The Raiders were able to get a QB this off-season, trading their sixth round pick to the Houston Texans for Matt Schaub. While Schaub had his struggles last season, I think he can still be a quality starter and the Raiders can help him by adding an elite WR with terrific speed and great ball skills.
6. Atlanta Falcons: Greg Robinson, OT, Auburn  
The Falcons are one of the teams that have been rumored to want to trade up in the draft. The team supposedly covets Jadeveon Clowney, but with Clowney off the board I think they stay at No. 6 and take the best player available in Greg Robinson.
7. Tampa Bay Buccaneers: Mike Evans, WR, Texas A&M  
Mike Glennon and Josh McCown will battle for the starting quarterback job. Regardless of who wins, the team would like to add additional weapons. By adding Evans, the Buccaneers are getting a WR who can go up and get almost any ball thrown his way.
8. Minnesota Vikings: Johnny Manziel, QB, Texas A&M
Minnesota makes Johnny Football the 3rd QB taken in the 2014 NFL Draft. The human highlight reel is polarizing, but put him in a backfield with Adrian Peterson and you've got the foundation for one explosive offense. While QB might not be the biggest need for the Vikings as they have three on the roster with starting experience, none of them have had enough success to stop the team from finally getting a QB who will stop opposing teams from completely stacking the box against AP.
9. Buffalo Bills: Jake Matthews, OT, Texas A&M  
The third-consecutive Texas A&M Aggie taken in my mock draft could end up as the best one out of the bunch when it's all said and done. He will likely be able to win a spot in the starting lineup on day one and could eventually allow Cordy Glenn to slide over to right tackle. While I'd still love for the Bills to be able to get Watkins or Evans, neither will be available so they'll go best player available and get Matthews. It wouldn't surprise me if they move up in the draft, but I'm not mocking trades.
10. Detroit Lions: Justin Gilbert, CB, Oklahoma State
Detroit is one of the most pass-happy teams in the league. With Matthew Stafford and Calvin Johnson, can you blame them? The problem is when you throw as much as the Lions, other teams are going to have to pass more than usual to keep up and the Lions haven't been able to slow down the opposition. Justin Gilbert steps in as a potential lock-down corner and instantly improves their woeful pass defense.
11. Tennessee Titans: Bradley Roby, CB, Ohio State
12. New York Giants: Anthony Barr, DE/OLB, UCLA
13. St. Louis Rams: Aaron Donald, DT, Pittsburgh
14. Chicago Bears: Ha Ha Clinton-Dix, S, Alabama
15. Pittsburgh Steelers: Darqueze Dennard, CB, Michigan State
16. Dallas Cowboys: Taylor Lewan, OT, Michigan
17. Baltimore Ravens: Calvin Pryor, S, Louisville
18. New York Jets: Odell Beckham Jr., WR, LSU
19. Miami Dolphins: Zack Martin, OT/G, Notre Dame
20. Arizona Cardinals: Kony Ealy, DE/OLB, Missouri
21. Green Bay Packers: Kyle Fuller, CB, Virginia Tech
22. Philadelphia Eagles: Ryan Shazier, OLB, Ohio State
23. Kansas City Chiefs: Xavier Su'a-Filo, G, UCLA
24. Cincinnati Bengals: Dee Ford, DE, Auburn
25. San Diego Chargers: Louis Nix, NT, Notre Dame
26. Cleveland Browns: Brandin Cooks, WR, Oregon State
27. New Orleans Saints: Jason Verrett, CB, TCU
28. Carolina Panthers: Marqise Lee, WR, USC
29. New England Patriots: Ra'Shede Hageman, DE/DT, Minnesota
30. San Francisco 49ers: Kelvin Benjamin, WR, Florida State
31. Denver Broncos: C.J. Mosley, LB, Alabama
32. Seattle Seahawks: Joel Bitonio, OG, Nevada
41. Buffalo Bills: Jace Amaro, TE, Texas Tech
The Bills could use an upgrade at TE, even though Scott Chandler has been pretty good at times. Adding a great pass catching TE in Amaro will go a long way in helping EJ Manuel develop. He is big, strong and can go up and get the ball. Amaro is also fast enough to be a threat to stretch the seam.
73. Buffalo Bills: Bashaud Breeland, CB, Clemson 
Bashaud Breeland isn't a huge corner at 5'11" and his 4.62 40-time isn't blazing fast. He is however disciplined in coverage and good in run support. Breeland does enough things right to help their secondary as a potential nickel corner.
109. Buffalo Bills: Christian Jones, LB, Florida State
The Bills signed two additions to their linebacker corps, but Jones is a guy who should definitely be considered in the fourth round. I've been singing his praises since my second BillsMafia post. Jones is lean, athletic and shows good range on the field.
149. Buffalo Bills: DeAndre Coleman, DT, California 
 It never hurts to add additional depth on either the offensive or defensive line. Coleman is a big, run-stopping defensive tackle who could potentially spell some of Buffalo's other DTs.
224. Buffalo Bills: Lonnie Ballentine, FS, Memphis
Lonnie Ballentine is a guy I first brought up in my late-round sleeper picks article. He is long-limbed and has great speed. He could end up being a huge steal in the seventh round if he can learn to play the ball better.