Not sure why the creators of mock drafts feel the need to apologize for posting "yet another mock draft revision." Mock drafts are a great way to get a quick education about the upcoming draft for NFL fans that don't have time to follow both college and professional football. As a mock draft stalker, this is the time of year where I begin to hone in on the players most frequently discussed by analysts.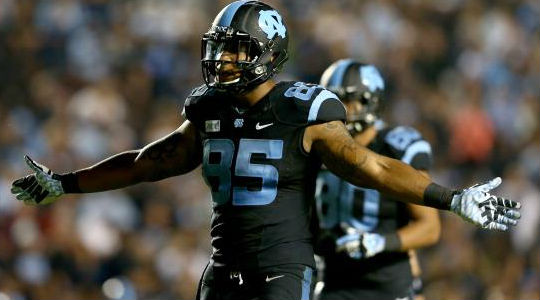 The Buffalo Bills' Mock Draft Watch is a great place to start, but reading what fan draftniks on social media share is quite detailed in its depth and insight. These mock drafts are just as well done as what the paid pundits put out. I've seen mock drafts done by fans in previous years that blew my mind with how accurate they turned out to be in retrospect.
So, for those fan experts who spend hours putting together their view of the perfect mock draft and apologize for doing so, please don't! There are many of us who count on your expertise this time of year to make sense of the upcoming draft. After stalking mock drafts for years, I came to the conclusion that the more mock drafts I read, the better my understanding is of how teams value players.
The first thing I try to do as I wade through mock drafts is identify the players most consistently picked for the Bills in the first two to three rounds at most. Although it's clearly just as important to find gems in the later rounds, teams like the Oakland Raiders consistently blow up mock drafts with outrageous picks in the early rounds. Therefore, most mock drafts are fairly useless in predicting later round picks by individual teams.
However, one can gain some real insight regarding value picks by looking at who is being projected in the later rounds. Until mock draft reading became an obsession of mine, I was clueless about what I was watching in the later rounds. Now the later rounds can become even more exciting than the more predictable early round picks!
For the less educated fan like myself, late round mock draft picks offer great insight regarding what other team philosophies are regarding the selection of the best player available (BPA) or drafting to fill a need. Reading mock drafts helps to understand the "why" about selecting a player as much as the "who" the team selects.
At times it seems like some of the reasoning that goes along with why selections are made in mock drafts that are published will give us a clue regarding the philosophy of the author more so than actual team philosophy. However, they still provide less informed fans with a guide about what to look for in the later rounds.
What do mock drafts this year tell me about what to expect for the 2014 NFL Draft? At this point, there seems to be two popular picks: offensive lineman Jake Matthews and tight end Eric Ebron. When you read 30 mock drafts and 24 of them have the Bills selecting one of the two, the name recognition factor comes into play.
Some fans seem to be more interested in having the Bills draft players with name recognition rather than identifying obscure talent with extraordinary value. However, no one can dispute that there is a good reason for Bills fans to be squeamish about Buffalo's selections, especially in the first round over the last decade and a half.
Thankfully, with Doug Whaley's guidance it looks like fans can safely unplug their noses when the first draft pick by Buffalo is announced this year. Last year the decision to move back in the first round to acquire EJ Manuel at a more appropriately valued spot resulted in the ability to also pick up Kiko Alonso. It was a stroke of brilliance not seen for more than a couple of decades of drafting by the Bills.
Reading mock drafts helps me generate a deeper appreciation about how important offensive linemen are to the success or failure of a team. It wasn't until I started reading the reasons behind why an offensive tackle was so valuable that I bothered to study their specific role and function.
For those of us who never played the game, this is a big deal! Thankfully, through the generosity and patience of some great Bills fans who played or coached offensive linemen who were willing to teach, I was able to see exactly why the big men up front command top dollar and a top ten selection.
So, for those dedicated fans out there posting mock drafts, please know that your time and effort are both greatly appreciated by Bills fans like myself. It is your dedication that allows some of us to find great pearls of wisdom regarding the art of the draft, of football, and sometimes even a metaphor or even a friend for life.