With the ninth overall selection of the 2014 NFL Draft, the Buffalo Bills are probably going to select a player that will help second year quarterback EJ Manuel improve his play. With that said, what type of player is necessary to ensure that progress is made? Would a wide receiver/tight end or a lineman best help Manuel? This conundrum got me thinking about what is the best way to help develop a young quarterback.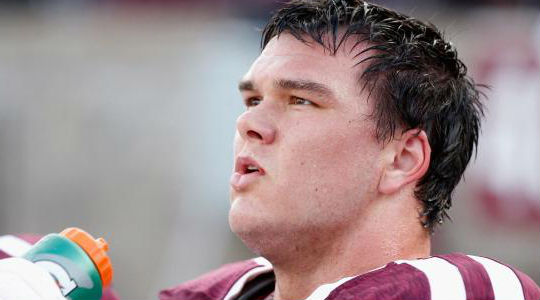 What I did was focus on four quarterbacks (two within the past three years, two within the past six) whose teams either took more receivers or linemen within the first three rounds of the draft and stacked up their statistics and win-loss record. I focused on recent quarterbacks that had enough of a sample size so that their ability could be quantified.
Andy Dalton and Matt Stafford are my quarterbacks from teams that identify receivers more often than linemen, and to counter I reviewed Blaine Gabbert and Matt Ryan as they were selected at or one year apart from their counterparts. I did go back two years prior to the Gabbert selection as Jacksonville took two tackles within the top two rounds that year.
The success of each player can be evaluated by his win-loss record and playoff appearances or from the statistical point of view. Three of the four quarterbacks have led their team to the playoffs, but none have won a championship. All four quarterbacks have questions, especially Gabbert who flamed out in Jacksonville, which varies from health to performance.
Here is the breakdown of how each team chose to build around their quarterbacks:
*Noted Stafford and Gabbert's injury shorten seasons, and Gabbert's benched season were substituted with team totals.
Overall Results:
I combined the stats of Dalton & Stafford* and compared them to Ryan & Gabbert* and the results are not clear-cut. If anything, the findings speak greatly to how well the Atlanta Falcons and Cincinnati Bengals have played in the past number of seasons. Beyond that, it also shows that Gabbert was an utter waste of a pick and that Jacksonville has drafted poorly overall.
Between Dalton and namely Stafford, they together have put up some great passing numbers. What drags these two down is Stafford's ineptitude of protecting the ball, and his organization lacking a defense that can protect a lead for more wins. The result is a less than stellar combined win percentage.
On the flip side, Dalton has performed well during the regular season and has led his team to the playoffs three straight years. The issue that Dalton has faced is performing poorly in the first round each year. This has led some to question his ability as a franchise quarterback. Matt Ryan faced these same questions after his first three years in the playoffs.
The long and short of this comparison is that drafting linemen over receivers gives young quarterbacks a smidge more of an advantage in becoming a good NFL player. Part of making this hypothesis true is that a good line not only plays into the passing game by protecting the quarterback, but also helps the run game which can be the greatest counterweight to a young quarterback's nerves.
When you look closer though at the two quarterbacks that graded the best, Dalton and Ryan, their teams employed an overall balanced approach when drafting talent in the higher rounds. It also helped that Dalton came in with a solid line in place and his top target, A.J. Green, was picked a round ahead of him.
For Ryan, he already had Roddy White on the roster and Julio Jones was added later. If anything was concerning, it's that Atlanta's line crumbled last year despite consistent attention from the organization in the draft. This sends a message that throwing picks at a position isn't always the answer, as Atlanta is again looking at linemen in many mock drafts.
After taking two wide receivers a year ago in the draft, it seems perfectly reasonable for the Bills to go the other way and take an offensive lineman to help build depth along the line of scrimmage. Balance and depth are the reasons why teams win and why quarterbacks thrive.
Manuel needs playmakers, but unless a top two pass catcher is available it is best for the Bills as a whole to grab a mauler. Someone like Jake Matthews or Taylor Lewan can help keep Manuel upright, as well as get the run game humming along.