Jealousy doesn't win football games, but having players who inspire it is a good start. The ruthless nature of the game is embodied by the gleeful knowledge that others have different needs as the draft approaches. Teams who had even worse 2013 seasons ideally seek what the Bills don't want. It may happen, even if not out of kindness. The desperation to plug particular holes opens opportunities for Buffalo to add the sort of players who will re-puncture enemy hulls.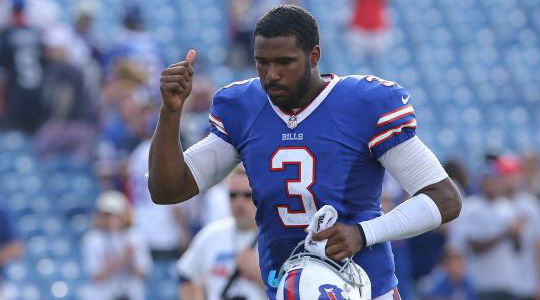 The Bills should be grateful so many competitors want the same thing they got last year. Poor clubs with no present good passers will hopefully add their projected Super Bowl MVPs next month. It's fair to conclude that five of the first eight drafters are in need of a quarterback, which could be good news for the franchise at ninth overall if it happens to want players at any of the 21 other positions. The Mafia has an ulterior motive to be high on Teddy Bridgewater.
As is often the case, the teams who struggled most during the previous season need to improve at the most important position. Houston, Jacksonville, and Cleveland most desperately require a first-rate option for the second offensive player to touch the ball. By happy coincidence, those aspirational teams have their choice of three signal-callers who could go in the top four picks, even factoring the Rashomon-level differences in perception of Johnny Manziel. The potential to crush fans through drafting a prospect who ends up fulfilling the worst-case scenario hasn't stopped the Browns before.
Your interests don't have to match everyone else's. There's no reason to join the throngs standing in line for the Captain America sequel when you want to see the latest Wes Anderson offering in the theater without stadium seating. Being confident in one's quirky interests allows for personal development. You don't have to want something just because everyone else seems to do so. It's nothing against Blake Bortles, but one of the earlier-drafting teams can have him if they want.
Buffalo's top draft needs were clear two seasons ago, if winter and fall count. The squad could still add a linebacker and wideout despite the additions they've made between last season's finale and the draft. And they're only one offensive tackle away from having a complete starting set. Management could also fortify the tight end platoon once the draft is out of prime time if they respectfully disagree with Chris Gragg. As with everyone else, they dream of acquiring players at positions where nobody else is interested.
Take a team like the Raiders, who may curiously but expectedly take Sammy Watkins instead of someone who can throw it to him. Or, they could roguishly nab Khalil Mack if he somehow slips through in fashion reminiscent of the evasive linebacker's performance. But Oakland can only remove at most one item from Buffalo's wish list. Best of all, that number could still be zero if they break with convention and sensibly add a much needed quarterback.
As for the most hyped non-passer, Jadeveon Clowney is an NES Max controller in a neighborhood where nobody else has turbo buttons. The thought of bringing the freakish attacker to Western New York is moot, as he'll undoubtedly be wearing another club's New Era cap by then. Thankfully, he plays at a position the Bills don't need to address, and not just because of questions about him maintaining intensity. The best news about the erstwhile Gamecock from Buffalo's perspective is that his inevitable early selection means another player at a spot they want will fall.
Being ahead of the curve on young quarterbacks means getting to pick near the top of the leftovers. With the deep pool of wideouts, blockers, and linebackers available, that's some consolation prize. As a bonus, the number of teams ahead of the Bills in the market for a quarterback means no reason to be haunted by having enough dignity to not tank.