In 2013, the Buffalo Bills ranked second in the league in rushing with 2,307 yards and first in rushing attempts with 546 attempts. The Bills did this mostly behind Fred Jackson and C.J. Spiller, although both were banged up at various points during the season.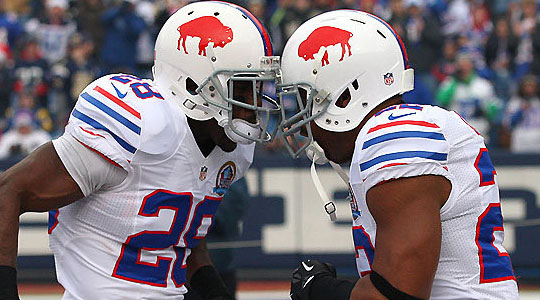 While each back did fairly well in 2013, the team is still looking hard at running backs in the 2014 NFL Draft and one in free agency. Why?
2014 May Be the End for Jackson and Spiller in Buffalo
Fred Jackson is undoubtedly the face of the Buffalo Bills. He's been with the team since 2006 and has won fans over with his toughness and heart. Jackson is still extremely productive, but he's not getting any younger. In the NFL, running backs generally slow down at the age of 30. Jackson, 33, has proven that this isn't true for all running backs, but it's going to happen to him at some point.
Jackson is also entering the last year of his contract. This isn't to say that the Bills won't re-sign him during or after the 2014 season, but from this point on the team should be signing Jackson to one-year deals only. I'd hate to see Jackson play anywhere other than Buffalo, but it's a business.
C.J. Spiller is young, dynamic and a threat to break a big run anytime he touches the ball. He's also a threat to break the bank if he hits the free agent market. Spiller played most of the 2013 season with a high ankle sprain, so his explosiveness was limited last year. This season, Spiller has millions of reasons to play well. While his contract is technically through 2015, Spiller can opt out of his contract after this season.
Running backs weren't shown much love in free agency this year, but none are as talented as Spiller. He may be tempted to test the market if he has a big year in 2014.
Knowing that the 2014 season could potentially be Jackson and Spiller's last in Buffalo blue, the Bills' interest in running backs suddenly makes a lot more sense.
Free Agent and Rookie Options
One free agent currently generating interest from the Bills is Chris Johnson. After Johnson was released by the Titans, the Bills were one of four rumored teams to be interested in trading for CJ2K, but Tim Graham of the Buffalo News tweeted that this wasn't entirely true.
Now that Johnson is a free agent, interest from Buffalo seems legitimate. Erika Esola of Florida Today mentioned in a tweet that if Johnson leaves the Jets facility without a contract, he had the Giants and Bills on deck. It's safe to assume that this means a visit. Realistically, the Jets and Giants can probably outbid the Bills for Johnson's services and both can also promise more playing time. The odds of signing Johnson are slim, but he's an intriguing option to say the least.
On the rookie front, the Bills have brought in a few running backs for pre-draft visits. These visitors include Lache Seastrunk of Baylor, Carlos Hyde of Ohio State, Jeremy Hill of LSU and Terrance Cobb of the University of the Cumberlands. Buffalo also met with Andre Williams of Boston College. Most of the running backs listed are thought of as second to fourth round picks. Don't be surprised if the Bills take a running back on day two or three of the 2014 NFL draft. In fact, I'd expect it.
Buffalo's interest in running backs may be confusing to some, but it makes perfect sense. The Bills know that both of their running backs could be playing elsewhere next season. In this case, it's better for the Bills to be proactive now, rather than reactive in 2015.