I've spent a lot of time talking about what I expect the Buffalo Bills to do in the 2014 NFL Draft. I've gone over a list of players I want to see drafted, I've discussed if they should take a WR or OT with the No. 9 pick in the draft and I've even weighed the pros and cons of both trading up in the draft and trading down.
With all the different posts, one thing I've yet to discuss is late-round sleeper picks or steals of this draft class. To clarify my definition of late-round sleeper picks, it is a player who is drafted in the fifth round or later, is possibly from a small school and overlooked, or has had off-field issues causing his stock to suffer. He also must have the potential to become a starter in two to three seasons. I set the bar at starter after two to three seasons because it is realistic. It gives the guy some time to build on potential, get strong enough to compete at the NFL level, or mature – Essentially whatever he specifically needs to improve upon that was holding him back from being a higher pick.
I only looked at Buffalo's positions of need, specifically OG, DE, WR, TE and S because they offer tremendous depth this year. I took into consideration where the Bills pick each round and some projected early-round picks that have been mocked for them so far.
Starting with offensive guard, I like Brandon Thomas, Spencer Long and Billy Turner. Each of these players have a good combination of size, strength, skill and potential. Don't be surprised if someone targets Long in an earlier round.
Jumping to the other side of the line, there are three defensive ends I see as potential steals. They are Larry Webster, Ethan Westbrooks and Brent Urban. Out of this group, I think Webster is the closest to being ready. If he can bulk up a little, I can see him as a dependable NFL starter. Urban is also very intriguing at 6'7'' and still athletic enough to beat defenders with speed rushes.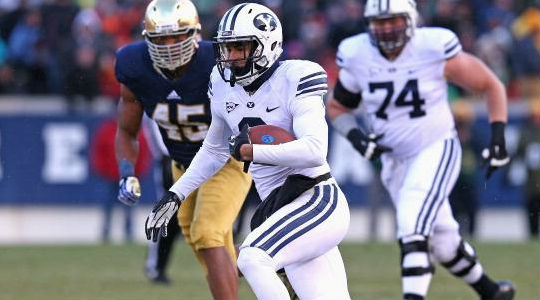 Next I have targeted two wide receivers. Cody Hoffman and L'Damian Washington. Both should all be on the Bills' radar in the third day of the draft. Both wide receivers are 6'4″ and each need to add to their frame. Hoffman is 223 pounds, but needs to add muscle to his frame. Washington is even smaller at 194 pounds. Hoffman is by far the more polished option.
Three tight ends that could potentially make life easier for sophomore QB EJ Manuel are Blake Annen, A.C. Leonard and Colt Lyerla. Annen is a guy I absolutely love. He is still raw and a bit undersized for a TE at 6'4'' 247 pounds, but he shows constant effort when blocking and is extremely fast. He ran a 4.41 40-yard dash. Leonard is very talented, but undersized at 6'2″. Last, Lyerla is a first-round talent on the field, but his off-the-field issues will likely make him a late round draft pick.
Finally, a selection of safeties who could be matching up with the tight ends I just mentioned. At the safety position, my late-round steals are Deone Bucannon, Lonnie Ballentine and Jonathan Dowling. These three safeties all have great size for the position and enough speed to help in coverage. Ballentine is not an elite play-maker, but could become a solid backup or second-tier starter.
I don't know if any of these players I've mentioned will make draft history like Tom Brady or Shannon Sharpe, but there is always the chance. Keep an eye on these players in rounds five through seven of the draft.