Following the Mike Williams trade, two positions have been consistent choices for the Bills in mock drafts: offensive tackle and tight end. At offensive tackle, Jake Matthews and Taylor Lewan are the choices and at tight end? Eric Ebron. Why Ebron? I took to Twitter to find out and asked Bills fans why the team should draft the North Carolina tight end. Here are a few responses.
@RyanTalbotBills He'd be a big-time weapon at a position the Bills have never seemed to value.

— T.J. Luckman (@TJLuckman550) April 13, 2014
@RyanTalbotBills Would add another dynamic weapon for EJ, and it's much more interesting than an OT.

— Brian S. (@bshades07) April 13, 2014
@RyanTalbotBills he is unlike any other TE in the draft and would provide a valuable target for EJ Manuel.

— #BillsMafia (@JHS2813) April 13, 2014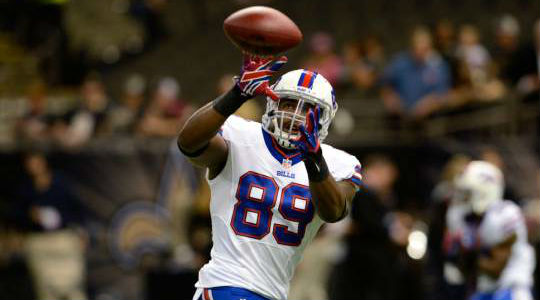 The key words from these tweets? Weapon and target. Believe it or not, Buffalo already have an offensive weapon on its roster at tight end and his name is Chris Gragg. For fun, here are some combine results of this year's top tight ends and Gragg.
 Four of the five players are thought of as first or two round picks. The other was a 7th round steal out of Arkansas. The best results from each event are in bold. Guess who outperformed the field in three of four events? Player C a.k.a. Chris Gragg.
Player A is Eric Ebron, Player B is Jace Amaro, Player D is Troy Niklas and Player E is Austin Seferian-Jenkins. Ebron is the only name linked to the Bills at nine, but most of the others are thought of as second round targets if Buffalo passes on the tight end.
A look at collegiate career stats will show that Ebron, Amaro and Austin Seferian-Jenkins all posted better tight end numbers, but emphasis on tight end at Arkansas was a lot different than North Carolina, Texas Tech and Washington.
Simply put, Chris Gragg is just as athletic as any of the "big name" tight ends in this class, and his hands are arguably the best of the group. Gragg started his collegiate career as a wide receiver and one of his strengths entering the draft was his "wide-receiver hands."
A lot of people overlook Gragg due to him being a 7th round draft pick. However, his talent level was never that of a seventh rounder. The only reason Gragg was a late round pick was due to injuries. In 2013, Gragg showed the ability to stay healthy with the Bills.
This off-season, Gragg has been working hard and feels he'll have the opportunity to contribute in 2014. In an exclusive interview with BillsMafia.com, Gragg and I talked about a variety of topics.
When it comes to mock drafts, Gragg doesn't see the need to add another tight end due to the current roster holding five talented players.
"Like you said, there's already five tight ends on the roster. That's what surprises me with the mock drafts. They're saying we need a tight end in the first round and that just surprises me… I'm still trying to learn how the NFL works. It's five tight ends. My coach told me last year that there's only five tight ends on the team when the team goes to camp. That's how most teams work. There's five guys and they usually keep three, maybe four on the roster for the season."
At the end of the 2013 season, the coaching staff was pleased with Gragg's play and he's worked hard this off-season to get his body ready for 2014.
"This off-season I've just been working on getting my body more stable. At the end of the year, the coaches told me they really didn't want me to gain any weight. They thought I was fine. They were really glad and proud of what I was doing at the blocking aspect and as you know they already know I can run down the field and stretch the field and make plays. So without hearing from them in the off-season, they want to see me make plays and I'm getting ready to go up there and do that."
Gragg hasn't just been working on his own this off-season. He recently traveled to California to workout with EJ Manuel and some of his other teammates.
"Me and EJ spent about 3-4 days out in California on Spring Break actually, the last weekend in March. We got out there and did routes together. Me, him, CJ (Spiller), and Tony Moeaki went out and ran routes and worked out. Me and EJ are real good friends and got real close ever since we were drafted here."
Rookies generally note that the speed of the game is so much different in the NFL. Gragg saw limited time in 2013, but he noted that the speed of the game didn't affect him.
"It really wasn't that much of a change for me. As you know, I played college football in the SEC and they say that's the minor leagues compared to the NFL. Maybe the interior was a little faster, but out there at the skill positions it was the same."
In his rookie campaign, the one thing Gragg did have to do was get used to the playbook.
"It wasn't a big transition, it was just something new. Learning the terminology that Coach Hackett and Coach Marrone used for the offense.  To be at your best, you have to know what you're doing."
Gragg now knows the ins-and-outs of the playbook and feels he's ready for his second year in the league.
"I know what I'm doing now. I know the playbook, that's the main thing. I know the playbook so I can go out there and play fast. I'm really comfortable with the coaches. I think we have a great group of guys. Scott Chandler, Lee Smith and Tony… We have some great chemistry and last year we pushed each other and I think we got each other a lot better."
Gragg was very confident, not only in himself, but also with the rest of the tight end corps. If Buffalo passes on adding a tight end in the 2014 NFL Draft, you know that the team is just as confident in the group. There's no doubt in my mind that Gragg can create the same mismatches as the top tight ends in the 2014 NFL Draft class.
Chris Gragg doesn't think the Bills need to draft a tight end in this year's draft, and I tend to agree. There's plenty of talent at the position and the Bills can address other needs in the 2014 NFL Draft.
I'd like to thank Chris for taking the time to talk with me. If you're not already following him on Twitter, give him a follow @Gragg80.