This off-season it seems fashionable to criticize EJ Manuel and question whether or not he has the ability to develop into the franchise quarterback the Buffalo Bills hoped he would become, preferably sooner than later. Charlie Casserly and the talking heads at the NFL Network recently 'analyzed' how many quarterbacks in this draft would be picked before EJ Manuel, if he were in this year's draft class.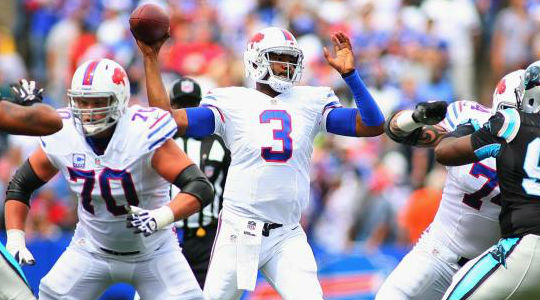 Even Evan Silva of Rotoworld had his chance to take a swipe at Manuel's "questionable" rookie season on the John Murphy Show this week. Silva compared EJ's situation to that of Blaine Gabbert's, who he claims would likely be a free agent if San Francisco had not reached out to take a flyer on him. Blaine Gabbert?
In some ways, there is considerable pressure on EJ Manuel to perform consistently at a high level and get the Buffalo Bills to the playoffs for the first time in nearly a decade and a half. The failures of Rob Johnson, JP Losman, Trent Edwards and company set the Bills franchise back and led to more than a decade of despair for Bills fans.
One must question the veracity of putting this kind of enormous pressure to succeed on a head coach and quarterback that had nothing to do with causing the near meltdown of Bills Nation for what seems like an eternity. Whether they succeed or fail, it is doubtful that they are putting less pressure on themselves to deliver the goods this season.
While analysts and fans want to examine the 'tape' and break it down to the point of absurdity at times, I prefer to look at the psyche of the player and try to identify areas where they may be letting their mental variables affect their performance. This can be in either a positive or negatively perceived way, but either outcome is valuable in assessing how a player's psyche is affecting his ability to perform consistently at a high level.
After watching EJ Manuel move through his somewhat frustrating rookie year, I have noted a bit of the "people pleaser" trait that he appears to exhibit. Several times during last season, it appeared as if Manuel did not see open receivers on the field. He would either throw to his check down, or occasionally take off with the ball. After the second knee injury, I began to hold my breath when he would run.
You could see the frustration Manuel exhibited at times with himself when he would make a bad decision on the field. It was obvious that he really wanted to show the team that he was ready to lead them to the promised land of the playoffs. This intense desire fueled him through a very volatile rookie season.
Manuel appeared to exhibit performance anxiety at times, but in a different way than his counterpart Geno Smith. Geno had the habit of letting his anxiety block his ability to keep the ball out of the other team's hands when he would get rattled. EJ Manuel's vision seemed to narrow when he got nervous.
These are not quite the same traits in terms of how to deal each type of performance anxiety. In Manuel's situation, if you watch how he surveyed the field and his foot mechanics, it was clear that they were not in sync at times. When Geno was pressured, he would become careless with the football and either fling it into the opponent's hands, or fumble the ball.
When Manuel made a bonehead move, he would seek out his coaches to try to find out what he did wrong from their perspective. Often times, when I would watch Geno Smith make a bad play, he would appear to sulk on his own until someone would seek him out to work with his issues.
Obviously neither reaction produced a positive, and both quarterbacks need to understand those tendencies before they launch into their sophomore seasons. So, what does Manuel need to do to improve his vision, his footwork, and ability to avoid injury?
As far as the mental aspects of his game that need correction, Manuel needs to allow the game to come to him. Fans forget the fact that Manuel may not have even seen the field until at least the second half of last season if Kevin Kolb had been healthy. He was thrown into a tough situation trying to find his game with an offensive line that was sub-par at best.
Manuel will benefit immensely if the Bills draft a right tackle early in the draft, as will CJ Spiller and Fred Jackson. Putting the finishing touches on upgrading the offensive line remains the last box to be checked off by Doug Whaley.
Hopefully Doug Marrone's previous experience as an offensive lineman in the NFL will also help bring out the best in this group. They need to be able to give Manuel enough time to go through his progressions without panicking.
Recognizing that Manuel is a people pleaser is the first step in getting his mental house in order. Hopefully whoever he is working with during the off season will help him begin to let his body relax enough to the point where he can get all his footwork in sync and truly see the entire field of play. With people pleasers, it's more important to teach them to react to internal cues than external ones.
In other words, the people pleaser is busy looking at external factors around him/her to validate their performance instead of developing a set of internal cues that will foster self-awareness. This is important to identify because when an individual is looking outside of themselves for these cues, that split second that they are paying attention to what is going on outside of themselves can make all the difference in the world in terms of coordination.
The ability to shut out the entire outside world and develop an internal clock that synchronizes a coordinated series of behaviors is complex. For those like Manuel who appear to be "externally oriented" in terms of how they process mental data, it is critical that they understand these tendencies.
One of the most effective tools in helping individuals achieve this understanding is through the practice of meditation. Meditation is much more than just being "quiet" within one's self, and it is not a passive process. It is an active process that requires a great deal of mental discipline.
If EJ Manuel wants to dismiss his critics, he should be focusing on the mental aspects of his development as much as getting his timing down with wide receivers. It's absolutely critical that he be able to relax on the field and allow his natural physical talent to emerge.
It's terrific that he is taking the time during the off-season to work on his timing and relationship with his teammates. However, he should also dedicate as much time as he can to developing strong mental skills to increase his productivity and silence his critics.