Finding a trade partner in the NFL draft is not as easy as many assume. In the 2013 NFL Draft, the perfect storm occurred for the Bills. Teams ahead of Buffalo addressed their offensive lines and defensive front sevens. No playmakers were selected and this made the eighth overall pick attractive.
The Rams, desperate to add a play-making receiver, traded picks 16, 46, 78 and 222 for picks 8 and 71. The Rams got their big play receiver in Tavon Austin and later a safety in T.J. McDonald. By pulling off the trade, Buffalo was able to add quarterback EJ Manuel, linebacker Kiko Alonso, wide receiver Marquise Goodwin and athletic tight end Chris Gragg. The Bills had many holes entering the 2013 NFL Draft and the trade certainly helped fill those holes. Both teams benefited from the trade and got what they wanted.
If Buffalo trades back in 2014, another perfect storm of sorts will need to occur as this year's class is deeper than the 2013 class. However, it's still possible that a team wants "their guy" at coveted positions like quarterback, offensive tackle or wide receiver.
If the Bills find a trade partner, here are five first round trade-down targets the team could be interested in.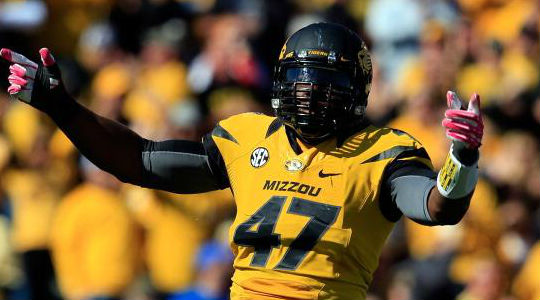 Kony Ealy, DE
The best defensive end in the draft class not named Jadeveon Clowney? Kony Ealy. Buffalo has a big need at defensive end, yet this position is hardly talked about by draft analysts. The team's only true defensive end is Mario Williams. Jerry Hughes is currently slotted to play end for the Bills and while he had an impressive 2013 season, I'm not sure how Hughes will fit in Jim Schwartz's defense. By adding Ealy, the Bills would have one of the strongest defensive lines on paper. Ealy is an extremely athletic player and when the Bills line up in a 3-4 formation, he could play outside linebacker. Versatility is valued in Buffalo and if the team traded back to the late teens, Ealy would be an intriguing option.
Eric Ebron, TE
Many Bills fans have Eric Ebron has their top target at 9, but there's a good chance that he's available if the Bills only trade down a few spots. Ebron is the most athletically gifted tight end in the class and would provide EJ Manuel with another strong weapon. Ebron's hands were a bit suspect at his pro day and it's one of the biggest knocks on him, but every college prospect have some flaws. Ebron would be a nightmare for opposing defenses to cover and give the offense another playmaker.
Ha Ha Clinton-Dix, S
I've made it clear that I'm 100 percent against the Bills letting an All-Pro walk and then replacing him in the first round of the NFL draft. Clinton-Dix isn't going to come in at day one and play at Byrd's level, but he could develop into a better safety than Byrd. Drafting Clinton-Dix would allow the Bills to keep Corey Graham at corner back and it'd also strengthen the overall depth in the team's secondary. Having Da'Norris Searcy, Duke Williams and Johnathan Meeks as rotational safety depth helps over 16 weeks. Look no further than 2013, where Buffalo's secondary was riddled with injuries. Clinton-Dix would be a strong pick for the Bills in the mid-to-late teens.
C.J. Mosley, ILB
Inside linebacker just isn't a valued position in the NFL draft anymore, but C.J. Mosley is a special talent. Mosley is a sure-tackler with excellent instincts. There are some injury concerns with Mosley, as there seems to be with most Alabama players, but he is one of the most complete linebackers in this class. Buffalo currently has Brandon Spikes at inside linebacker, but a one-year contract does not help in the future. Mosley and Kiko Alonso could be a formidable linebacker duo for the Bills for many years. I'd be comfortable with the Bills drafting Mosley in the teens.
Zach Martin, OT/OG
Offensive line is an issue for the Bills, especially at right tackle and guard. Zach Martin is thought of as the 4th best offensive tackle in this draft. The Notre Dame product is intriguing as I followed his career closely at Notre Dame. I've questioned whether or not Martin can play tackle in the NFL, but many NFL draft analysts think he can succeed. If that's the case, he's an intriguing option for the Bills. Buffalo can start Martin out at right tackle and see how he performs. If he's not successful at tackle, Buffalo can kick him inside at guard where I have no doubts about him. Martin is an option is Buffalo trades down to the twenties.