It's time for a Mafia Mailbag. I took to Twitter to gather some fan questions about the Bills that I can answer. I don't have much more insight than many of those asking the questions, but I can provide my own opinion and maybe a thing or two you didn't know!
@DylanStebbins @TheBillsMafia what are the chances of Buffalo playing on Thanksgiving?

— Ben Young (@byoung73100) April 8, 2014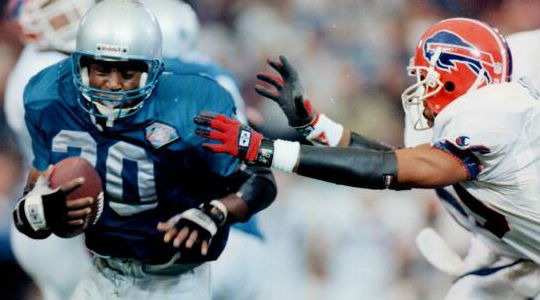 Well, right off the bat I can tell you that the odds started at 50%. The usual rotation of Thanksgiving games means that the Detroit game will be airing on CBS. CBS only airs AFC away games and this year they're playing the AFC East. Detroit only has two home games against AFC East teams this season — Buffalo and Miami.
However, I'd place the odds somewhere around 75% when you factor in more than just a simple toss up.
The first big reason is the passing of Ralph Wilson Jr. He made his name in the Detroit area and stayed there until his recent death. Also worth noting: Wilson was once a minority owner of the Detroit Lions.
The next one is that Buffalo hasn't played on Thanksgiving since 1994. Miami has played on that Thursday four times since '94 (most recently in 2011).
Last, the Jim Schwartz storyline is also one that will be appealing. Detroit's former head coach returns and gets a shot to defeat the franchise in which he helped rebuild.
Overall, I'd say the odds are very good. Oh, and the team may have leaked the good news already.
@DylanStebbins @TheBillsMafia would it be smart for the @buffalobills to trade up in the draft? And if so who would they be eyeing?

— Norm Duhamel (@NormDuhamel) April 7, 2014
There was a report recently that Buffalo talked to Houston about potentially trading up for the first pick, but I wouldn't get too excited. Somebody I talked to said that the team has called whoever holds the first pick in almost every year they've been covering the team, but the conversation is always short. Teams want to know what it would take. The price will definitely be high, but I wouldn't be shocked or disappointed if the team moved up. They could easily sit where they are and get a very talented player, but the aggressive front office might be thinking bigger. If the Bills do not trade with Houston, there are other options like St. Louis at two, Jacksonville at three and Oakland at five. If they are able to crack the top five then the targets could be Jadeveon Clowney (only if they get pick number two), Khalil Mack or Greg Robinson. There's an outside chance that they would target Sammy Watkins too.
@DylanStebbins @TheBillsMafia do the #bills even need a 1st round pick or should they just trade back this year?

— brian nicastro (@zombiefan39) April 7, 2014
I figured this would be a good one to answer after that last one.
Technically, you could say that no teams "need" a first rounder. Teams need players though. So if Buffalo gets a phone call about trading their first rounder for a package of picks, they should obviously consider it. However, there aren't many players in the league anymore that are worth a top-ten pick. So not having a first rounder is highly unlikely.
Trading back is a different story. Buffalo did it last year and landed EJ Manuel at 16 after St. Louis hopped up to eight. Picking up extra picks in the first three rounds would be a wise decision for a team with quite a few holes. If pick nine comes around and nobody near the top of their board has fallen they will consider any phone calls.
Chances are they could trade down a few spots and still land an elite offensive tackle if that's what they want. Buffalo could trade down a few spots and still pick up the talented tight end Eric Ebron as well. There's a decent chance that Ebron is available in the teens considering only two tight ends have been drafted in the top ten since 1996.
I'll rapid fire these next few questions since they all fall into a similar area…
@RyanTalbotBills @TheBillsMafia @DylanStebbins #MafiaMailBag with the pick up of Mike Williams, is WR out of the question at 9?

— mr CEO (@DanFoleyNY) April 9, 2014
I do believe they'll consider the acquisition of Williams on draft day, but I wouldn't say it rules out anything. If Sammy Watkins were to fall to them at nine then I think they'd strongly consider pulling the trigger. Mike Evans will still be considered as well. If other guys they like are off the board, but Evans or Watkins are there then they'll consider it.
@RyanTalbotBills @TheBillsMafia @DylanStebbins The Bills have set themselves up nicely @9 who would b more effective Matthews,Evans or Ebron

— mr CEO (@DanFoleyNY) April 9, 2014
I believe that Jake Matthews is the best prospect of the three, but effective might be slightly different. Eric Ebron has athletic abilities that Buffalo hasn't had at tight end for a very long time. His speed and size would allow EJ Manuel to get the ball out quickly if the offensive line struggles again this season. So Ebron might be the most effective, but Matthews is the best prospect of the group.
@RyanTalbotBills @TheBillsMafia @DylanStebbins If the Bills do pick up Evans or Ebron who is the odd-man-out at TE/WR

— mr CEO (@DanFoleyNY) April 9, 2014
I think most fans would agree that T.J. Graham has earned a spot in the doghouse. Big drops and just overall bad play would likely leave him as the odd man out among relevant receivers currently on the roster. However, the team could also look to move Stevie Johnson sooner rather than later if Graham has an impressive camp, but only if a trade market were to develop. At tight end it would be interesting. Scott Chandler, Tony Moeaki, Lee Smith, Chris Gragg and Mike Caussin are already there, but none of them are true threats in any facet of the game. Chandler just got a two-year deal, so he's in a spot like Stevie where a trade would have to surface. Lee Smith is seen at a blocking tight end, which Eric Ebron isn't great at, so he'd likely stick around. Moeaki was added late last season, so the team doesn't have ties to him and injuries have been an issue there. He may have a tough time making the team. Gragg is still a wild card due to his athletic ability and Mike Caussin has long odds in regards to making the team.
@DylanStebbins @TheBillsMafia what is the true story on Bills interest in Chris Johnson…I'm hearing still there…

— ron grey (@NighthawkRon) April 8, 2014
I don't have any inside scoop here, but I'm inclined to believe that the interest was very limited. Pro Football Talk said that at least one of the four reported teams that were "interested" in Chris Johnson prior to his release weren't actually interested, at all. Then it came out that the Bills were that team. Tennessee, allegedly, called Buffalo to see if they were interested. Buffalo called back later to say they weren't. This scenario makes sense because Tennessee had to see if they could get anything for Johnson, and Buffalo would obviously listen. That doesn't change the fact that Buffalo has C.J. Spiller and Fred Jackson on the team. Spiller will be due for a good raise soon, but the team will have plenty of cap space. Johnson isn't cheap himself, so bringing him in would make little to no sense.
@RyanTalbotBills @TheBillsMafia @DylanStebbins who do you think is more likely to sign first #cjspiller or #marcelldareus

— nicholas lyons (@hoopd1990) April 9, 2014
This question is pretty tough since the team will likely want to get them both done sooner rather than later. However, I think Spiller should be the priority. This off-season will play well for Buffalo when it decides to talk to Spiller's agent about a new deal. Running backs struggled mightily on the market, and the devaluing of the running back spot has been going on for years. Spiller would have been the best back in this class, and the youngest impact one, but he's still likely going to get less than he wants. With all that considered though, it could make for quick negotiations if Buffalo gives Spiller a big offer and tells his agent that the offer will expire prior to free agency. Spiller might be inclined to agree because the free agent market hasn't been kind. Dareus' contract situation might wait until the off-season. This is mainly because his best year came in the only year the team played the 3-4 consistently. They'll be playing in many formations, but are likely to play a lot out of a 4-3 defense which could mean more struggles for Dareus. If that happens then his big pay day may have to come elsewhere.
@DylanStebbins how does our current defense compare to the one we had in the 2004 system? #BillsMafia

— Nick Masiello (@NickMass26) April 7, 2014
I should start this off by saying that I wasn't really breaking down defenses much back in 2004 as I was only 12 years old, but I'll give it a shot. Jim Schwartz plays out of different formations, but the 4-3 is the defense is what he played out of a lot in Tennessee. This is what the team ran in 2004 (the only winning season the team has had in the 2000s). Personnel-wise, I would expect similar stats from the line. No player had more than eight sacks that season, and the team totaled 45 sacks. Last season the Bills had 57 sacks in the 3-4, but I would expect that number to drop down considering Kyle Williams and Jerry Hughes more than doubled their previous single-season highs for sacks in last year's 3-4 defense. Mario Williams is bigger than any end from that team, but Buffalo doesn't have another big end like Chris Kelsay on the other side. So Williams will likely break the eight-sack limit from that season, but I wouldn't expect big sack numbers elsewhere. The linebacker corps don't have many similarities, though. Outside of the fact that both defenses will have a guy named Spikes wearing number 51, I don't see much to compare. Kiko Alonso is the only play maker in this group of linebackers, but the 2004 group had London Fletcher and Takeo Spikes making plays in the passing game and behind the line of scrimmage. The secondary will have a similar look as the turnover rate wasn't high then and hasn't been with this group outside of former Bill Jairus Byrd. That could obviously change as guys like Stephon Gilmore and Aaron Williams continue to develop. Last year, the team had 23 interceptions and the 2004 squad had 24. I would expect the interception number to remain in that ballpark.
@DylanStebbins @TheBillsMafia If you had one home game to attend, which non AFC East team would it be?

— Matthew Leavell (@MrRascal71) April 8, 2014
If we're talking about this season's schedule then I'd say Green Bay. Aaron Rodgers is one of the best quarterbacks in the league, and I'd love to see how this defense stacks up against their five-receiver sets.
Green Bay's defense also has trouble finding consistency every season, so it might be a good chance for EJ Manuel to have a big day against one of the league's most talented teams.
The game reportedly being on Monday Night Football makes this game even more intriguing.
Thanks for all the questions. I'm looking forward to the next chance to answer your questions.