The Bills have never been at this point before. Speculation about who will actually buy the team is a new endeavor even for those who have watched since the first game. All we know for sure is that it will greatly exceed the initial price paid by the only owner, which was a little more than one-fifth the cost of a computer.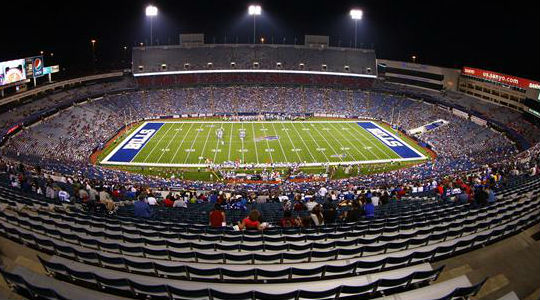 And it's been awhile since they've moved. A third home under its second owner is a first-time experience. Figuring what venue in which neighborhood is going to be home will cause some trepidation even with so many influential Western New Yorkers working for retainment. Bracing for that long didn't ease the impact.
The New Stadium Working Group features a group of old names. The distressing inclusion of politicians signifies frustrating obstacles to what should be a private transaction. The elected often casually distribute subsidies to those who could manage to be fine without them. A private business looking for a competitive location shouldn't need that much public-sector deal-making. The best thing officials can do is get out of the way. As Aaron Maybin can attest, doing nothing is the best way to make a living.
Teams can get any player they want if they don't pay attention to their budgets. Long-term financial health results from not just getting a deal done, but also being prudent. It's tough to make the market robust in the midst of preferential treatment. The assumption that the only way to get a building is through currying favor with engineers of sweet deals has created a sour atmosphere.
Teams that lose late never realize that the prevent defense sealed their own destiny. Relying on Albany instead of Toronto as a currency source assumes that propping up businesses is necessary because of the challenging economy. But the effect is the cause. Residents could make their own decisions about spending if they sent less to the capital. Financial relocation makes it tough to come out ahead.
The best way to make sure a building is maintained is to find an owner for it. Giving everyone a share means nobody's careful. Take what we've lost: rueful fans saw the government-owned Memorial Auditorium neglected until an empty lot replaced a second chance. The deterioration and demolition were gutting to anyone who wanted to combine practicality with nostalgia through reuse. The same level of foresight resulted in tearing up Main Street to add a lightly-used light rail and sticking a convention center in the middle of the street layout.
Ownership should include the place where players earn their checks. The pride of no longer renting is accompanied by the sense of responsibility that ensures a structure is used to its potential. The difference a financial stake represents is shown between the towels you own and the ones you use at a hotel.
Always thank the volunteers. It's easy to forget yet important to remember that local companies aren't obligated to participate in the Bills' transition, which makes those who do that much more admirable. Buffalo is fortunate to have retailers willing to help another company try to relocate close enough to their current home that they could return the U-Haul to the same location.
It's particularly gratifying to see New Era flying their own flag. In addition to claiming a member of the group, the makers of everyone's favorite hats would perhaps like a stadium named after their fresh product. A naming deal would highlight a Buffalo success story while providing easy income to the football club. And, if there must be a roof, it may as well be called the New Era Dome.
Alternately, potential owner Jeremy Jacobs might realize the advertising and revenue potential of adding a coliseum named for Delaware North to his collection. The company already owns TD Garden and would surely be tempted to own both an NFL squad and a sports complex within walking distance of headquarters.
Obituaries of the team's founder obligatorily mentioned how he plonked down $25,000 on a franchise now worth close to 10 figures. Preserving Ralph Wilson's legacy could include finding someone willing to finance a new stadium and treat it as an asset.
It's unfortunate that the bereaved must deal with commercial questions at such a time. Yet the widowed controlling owner can surely find someone capable of making money on a sports team and new building project.
Anyone buying a product as valuable as the Bills should be willing and able to purchase a container for it. A stadium has every chance to be profitable, especially if placed in Buffalo's potential-rich city limits near its stunning waterfront.
Ensuring the new place is useful for more than football would be good for the club and area. Their interests are concurrent, starting with the Bills investing in where they play. They're mature enough to not be tenants anymore.