Last week on the Samuelson Slant I told you the benefits of trading up in the draft, amidst rumors of the Bills moving to the first overall selection. After Jadeveon Clowney's Pro Day in the South Carolina sun, it is looking like an even smarter move if the Bills can somehow work out that trade.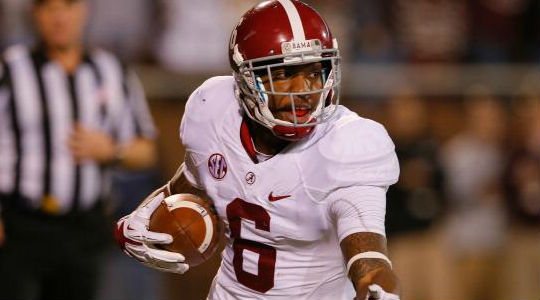 However, there has been a lot of talk about the Bills trading down in the upcoming 2014 NFL Draft as well. So this week I'm going to talk about the trading down draft strategy and the various pros and cons associated with it.
In this scenario, I have the Bills trading down with the Miami Dolphins, their AFC East rival. Buffalo would move from 9 down to 19 while gaining an additional second round pick from Miami. While part of me hates trading with a division rival, because the player the Dolphins select has the potential to hurt the Bills for years to come. That said, I'll leave that bias out of my analysis of the pros and cons.
Pros
Additional Picks
Trading down nets you additional picks in the draft or future drafts. Additional picks give you more opportunity to draft high caliber players. In the reverse of the trading up strategy, you're banking on the sum of all the players drafted being greater than the one you would have gotten with your own pick. If this trade goes down the way I predict it would, the Dolphins are moving up to grab a right tackle. Likely they get Jake Matthews out of the deal. The Bills, now at No. 19, shift their first round focus from offensive tackle or wide receiver as I said in previous posts to free safety. There is a great chance that either Ha Ha Clinton-Dix or Calvin Pryor is available at 19. The Bills need to replace Jairus Byrd, and I think either one of them could step in on day one as starter.
Another option would be to look at drafting a tight end. There's a slight chance that Eric Ebron falls to 19, but realistically, the Bills would be looking at a guy like Jace Amaro. If you remember, Amaro is someone who I put on my 2014 NFL Draft Wish List. Taking Amaro at pick 19 may be a mistake, as I think that the talented tight end could be there at pick No. 41, Buffalo's second round pick. Also with the additional pick from the Dolphins, No. 50, the Bills could possibly address their offensive line with one of the second-tier lineman like Antonio Richardson.
Finally, I can't rule out the possibility the Bills take a flier on a guy like Ryan Shazier at No. 19. The Bills could then use their two picks in the second round to address tight end, offensive tackle or free safety depending on who's available. Shazier has been rocketing up draft boards since the combine and his Ohio State Pro Day. With the extra second round pick as insurance that they can fill more immediate holes, don't be surprised to see them go linebacker in the first round.
Building Through the Draft

Every Bills fan knows Doug Whaley's stance on building through the draft – It is fundamental to a team's success and what separates the perennial playoff teams from those consistently picking in the top ten. The more quality picks you can get in the draft, the less holes you have on the roster. Eventually you reach a point where you simply can draft the best player available year in and year out, until you've built a roster than contends for a championship each and every season. As you know, Whaley learned this in the Steelers organization and they are a perfect example of how building through the draft can work.
Cons
Talent Depreciation

Whether you drop four spots, six spots or in this case 10 spots in the NFL Draft, it is almost impossible to get as talented a player as you would have at your original draft spot. Obviously you never know how careers are going to play out or if you'll get a diamond in the rough, but in terms of prospect ranking alone, you are getting a lower value player and are compensated with an additional player in another round. This doesn't always work out for the team. You have to consider all the prospects that come off the board in those 10 picks. All it takes is for one of those 10 to have the same position as your draft pick and a better rookie season. Suddenly, your trade down will instantly be criticized because of what you could have had.
Fan Backlash

Many fans don't understand the importance of building through the draft; they just want to win now and want to get the best player they can in the draft. When you trade down and gamble with talent depreciation fans can turn on the player and organization quickly. I'm not throwing them under the bus, but living in Ohio for the last four years I've never seen this be truer than with Browns fans and QBs, especially Brandon Weeden.
So while no decision will ever be perfect, trading down might be a good way for the Bills to go in 2014. It is a deep draft class and I'm all for getting to where we want this franchise to be by drafting the right kinds of players year in and year out.
My Slant: I still think Buffalo's best options are to stay at No. 9 and draft Mike Evans or Jake Matthews or trade up for Jadeveon Clowney. We'll just have to wait and see if the Bills get the right offer to move down. One thing is for sure: You never know what will happen in the NFL draft.