The Buffalo Bills acquired former Tampa Bay Buccaneers wide out, and Buffalo native, Mike Williams in exchange for a 2014 sixth round draft pick.  It's a low cost gamble for the Bills as Williams only counts $1.8 million against the salary cap and can be cut anytime after without any cap penalties in future years.  The move is a smart one by the Bills, but it should also send a message to two current Bills wide outs: T.J. Graham and Stevie Johnson.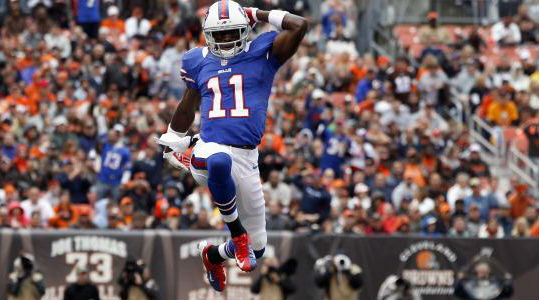 Graham is entering his third year as a pro after being a third round draft pick in 2012 (mind you six selections ahead of Russell Wilson). He has made only a moderate impact on the Bills offense, despite possessing track star speed. For Graham, this is a make or break year for him to make the kind of impact that the organization was hoping for. He needs to have a great camp and show that he is ready to step up into a bigger role, or else he could be forced out by not only Williams' presence on the roster, but also Marquise Goodwin who possesses as much, if not more, speed as Graham.
As for Johnson, the Bills essentially traded for a slightly younger and cheaper version of the star wide out. Both players stand at 6-2 with Johnson a svelte 207 and Williams at 212.  Both players are possession receivers with enough speed to stretch the field deep.  Williams is noted as more of a headache off the field than Johnson, but depending on his reaction to coming home to Buffalo and his chemistry with quarterback EJ Manuel, Johnson could be looking for employment elsewhere if Williams proves that he is the more productive of the two.
From an organization standpoint, the Bills have amassed a collection of talented receivers with Johnson, Williams, Robert Woods, Graham and Goodwin.  It's a five deep rotation of speed, talent and skill that lacks only a true jump ball receiver.
If the Bills do go out and select such a receiver in the first couple of rounds (many have mocked the 6'5 Mike Evans of Texas A&M at ninth overall), then it becomes a numbers game. The Bills would have a roster of wide outs that possess every type of skill you look for: possession, deep, jump ball and slot. That hypothetical group would give the Bills six receivers most teams would love to have. The reality is that good NFL teams get away with only three or four productive receivers.
The draft still needs to play itself out, but unless head coach Doug Marrone philosophically changes his offense to an all air attack, there will not be enough passes to keep all of the receivers satisfied. With that comes the pain of deciding between keeping a sixth receiver who doesn't play on special teams, or an extra linebacker that can and will.
In the end, Johnson is unlikely to be released as the cap savings of such a move is minimal.  Graham however is most certainly a potential roster cut, as Goodwin's skill-set is almost identical.
There are only 53 roster spots and Williams (barring bad behavior), Goodwin and Woods are all likely to make the team, which leaves Johnson and Graham on the roster bubble.  It may not pop for them this year, but their unit is suddenly deep in talent, and thus very crowded.