So this is the second crack at a mock draft for me today, but the Bills made a big trade acquiring Mike Williams from the Bucs. Williams is a Buffalo product, and his addition to Buffalo/subtraction from Tampa Bay changes a lot at the top of the draft.
A lot of teams and pundits will tell two big falsities leading up to the draft: free agency doesn't impact draft decision making and teams don't draft for need. Those are two huge lies.
Teams ignore need when there's an occasional world-class player available, but they'll generally make sure that their first-round selection has a role on the team almost immediately.
That's why this mock draft will have a much different look. Teams have added and subtracted some players in free agency, so their thinking has changed leading up to the draft. Also, I projected some trades that would make sense for teams involved.
Don't give up before the end, either, as I project Buffalo's picks for rounds two through seven, as well.
1. Houston Texans – Jadeveon Clowney, DE, South Carolina
I've projected a quarterback here for a while, but I think the Texans will have a hard time passing up Clowney. He's a world-class talent, and those are rare.
2. Cleveland Browns – Johnny Manziel, QB, Texas A&M (TRADE W/ STL)
Cleveland might have to jump Jacksonville if they really want to get Manziel. They spent big in free agency this offseason, but there's no answer at QB right now for the Browns.
St. Louis trades pick 2 to Cleveland for picks 4, 35 and 127
3. Jacksonville Jaguars – Blake Bortles, QB, Central Florida
The team can't continue to rely on Chad Henne. He's not a starter in this league, and the fans know it. Winning sells tickets, and good QBs are the fastest road to victory.
4. St. Louis Rams – Sammy Watkins, WR, Clemson (TRADE W/ CLE)
The Rams make this trade down in preparation for landing both of their big targets. Watkins will give Sam Bradford a true number-one target.
Cleveland trades picks 4, 35 and 127 to St. Louis for pick 2

5. New York Giants – Greg Robinson, OT, Auburn (TRADE W/ OAK)
The Giants could sit back at 12 and land whoever is left from this stellar tackle class, or they could be bold and get the best of them all. Robinson could be had if they want him.
Oakland trades pick 5 to New York for picks 12 and 42
6. Atlanta Falcons – Khalil Mack, DE/OLB, Buffalo
Atlanta needs to come out of this draft with either Clowney or Mack. Luckily some moves in front of them help them stay put and get Mack.
 7. Tampa Bay Buccaneers – Mike Evans, WR, Texas A&M
This pick pretty much has to be made after the team moved Mike Williams to Buffalo. Vincent Jackson is the only option new QB Josh McCown has right now.
8. Minnesota Vikings – Teddy Bridgewater, QB, Louisville
Minnesota reached for Christian Ponder a couple years ago and that failed miserably. This time they get great value as Bridgewater, potentially the best QB in this class, falls.
9. Buffalo Bills – Jake Matthews, OT, Texas A&M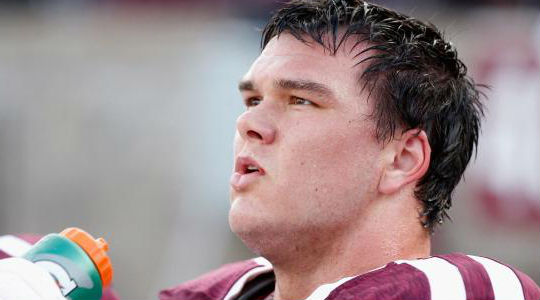 I had them getting Mike Evans in my last mock draft, but the team just acquired Mike Williams. Williams isn't as big as Evans, but he has decent size. Evans is now off the board, so Buffalo goes back to their first option in Jake Matthews. The combination of Cordy Glenn and Jake Matthews will give the Bills two solid tackles for years to come.

10. Detroit Lions – Justin Gilbert, CB, Oklahoma State
There might not be a more obvious pick in the draft. Detroit's secondary has been leaky, to say the least, for years now. If they want to compete in the NFC North they have to fix that.
11. Tennessee Titans – Anthony Barr, OLB, UCLA
The Titans are moving to the 3-4 this year, and Anthony Barr is the ideal rush linebacker. He fits into the mold of guys like Von Miller and Aldon Smith. Barr is big, strong and fast.
12. Oakland Raiders – Derek Carr, QB, Fresno State (TRADE W/ NYG)
The Raiders moved down last year to get the guy they wanted while picking up extra picks, and I think they do it again this year. Carr can sit a year behind Schaub before taking over.
Oakland trades pick 5 to New York for 12 and 42
13. St. Louis Rams – Taylor Lewan, OT, Michigan
This is a very good value pick for the Rams. They're able to land two pieces that should help Sam Bradford find success. The rest of the work will be on him.
14. Chicago Bears – Aaron Donald, DT, Pittsburgh
His 40-time at the combine got everybody talking about him, but his stock is rising for more than just that. He's the perfect three-technique defensive tackle for the Bears.
15. Pittsburgh Steelers – Darqueze Dennard, CB, Michigan State
Pittsburgh has started cutting some older players from a once great defense. Dennard will help speed up the rebuild on defense. He doesn't have great size, but he's very physical.
16. Dallas Cowboys – Timmy Jernigan, DT, Florida State
The issue in Dallas last year wasn't the play of Tony Romo late. Instead, it was the failures of the defense late in games. They took a big blow when Jason Hatcher left.
 17. Baltimore Ravens – Calvin Pryor, FS, Louisville
Pryor will replace Ed Reed positionally, but he'll actually be replacing the style of Ray Lewis. Pryor will strike fear into opposing players coming across the middle.
 18. New York Jets –  Bradley Roby, CB, Ohio State
The Jets watched Roby's pro day and had a dinner meeting with him. They're doing all the research they can on him, and it could end in them selecting him in the first round.
19. Miami Dolphins – Zach Martin, OT/OG, Notre Dame
Martin played tackle while he was at Notre Dame, but he fits more at guard in the NFL. Miami has to replace Richie Incognito after his antics shook the team last year.
20. Arizona Cardinals – Dee Ford, DE, Auburn
Arizona's defense was outstanding last season, but they'll continue to add to it here. Ford isn't better than Clowney, like he once claimed, but he's certainly not bad.
 21. Green Bay Packers – Ryan Shazier, OLB, Ohio State
The Packers need to get some more athleticism in their linebacker corps if they really want to compete in the NFC. Fast QBs are here to stay, so defenses must match them.
22. Philadelphia Eagles – Ha Ha Clinton-Dix, FS, Alabama
They could go WR after cutting Desean Jackson, but this draft is loaded with guys they can pick up later on in the draft. Instead, they fill a huge hole at safety.
23. Kansas City Chiefs – Odell Beckham Jr., WR, LSU
Alex Smith did a fine job in 2013 as he took over the Chiefs starting job, but he's going to need a little bit more than just Dwayne Bowe. Beckham should be a great complement.
 24. Cincinnati Bengals – Jason Verrett, CB, VCU
The Bengals benefited from the coaching of Mike Zimmer over the years. His expertise allowed them to settle on some mediocre corners. Zimmer is gone, so they'll need real talent now.
25. Atlanta Falcons – Eric Ebron, TE, North Carolina (TRADE W/ SD)
The Falcons have been talked about as making a bold move up earlier in the first round, but this would be the better move. Landing a replacement for Gonzalez here is huge.
San Diego trades picks 25 and 125 to Atlanta for picks 37 and 68
26. Cleveland Browns – Brandin Cooks, WR, Oregon State
The Browns have been trying to add to their receiving corps all off-season. They'd be smart to provide Manziel with some more weapons to ease his transition to the NFL.
27. New Orleans Saints – Kony Ealy, DE, Missouri
They had to move on from Will Smith due to cap concerns. Ealy will provide them an immediate replacement in the pass rush.
 28. Denver Broncos – CJ Mosley, ILB, Alabama (TRADE W/ CAR)
They might not have to jump New England, but they should. He does everything and would be a top-ten pick if it weren't for the way the NFL values players at his position.
Carolina trades pick 28 to Denver for picks 31 and 131
29. New England Patriots – Jimmie Ward, SS, Northern Illinois

New England just cut Adrian Wilson and Patrick Chung isn't the answer. Ward will be the Patriots' long-term starter at safety.
 30. San Francisco 49ers – Marqise Lee, WR, USC
San Francisco made a late push for Desean Jackson, but their attempts failed. Lee will allow the 49ers to have a smaller option to complement Anquan Boldin.
31. Carolina Panthers – Cyrus Kouandjio, OT, Alabama (TRADE W/ DEN)
He seemed like a lock to go in the first half of this round until medical concerns popped up. Those questions have cleared up, and he should do well in replacing Jordan Gross.
Denver trades picks 31 and 131 to Carolina for pick 28
 32. Seattle Seahawks – Xavier Su'a-Filo, OG, UCLA
The Seahawks will be forced to make some tough decisions soon as many of their stars will be due for contract extensions. That's exactly why a versatile player like Su'a-Filo is perfect.
Round 2
41. Buffalo Bills – Austin Seferian-Jenkins, TE, Washington
Watching tape on Austin Seferian-Jenkins (ASF) reminds me of one of the all-time greats… Tony Gonzalez. I'm not saying he'll play at a similar level, but his style is similar. He's big and uses his body like a basketball player to get good position on defenders. His first move when he catches the ball is to move it to his body and secure it, which is a big reason he only had one fumble in each of his seasons at Washington.
Round 3
73. Buffalo Bills – Jackson Jeffcoat, DE, Texas
Jerry Hughes had a breakout season next year, but the expectation should be that he'll go right back to where he started. He was a bust in the 4-3 for the Colts, and Buffalo will likely be playing out of that formation a lot in 2014. Mario Williams is the only true 4-3 DE Buffalo has. Jeffcoat's father, Jim, played for Buffalo in the mid-90s.
Round 4
109. Buffalo Bills –Chris Sims, RB, West Virginia
The Bills already added one running back this off-season, but it appears that they'll want to add another one. ESPN's Adam Schefter reported that Buffalo tried to make a move for Tennessee's Chris Johnson before they released him. Sims is a back with a good mix of size and speed that would be the eventual replacement for Fred Jackson… Could Buffalo be trying to shock everybody and replace CJ Spiller before he has a big payday?
Round 5
149. Buffalo Bills – Anthony Steen, OG, Alabama
Bills fans better hope that the team doesn't actually believe that Chris Williams is an NFL starter. Williams has been one of the worst starters in the league since he came into it, and there aren't many signs of hope. Even if Williams pans out, Buffalo needs more depth at guard. Steen's size could make him a better fit at center which also bodes well considering Eric Wood's injury history.
Round 6 – No Pick (Mike Williams trade)
Round 7
224. Buffalo Bills – Carrington Byndom, CB, Texas
Today's NFL calls for teams to have unlimited depth at corner. Buffalo has done well by adding Corey Graham to that this off-season, and Byndom could potentially add more to that. However, he'll have to fight to make any rosters this season. This pick is purely a prayer that would be a steal if Byndom can do anything with his career.