My daily runs around Delaware Park and North Buffalo haven't been quite as easy this past week.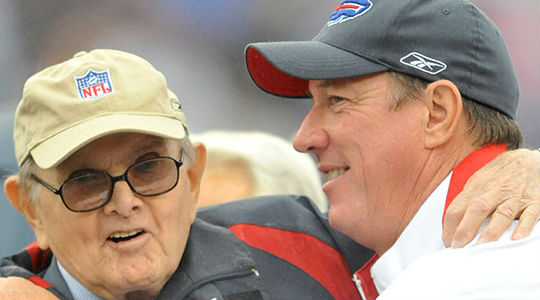 The high winds and unseasonably cold spring weather have slowed me down a bit, but it's been more about my heavy Buffalo Bills loving heart.
Every half mile or so the same series of thoughts come racing through my brain:
We've lost Ralph Wilson. Jim Kelly is sick. The team, what will happen to the team? Can we build a new stadium? Remember how good those teams were in the early 90s? That was special, so special. Jim Kelly is a fighter. He can beat this. I can't believe we've lost Ralph…
Emotional times like this can remind us how trivial sports are in the bigger picture. Battles with cancer are infinitely more serious than battles with the Miami Dolphins. Lost Super Bowls can't even compare to lives lost. And yet, times like these also remind us how important sports can be in our own lives.
I was five years old the night the kick sailed wide right and it's honestly the first vivid memory of my life. I ate chocolate covered strawberries for the first time. I wore a Jim Kelly jersey and Zubaz pants and sat on my Bills beanbag chair. My uncle and I wept ourselves to sleep. Even remembering those tears, it remains a thrilling memory. My team, my Bills, were in the Super Bowl!
It's one of countless happy memories I have from the early 90s. I loved talking about "Thermos Thomas," my poor annunciation of my favorite running back's name. I would strap on my Bills helmet and imagine I was playing with them in our front yard. I listened to every second of the Greatest Comeback on the radio. Jim Kelly once signed a football of mine in Fredonia. Pete Metzelaars wished me a happy birthday at a basketball game. I loved the Bills, win or lose.
And now, with the passing of Ralph, that's all I can think about…those memories. Even with all the losses and turnovers over the past 14 years, the Bills are my team. Those great moments are all our memories.
None of those memories happen if Ralph doesn't pick Buffalo in 1959. None of those memories happen without #12 and the fabled "K-Gun" offense.
It's easy to start worrying about what happens to the team next, but I'm not inclined to do so fearfully. The world is full of people who stick to their word like Ralph. The world is full of people who fight like Kelly, including Jim himself.  I hope and believe the Bills will always be in Buffalo – it's simply where they belong.
It's funny when you think about it. Ralph was once considered a member of the "Foolish Club" and Jim once never wanted to play here. And, somehow, "foolish" and "never wanted to" got together and made magic happen.
And, as I run through the streets of our great city, I know what keeps my heavy heart going. It is the belief that someday, that magic might happen again.