Every year, the Bills and every other NFL team bring in 30 draft prospects for pre-draft visits. The draft stock of the 30 players vary all over the draft board. In fact, some players brought in for pre-draft visits aren't even projected to be drafted.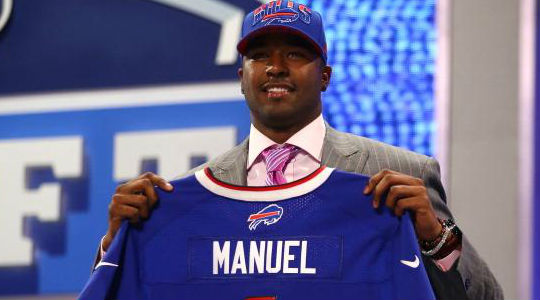 Why do teams do this? Simple. It's important for every team's front office to do their due diligence on prospects that they feel could be fits on their respective teams.
The Bills' pre-draft visits over the last few years have resulted in a fair share of future Buffalo Bills. Here is a list of players that visited Buffalo for a pre-draft visit and were drafted by the team or signed as an undrafted free agent (UDFA):
The only trend from the table above is that Buffalo's first round draft pick has been in for a pre-draft visit the last four years. Keep this in mind as more pre-draft visits are announced by the Bills. Also, over the last four seasons, Buffalo has added three of their pre-draft visitors to their roster on average.
When preparing to write this article, I looked at Buffalo's pre-draft visitors in 2013. This draft class technically was drafted by Buddy Nix and Doug Whaley, but there's no denying that Whaley had plenty of say in the selections. For that reason, it's important to focus on this group to see if there was any correlation between the team's pre-draft visits and the actual draft. Here is a breakdown of the team's visitors by position:
QB: 9
FB: 1
WR: 6
TE: 2
LB: 7
S: 5
Buffalo didn't exactly try to throw off other teams with their pre-draft visits last season. The position that visited the most was quarterback. The team was not shy about wanting to add a signal-caller and it's no coincidence that the team drafted a quarterback in round one. Jeff Tuel was later added as an undrafted free agent.
The second and third most visited positions after quarterback were linebacker and wide receiver. In rounds two and three, the Bills added two wide receivers, Robert Woods and Marquise Goodwin, and one linebacker, Kiko Alonso. None of the three players actually visited the Bills, but the Bills did plenty of research on both positions prior to the draft. Da'Rick Rogers, a pre-draft visitor, was added as an undrafted free agent due to off the field concerns.
Safety was the other position that the Bills seemed to have interest in prior to the draft. Five players visited the Bills and one of them, Jonathan Meeks was selected in round five. One round prior to the Meeks selection, Duke Williams, a hard-hitting safety, was drafted by the Bills.
Buffalo's first six selections were all at positions that the Bills did plenty of research on leading up to the draft. This too is something to keep track of with the 2014 pre-draft visitors.
Right now, four names have been confirmed: RB Lache Seastrunk, WR Cody Latimer, TE Eric Ebron and DB Walt Aikens of Liberty.
As more pre-draft visits are announced, keep your eye on which positions the team really focuses on. If the 2013 draft is any indication, those positions will be high priority for Buffalo. Also, if the last four years are any indication, one of the team's pre-draft visits is likely to hear his name called when the Bills are on on the clock in round one.