March Madness is upon us and it seems like everything is connected to college basketball in one way or another these days. Of course there is nothing wrong with that, because if you're like me you've watched every game that you can and love college basketball. I only mention it because being caught up in March Madness has definitely affected this positional case study.
I'm going to conduct a 2014 OT Prospects "Final Four" this week, as you might have guessed from the title. This "Final Four" will consist of three No. 1 seeds and a No. 3 seed, i.e. three tackles expected to be taken in the first round of the 2014 NFL Draft and one expected to go off the board in the second.
The No. 1 overall seed in my 2014 OT Prospects "Final Four" is Greg Robinson. If he is still on the board at pick 9 the Bills have to pick him. The problem is he had such a good combine. His 4.92 40-yard dash and 113-inch broad jump accentuated his already rising stock, which means he'll like be off the board well before the Bills pick.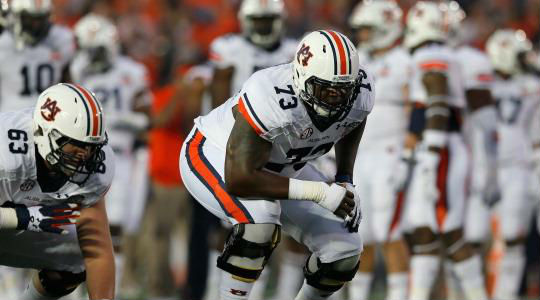 However, with long arms, a bulking but athletically toned frame, good height and the fact that he excelled in the SEC, Robinson has to be talked about. He is exactly what the Bills need to add to their offensive line and adding him would secure the right tackle spot for the next decade. Look for Robinson to be a better version of Tyron Smith.
The second one seed, Jake Matthews, is obviously another lock to be in the "Final Four" of offensive tackles. He is my pick to win it all, because there's a great chance he is still available at 9 and the argument could be made that he's better than Robinson. After all, measurables and combine numbers don't mean as much as film.
Matthews is a well-rounded elite talent at tackle and could realistically fill in at any position along the offensive line; that's how good Matthews is as a lineman. However, the attribute that sets him apart is his pro-readiness. He can come into training camp and start from day one. Teams will not have to mold Matthews or fine tune his game whatsoever. An easy NFL comparison is his former teammate Luke Joeckel. Although Joeckel saw limited playing time, Matthews is just as good, if not better.
Coming in as the third No. 1 seed is Taylor Lewan. He is a step down from the first two one seeds, but not a very big one. At 6'7'' he is the tallest of the offensive tackle one seeds and at 4.87 seconds, he ran the fastest 40 of any OT at the combine. At times he doesn't explode into blocks the way he should and this leaves him susceptible to bull rushes.
Lewan could definitely play right tackle, but he is probably best suited for left tackle. Although anymore, teams are using two pass rushers so the old notion that left tackles are your pass blocking tackles and right tackles are your run blocking anchors is going out the window.
In Lewan I see a skinnier, but slightly more athletic Jake Long. Lewan is less polished and I'm not saying he'll be one of the three best offensive tackles in the league, but both hail from TSUN (That School Up North or Michigan for those of you who aren't Ohio State fans). Lewan and Long have similar builds/skill-sets which makes for a pretty good comparison.
Finally, we have the Cinderella-story of the 2014 OT Prospects "Final Four" in Jack Mewhort, although Mewhort might have a hard time fitting into a glass slipper at 6'6'' and 309 pounds. As a No. 3 seed, I think Mewhort will be available in the third round and will still greatly improve the Bills at offensive tackle. He made it to the "Final Four" over some notable No. 2 seeds like Cyrus Kouandjio and Antonio Richardson because of his impressive combine numbers and his work ethic. There are no question marks about Mewhort in terms of his passion for the game, desire to get better each day and willingness to be a vocal leader.
Mewhort played left tackle at Ohio State, but is likely a right tackle as a pro. He also has enough versatility to move in a spot and play either guard position. If the Bills take Mewhort in the third round, they will be getting a starting-caliber right tackle who likely never makes a Pro-Bowl, but who consistently does his job well and will be a great locker room guy. Mewhort has the potential to be a Matt Light type of player.
Who advances to the championship game? Well that all depends on who's available when the Bills pick and if the team even decides to take a tackle in the first round. As I said last week, I'd love to see them go for a WR, but I certainly wouldn't be upset with the far safer pick of offensive tackle, especially if it's one of the tackles I have advancing to my 2014 OT Prospects "Final Four."