The #MafiaMailbag is back! Earlier today, I asked fans on Twitter if they had any Bills questions. I won't sit here and claim to be a Bills expert, but I'm certainly more than happy to share my opinion on all things Buffalo Bills.
@RyanTalbotBills @TheBillsMafia If you were the GM, how would you have handled the #Bills QB situation this offseason behind Manuel?

— Joe Marino (@TheJoeMarino) March 23, 2014
@RyanTalbotBills@TheBillsMafia I have one more…What need do the Bills have that is being overlooked right now?

— Joe Marino (@TheJoeMarino) March 23, 2014
Joe didn't use the hash tag, but I won't hold it against him since he's a friend. To answer the first question, I really wouldn't have done things much differently than Doug Whaley has this off-season. I personally think Thad Lewis is a very serviceable backup and you don't usually bring in a free agent to compete for a third quarterback spot. That said, if there's a quarterback in this class that Whaley loves, I'm okay with him pulling the trigger in ANY round. Teams go as their QB go and if Teddy Bridgewater was sitting there at 9 and the team has a higher grade on him than they did Manuel, go for it. I'm not giving up on Manuel by any means, but Buffalo won't consistently compete for the AFC East title without an above average quarterback.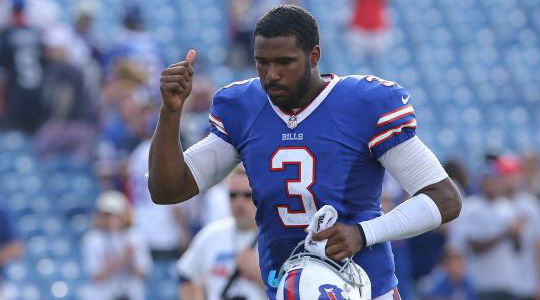 If there's one need that's being overlooked by the Bills right now, it's defensive end. I think the team and fans agree that the Bills need help at WR, TE, OL, LB and S, but DE sort of gets ignored. Buffalo has a few hybrid players they could line up as a defensive end, but I really think the team could draft an end sooner than many fans believe.
Is there a player in the draft that you love as a prospect but would be kind of a waste/luxury pick for the #bills #mafiamailbag

— Pat Waters (@FTTWaters) March 23, 2014
There are a few defensive tackles in this class that I love. Louis Nix III and Aaron Donald come to mind. However, this is one area where the Bills are solid. Marcell Dareus' contract is up at the end of the season and Williams is getting older, but I couldn't see the team drafting either as they're both likely to go in the first round. Another player I am a fan of is Darqueze Dennard, but Buffalo is strong at corner back with Gilmore, McKelvin, Graham, Robey, etc.
@RyanTalbotBills @TheBillsMafia how strong do you think the bills are coming into this year? #MafiaMailbag

— Juicy Jake™ (@Jake_Helenbrook) March 23, 2014
I think the Bills are just as strong as the Dolphins and stronger than the Jets. Miami has some holes on each side of the ball and two short corner backs that I could see getting exposed. The Jets added Eric Decker, but I'm far from sold on their WR corps and QB offensively. Defensively, their corner backs are a mess.
That leaves the Patriots. Tom Brady is showing signs of regression as his deep passing was awful last season. That said, he can still pick teams apart with short and intermediate passes. Until Buffalo has their own franchise QB, I'll have trouble saying we're on the Patriots' level. New England also has a strong corner back core after adding Revis and Browner and some other strong pieces defensively. They're far from perfect, but they're still a level above the Bills.
@RyanTalbotBills @TheBillsMafia With the focus on defense in FA, can we expect them to focus on offense early in the draft? #mafiamailbag

— B'More2Boston (@ceboscuit) March 23, 2014
I'd hope so. In the first round, I'd really like to see the Bills draft one of three positions: offensive tackle, wide receiver or tight end. All three positions have strong talent that will be available in round two as well. It's my hope that Buffalo's first two picks are offensive players as the defensive talent on the roster is well ahead of the offense. If Buffalo adds Watkins, Evans or Ebron in round one, in round two you could see tackles like Morgan Moses, Cyrus Kouandjio and Antonio Richardson as targets. Time will tell, but the team should look at offense early.
@RyanTalbotBills @TheBillsMafia #mafiamailbag If Mike Evans, Ebron, and one of the OTs are all on the board at 9, what do the Bills do?

— Rich Ladue (@RckyMtnBillsFan) March 23, 2014
Gut feeling? Mike Evans. Doug Whaley's "big wins" quote sticks in my head and Evans is the best big receiver in this draft. I believe Whaley first said "big wins" when the Bills were playing Tampa Bay and it was in regards to Vincent Jackson. Many draft experts are comparing Evans to Jackson, so Whaley may not be able to pass on him. Ebron is still an option, but the team currently has five tight ends on their roster. As for a tackle, I love Matthews, and am high on Robinson and Lewan. It really depends on which tackle or tackles are available at 9, but right now I'm thinking Evans.
@RyanTalbotBills #MafiaMailbag In Cover-1, will AWilliams will be the back SS/ deep guy & Searcy-DukeW the FS/nickel/back-of-the-box guy?

— Dean Kindig (@TCBILLS_Astro) March 23, 2014
Great question! I wish I could answer this with more certainty. In a traditional Cover 1, the free safety will play deep while everyone else is locked into coverage. In this scenario, I could see Williams playing deep. This is something I am looking forward to monitoring at training camp.
@RyanTalbotBills Which RT entering the drft would B best pick? Is it def worth an early drft pick & why? 1 more solid DE? #mafiamailbag

— Shawn Kane (@BuffaloKane) March 23, 2014
My personal favorite is Jake Matthews. I believe he's a 10 year starter and a future All-Pro. He really doesn't have any holes in his game and he'll be strong player for anyone who drafts him. Greg Robinson probably has the highest ceiling, but there's no guarantee that he'll ever pass Matthews from a talent standpoint. Both are worth early draft picks as they are top ten talents and there's uncertainty at tackle with Hairston. and Pears. My thoughts on defensive end have been discussed above. The team certainly needs to add another defensive end in the draft.
@RyanTalbotBills @TheBillsMafia what becomes of Dustin Hopkins now? #mafiamailbag

— John (@johnnysmooth72) March 23, 2014
No reason to cut Hopkins just yet. I like the Carpenter extension, but the Bills drafted Hopkins for a reason. He has a big leg and he's someone the team thought would be their future at the position. At training camp, let him compete with Carpenter. If he holds his own, keep him on the roster as a kickoff specialist. Carpenter was incredible last season, but you never know what you'll get out of a kicker on a yearly basis. If Hopkins is on the roster, he could come be used for FG attempts if Carpenter struggles in 2014.
@RyanTalbotBills if Britt signs do you think this solidifies us taking the best available OT? #MaffiaMailbag

— Greg Boucher (@TheFanVent) March 23, 2014
I doubt this would solidify OT as the first pick. Britt still has a lot of untapped potential at the age of 25, but I wouldn't pass on a wide receiver in any round because of him. If he comes to Buffalo he's not going to be given a spot, he'll be competing for one.
@RyanTalbotBills @TheBillsMafia 2 questions, what happened to Chris Hairston. And is the kicker we drafted still on the roster

— Joe godfrey (@JoeGodlar) March 23, 2014
Hairston was placed on the reserve/non-football illness list in 2013. From my understanding, he'll be a full go in 2014. That said, he'll have to earn his roster spot. He did show some promise at OT so if the team doesn't address the position in the draft, a move I'd disagree with, we know why. As for Hopkins, he'll be given a shot as a kickoff specialist, in my opinion.
Thanks for all of the terrific questions!