The recent news that Jim Kelly had been diagnosed with a recurrence of cancer created a major intersection in my life's purpose and passion; caring for people and their families with cancer and being a lifelong fan of the Buffalo Bills. Allegedly, I retired from professional practice a few years ago, but the reality is that the role of care giving hasn't stopped since my beloved grandmother, who raised me, died of cancer during my senior year in high school.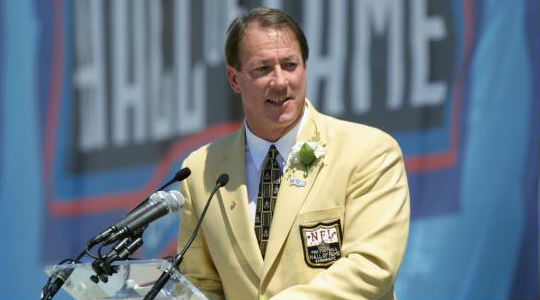 It was then that I realized my life would be devoted to caring with people and families who were taking on the biggest challenge of their lives, this mysterious disease called cancer. After studying this disease and caring for those afflicted by it for nearly 40 years, I continue to be humbled by the blessings, wisdom and the privilege afforded to me by all who kindly welcomed me to assist them on their pathway through the experience.
What a ride it's been. It's almost 'Kelly-esque'… and perhaps it's the reason I feel a special kinship with this family that goes beyond being a lifelong Bills fan raised in Western New York. The Kelly family is a unified group of ambassadors whose wisdom cannot be understated in importance, nor should it be easily dismissed as a 'tragedy' in any way.
The incredible miracles that the Kelly family has experienced over the years are powerful examples for all of us. Hunter James and his incredible life provided those who paid attention the opportunity to experience joyful living in the face of raw adversity on a daily basis. Hunter's life changed so many others in the most powerful way of all, through the power of love.
While the Kelly family fulfills their life purpose by demonstrating courage and strength year after year, I've been trying to figure out what to do with all the wisdom bestowed upon me as a result of my work. I have miracles to share, boatloads of miracles. Every single day of my life there were miracles happening all around me.
My reluctance to share some of these experiences mostly comes from the fear that these experiences will be trivialized in some way and that would dishonor the spirit of the people who, through their own great pain, were kind enough to share their wisdom along the way.
But to be totally honest, being an extreme introvert also paralyzes me with fear. However, I do remain motivated by the inspiration and miracles seen along the way that are looking for a way out.
Miracles.
Where do I begin? That would have to be the early part of my oncology nursing career at Roswell Park. I remember a young man who was admitted with metastatic cancer, a late stage disease, who was over six feet tall and weighed 98 pounds when he was admitted to our hospital. His body was full of cancer and he was in the early stages of actively dying.
After 15 hours of surgery, mega doses of radiation and chemotherapy, somehow this young man pulled through. He was ornery. I remember dragging his butt up and down the hallway as his personal drill sergeant and confidant.
What he showed the rest of the world was that he wasn't going to 'die by prescription.' No one, or any disease on earth was going to take this guy in the time frame the doctors had given him – less than six months to live. That was nearly 40 years ago, and the last I checked a few years ago, he was still alive and doing well.
Then there was a woman with late-stage aggressive ovarian cancer who was told she had three to six months to live. She lived for seven and a half years, mostly on chemotherapy, but she was determined to spend as much time with her grandchildren as she possibly could before she was ready to go.
She was an amazing woman whose life was so profound that she led others to learn from her strength about the importance of sharing love no matter how difficult. Her story still reverberates through her community as a model of strength during adversity.
I could go on and on with story after story of incredible courage, determination, and outright defiance regarding what is perceived as defeat when it comes to cancer. The point of my driveling on and on here is that Bills fans should feel privileged that the Kelly family shares their living legacy of fortitude for us to learn from and carry on within our own circle of life. The same is true for Joe and Sandy Ferguson as well.
One important tidbit I learned along the way is that there is meaning in suffering that each of us must determine the significance of for ourselves. We can choose to take this wisdom and let it define us as either a victim or survivor. It is the ultimate test of adversity that defines us. Will we use the experience for the greater good or retreat into a world of sadness and despair?
And here is where Jim Kelly and his family shine brightly upon those of us privileged to have shared their story, if only at a distance along the way. Because they have been so generous in sharing their personal challenges and miracles, we are given the gift of a blueprint in terms of learning how to cope with all the junk that life can throw our way. Life is full of muddy, tough roads. It's fetid and sordid, spectacular and challenging, all at the same time.
I should probably thank the Kelly family for giving me the nudge necessary to start sharing the wisdom and lessons I've learned along the way through life as an oncology nurse. Being a co-pilot on the flight through cancer and sometimes life experiences, I owe it to those who allowed me to share their journey along that road.
Many have said to me over the years that they wanted me to share their wisdom with others. I've been reluctant to do so for several reasons, not the least of which is violating my comfort zone as an anonymous recluse.
Jim Kelly and his family are living role models regarding how we can navigate the treacherous situations we face in life and death with fortitude and dignity. They are examples of the living miracles all around us who inspire us all to appreciate life more each day.
There is no doubt that they will continue do so in their most authentic way. We should all be grateful for their generosity and honesty.
Leaders lead, no matter in what capacity. On the field, off the field, in the locker room, and in life, Jim Kelly is a natural born leader. Those of us who only see from a distance cannot miss the qualities that exude from this man and what he has represented for so many people. Don't miss the powerful message Jim Kelly and his family offer all of us.
There are miracles around us everywhere when we open ourselves up to find them. No matter the ultimate destination, the journey becomes our descriptor.