What seems like forever ago, I wrote my NFL Draft Wish List and promised to follow up by making a case for the different positions I wanted to see drafted. This post will be the first of those articles, as the dust begins to settle from all the free agent signings around the league. The Bills have been active thus far, addressing several positions of need with the re-signings/signings of Scott Chandler, Mike Caussin, Dan Carpenter, Keith Rivers, Chris Williams, Corey Graham and Brandon Spikes.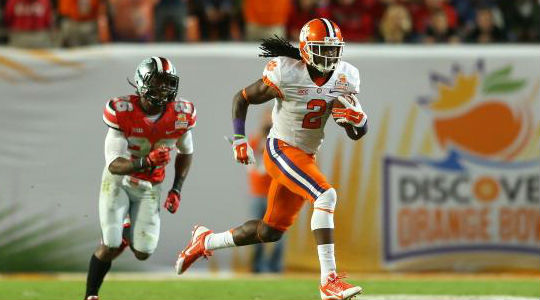 Those signings would seem to suggest that TE, LB, OG and CB are no longer top draft priorities for the Bills; however, just because the Bills signed these guys doesn't mean they are the perfect answer to the team's problems. None of them were signed to gaudy, overly long-term deals, so that makes me think that they are viewed more as short term solutions. Obviously they could have great seasons and prove me wrong, but I feel any of these positions could still be drafted in 2014.
With all that being said I decided to start these positional case study posts with the area I view as most likely to be upgraded through the 2014 NFL Draft, wide receiver. You could say I'm wide eyed for wide receivers because the Bills so desperately need a number one guy. I loved the wide receiver draft picks from last year and Stevie Johnson, but I don't see any of them as true No. 1 wide receivers. The Bills need to get someone who defenses must game plan for. In this year's draft there are two such wide receivers, elite talents who should definitely be considered at No. 9.
The first of the two talents is Sammy Watkins. Watkins is a 6'1″, 211-lb receiver with top-level speed and explosiveness, a true No. 1 WR. He is a special talent because he doesn't sacrifice speed for physicality and he has the ability to go up and catch the ball at its highest point.
X-Factor: Big Play Ability
You hear it a lot with wide receivers, but Watkins embodies it. It doesn't matter where you get him the ball; he has a chance to take it to the house. I see Watkins as better version of Torrey Smith, especially with their almost identical combine numbers (Smith/Watkins).
Next we have Mike Evans. At 6'5″ and 225-lbs, he is a coverage-busting nightmare for opposing defenses. He's the type of wide receiver the Bills were searching for when they drafted James Hardy in 2008. He has speed too, running a 4.53-second 40.
X-Factor: Spectacular Catch Ability
There isn't anyone on an opposing defense who can match his unique combination of speed and strength. On top of having a chance to catch every ball thrown his way by simple measurements, Evans consistently displays an innate ability to make eye-popping grabs, in traffic or the end zone. He isn't on a Calvin Johnson level of unstoppable WR, but I see him being as good as a different Georgia Tech product in Demaryius Thomas.
The Bills may elect to go another direction with their first pick, a possibility given the talent and depth of the 2014 WR class. If that is the case, I see them waiting until the 3rd round to nab Donte Moncrief. He measured in at 6′ 2″ and still ran a 4.40 40-yard dash. Moncrief might be a bit more of a project, but could easily be a diamond in the rough and provide the Bills a legitimate No. 1 wide receiver in the future.
While I can't be certain the Bills will draft a wide receiver, I would love to see Watkins or Evans in red, white and blue – especially now that the Patriots have upgraded their secondary. Giving EJ Manuel a truly reliable and dynamic weapon at wide receiver will go a long way in the team having success in 2014. That is why I'm wide eyed for wide receiver in the 2014 Draft.