Doug Whaley is entering year two as the Buffalo Bills' general manager, but he's been with the team since 2010. Since joining the team, Whaley has brought over philosophies from his previous employer, the Pittsburgh Steelers. There's no denying that Pittsburgh is one of the NFL's most successful franchises, so Bills fans should be encouraged that we're using their model of team building.
What is the Pittsburgh way of building a roster? It comes down to three rules:
1. Build through the draft.
2. Re-signing their own key free agents and making it a priority.
3. Sign free agents at positional needs to team friendly salaries.
Now that you know the rules, let's see how the Bills have employed these strategies since 2010.
Build Through the Draft
When Whaley joined the Bills in 2010, he was named Assistant General Manager and Director of Pro Personnel. It's unclear how much say Whaley had in the draft in 2010, one of Buffalo's worst in recent memory. Of their 2010 draft picks, only C.J. Spiller and Marcus Easley are still under contract with the team. Spiller is the team's starting running back and Easley became a special teams standout this past season.
In 2011, the Bills had more success in the draft. Four of Buffalo's first five picks are still on their roster. These picks include Marcell Dareus, Aaron Williams, Da'Norris Searcy and Chris Hairston. It should be noted that the other pick was Kelvin Sheppard, who was swapped for Jerry Hughes in 2013. Last season, Dareus and Williams emerged as play-makers on Buffalo's defense. Searcy was a role player in 2013, but his role could increase in 2014 with Jairus Byrd signing with the Saints. Hairston is a bit of an unknown after sitting out 2013 on the reserve/non-football injury list. Hairston could compete at right tackle in 2013, but his role going forward is unknown.
Buffalo's first five picks from the 2012 NFL draft are still on roster. Stephon Gilmore will be one of the team's starting cornerbacks in 2014. His play in 2013 was up and down, but an injury played a large role in his play. Cordy Glenn has started at left tackle since being drafted and he's been extremely successful. T.J. Graham may be on the roster bubble in 2014, but for now he's a reserve wide receiver. Nigel Bradham and Ron Brooks could also be fighting for jobs in 2014, but Bradham was successful against the run in limited snaps in 2013.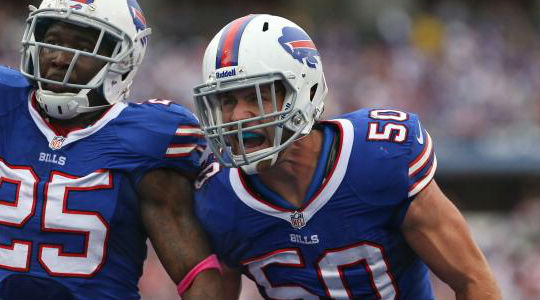 The 2013 draft class for the Bills showed a lot of promise last season and many of the players from this draft class will play a large role in 2014. EJ Manuel, the team's first pick will be the team's starting quarterback and Robert Woods will likely be one of the team's starting wide receivers. Kiko Alonso had a brilliant rookie season and should only get better in Jim Schwartz's defense as an outside linebacker. Marquise Goodwin should have an important role on offense in 2014, as his speed gives Buffalo an advantage on offense. Duke Williams will have the opportunity to compete for the starting safety job and Jonathan Meeks should be increased snaps as well. Dustin Hopkins won the kicking job in 2013 over Rian Lindell but an injury ended his season and Dan Carpenter "Wally Pipp'ed" him. He may get a job as a kickoff specialist, but it's tough to keep two kickers when filling in a 53 man roster. Last, Chris Gragg is an extremely athletic tight end, but his role could be in jeopardy if the team drafts a tight end early.
Every draft class could be better when you look back at them, but the team has found some starters and key reserves in the NFL draft.
Re-signing Their Own Free Agents
I know, I know… The team let Jairus Byrd walk this season and Andy Levitre the year before. To be fair, each player is making significant money for their position. Safeties generally do not make $9 million per year on average and guards don't generally make $7.8 million on average.
Doug Whaley said it best, "You can't keep everybody … it's just plain old economics."
Since Whaley joined the team, players such as Kyle Williams, Fred Jackson, Stevie Johnson, Eric Wood, Leodis McKelvin, Aaron Williams, Scott Chandler, Kraig Urbik, Alan Branch and Dan Carpenter have re-signed with the team. The Bills are prioritizing re-signing their free agents if the contracts are team friendly and the team feels the player can contribute. Every team has a salary cap to manage and while it's unfortunate to see players like Levitre and Byrd leave, that's the way today's NFL works.
Sign Free Agents at Positional Needs to Team Friendly Salaries
Look no further than this year's free agent signings to find evidence of signing free agents at positional needs. So far, Buffalo's new free agent additions include Chris Williams, Corey Graham, Keith Rivers and Brandon Spikes. All of the players signed were at positions of need. Last season, the Bills never truly addressed Andy Levitre's departure. Chris Williams will get his shot at left guard this season.
The cornerback position was ravaged by injuries in 2013, so adding Corey Graham gives the team no only a possible starter, but increases their depth at the position. Doug Whaley said that Keith Rivers will compete for the outside linebacker position and Brandon Spikes filled a gaping hole at inside linebacker. The former Patriot gives the Bills a two-down run thumping linebacker, something the team desperately needs after getting run upon at will in 2013. Rivers and Graham also give the Bills two special teams studs, which was another area where Buffalo struggled in 2013.
In 2013, Alan Branch and Manny Lawson were free agent additions who instantly contributed to the team. Jerry Hughes wasn't a free agent, but he too contributed in a major way last season.
The Pittsburgh model of success is underway in Buffalo. It's hard to ask a fan base for patience as the team hasn't made the playoffs since 1999, but the team has added a lot of pieces. Realistically, the Bills roster could add three to four more starters in the 2014 NFL draft. You may not believe it, but Buffalo is well on its way to competing in the AFC East.