It's that time of year. Time for teams to spend big and the Bills to sit back and watch.
That's not exactly a bad thing, though.
Last year's low-cost, high-reward pickups were Alan Branch and Manny Lawson. Both players figure to have important roles for Jim Schwartz and the defense going forward, and this is only more fuel to the buy-low fire burning in Whaley's fireplace.
However, looking for bargains doesn't mean that the Bills won't at least pursue a few big names and see what's out there. So let's look at what Buffalo needs and a few different fits.
Offensive Guard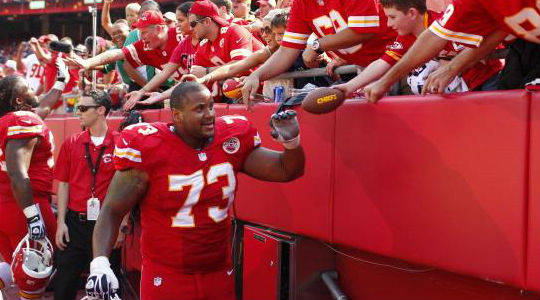 Best fit: Jon Asamoah, Kansas City Chiefs
Asamoah will be sought after by many teams which means a bidding war will ensue. However, he's still worth talking to. Asamoah excels in pass blocking which would go a long way to knocking the "injury-prone" tag off of EJ Manuel.
Realistic Target: Zane Beadles, Denver Broncos
My original name on this list was Chad Rinehart, but he's headed back to San Diego. Beadles will be more expensive than Rinehart, but he's also a more talented blocker. The offensive guard helped protect the quarterback who had the best passing season ever, which sounds good to me.
Best bargain: Shawn Lauvao, Cleveland Browns
Lauvao certainly isn't outstanding at any aspect of his game, but he's solid enough to be a starter on a team looking for cheaper options. He has started 43 games over the last three seasons, so he has the experience Buffalo might want in a stop-gap guard.
Linebacker
Best fit: Jon Beason, New York Giants
Injuries forced Beason out of Carolina last year, and his performance with the Giants put him back in position to get a decent deal. Buffalo sorely needs help at inside linebacker and Beason may be a fairly priced option for the Bills.
Realistic target: Wesley Woodyard, Denver Broncos
Woodyard, a former teammate of Stevie Johnson's at Kentucky, has similar attributes to Beason, but brings more versatility. With Denver looking at other linebackers, it seems like his time in Denver is done. That could be a good thing for Buffalo.
Best bargain: Michael Boley, Cincinnati Bengals
Boley is no longer starting quality, so he'd only be a fit if the Bills are looking to add more depth. However, he's only two years removed from playing a major role in the Giants' defense and does well in pass coverage.
Safety
Best fit: Jairus Byrd, Buffalo Bills
This one is a bit too easy. If the price is right, the best option for the Bills is to bring Byrd back. Unfortunately, it doesn't seem like that will happen despite Aaron Williams' comments that Byrd wants to return to Buffalo.
Realistic target: Malcolm Jenkins, New Orleans Saints
Jenkins entered the league as a corner, but New Orleans shifted him to safety after he struggled. Sounds like Aaron Williams, no? Jenkins, in my opinion, is underrated despite playing on some bad defenses in New Orleans. He won't intercept passes like Byrd, but he defends a similar number of passes.
Best bargain: Jim Leonhard, Buffalo Bills
Leonhard said he wants to play one more season, and he had success early in the season when Byrd was out. A combination of Leonhard and Da'Norris Searcy could help patch the hole Byrd leaves, while Buffalo fills other needs and grooms Duke Williams.
Tight end
Best fit: Jermichael Finley, Green Bay Packers
He's really the only worthwhile free agent tight end this offseason, but injuries will be cause for concern. It's unlikely that Finley gets a long-term deal following his spinal fusion surgery, but Buffalo can spend big on a one-year deal to see if Finley fits what they want to do at the position.
Realistic target: Scott Chandler, Buffalo Bills
Many Bills fans are far bigger Chandler fans than I am. I personally think the team should move on from Chandler and draft a tight end, but if we're talking free agency then Chandler might be the best bet to be Buffalo's starting tight end next year.
Best bargain: Ed Dickson, Baltimore Ravens
He lived in the shadow of Dennis Pitta for a few years after having a pretty solid sophomore season with the Ravens. There aren't any top-tier targets at this position, so it might be best to take the young guy in Dickson and see if he produces in a larger role.
Right tackle
Best fit: Jared Veldheer, Oakland Raiders
A major injury derailed his season, but that doesn't change the fact that he's an elite tackle that Buffalo could use to replace Erik Pears. Pears is a likely cap casualty, and should be replaced either way. Veldheer will likely cost too much money for Whaley, though.
Realistic target: Austin Howard, New York Jets
Howard handled Mario Williams extremely well when the two matched up, but Howard hasn't always been reliable. He excels most in the run game, so that's not ideal to what Buffalo will want in a right tackle. He's still young though, so improvement is likely.
Best bargain: Eric Winston, Arizona Cardinals
Winston won't really bring much more than Pears does, but he might be a little cheaper. If Buffalo wants to keep a veteran presence but not pay Pears' salary, then Winston could be a very good second option.
Wide receiver
Best fit: Eric Decker, Denver Broncos
The Bills need a bigger receiver to compliment the mix of small speed receivers the team currently has. They also need a true number one receiver. Unfortunately, Decker only fills one of those two needs. He isn't a true number one, but he'll likely be paid like one. Doubt anything happens here.
Realistic target: Brandon LaFell, Carolina Panthers
The Panthers will likely be in the market for guys like Decker and Hakeem Nicks, which should leave LaFell available. He's got size at 6'3″ and uses it well. LaFell also possesses good speed for his size and could be an under the radar signing.
Best bargain: Kenny Britt, Tennessee Titans
He won't be looking at anything more than one-year offers in all likeliness. The talent is clearly there, but he needs a team that can coach him up more than any team needs him. If he can get his act together on and off the field, then he'll be a steal.
Buffalo has plenty of holes even beyond those listed, but they'll likely lay low early on and let other teams give out the big contracts. Look for some pickups a little later in free agency. Also expect to see plenty of fans screaming when they don't do anything early on. Let the fun begin…