It has been a highly unusual week for the fans of Western New York sports teams. Rarely have we seen a simultaneous eyebrow raising set of events from both the Bills and Sabres at this time of year. However, for the purposes of this article, let's take a look at whats happened at One Bills Drive this week. Arguably, the biggest revelation for Bills fans was news that the Toronto series was being "postponed" for a year.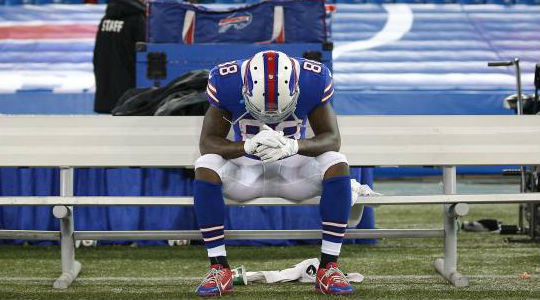 The Toronto series was a significant thorn in the side of most Bills fans, including many Canadian Bills fans. The players hated it for the most part, and a big shout out goes to Eric Wood for his refreshing honesty and bluntness about how detrimental the Toronto series was for the players and fans.
It must have been a miserable experience for Bills players. The downright scary playing surface and the "neutral" fan base are two of many reasons why this series has been a failure. Look no further than the 1-5 record to show how much of a challenge it was for the players to play a regular season game in Toronto. Many players made no secret regarding their disdain for this monumental disaster called the "Toronto series."
Although the series was postponed and not canceled in its entirety, it's probably safe to list your Toronto series tee shirts on eBay and see what you can get for them. They will no doubt be a collector's item 20 years from now. RIP Toronto series. The chances of Yellowstone blowing up this week are better than the chances of a resurrection of that hot mess of a series.
Bills fans should not miss the "big picture" significance regarding this announcement. This is a pretty big baby the brass at One Bills Drive just showed us, for several reasons. First and foremost, it shows fans that the Bills front office can prevail in convincing ownership that the Toronto series had a negative effect on their ability to win games.
This may seem like a slight shift in philosophy, but changing the losing culture of the Bills requires the ability to prioritize winning over any other strategic goal. Props to the Bills brass and especially Coach Marrone for working so diligently to get the home game back where it belongs. This little 'baby' they just showed us registered high enough on the Richter scale to be felt on the other side of Lake Erie, literally and figuratively speaking of course.
However, there might be delivery of a 50 pound baby in light of the news that Aaron Williams was not only signed to an extension as reported, but that he also made some very interesting comments this week regarding the Jairus Byrd situation.
He mentioned in an interview at buffalobills.com that he and Jairus were extremely close and that he hoped that Jairus would return to the Bills. Williams went on to wish Byrd all the best no matter where he ends up. This was an interesting statement that would not be expected or make sense if his close friend had completely shut the door on returning to the Bills.
No one should fault Byrd for wanting to go out and test the free agency market. Eugene Parker had Byrd on the sports media circuit all week putting his face in front of the camera. Parker likely already knows exactly what the market is for Byrd by now. Analysts have been saying for months that this draft is significantly deeper than most because of the number of college players coming out early to enter the draft this year.
It wouldn't seem a stretch to think that teams looking for safeties might choose to draft one and hope they blow the lid off their rookie year like Byrd did. If teams can identify a player they could draft instead of paying elite money to a veteran, it might make more sense, especially for teams with cap problems.
The bottom line is that Aaron Williams' comments cracked open the door, if ever so slightly, to let some light in regarding the possibility that Jairus Byrd may yet still be re-signed by the Buffalo Bills. This would make sense about why the Bills chose not to tag Byrd as well.
So folks, "it ain't over until the fat lady sings" as far as Byrd's future in Buffalo. That would be a 50 pound baby the Bills would be showing the fans if Byrd finds his way back to his nest in Buffalo. And if he flies off to some other team, I think it's safe to suggest that everything including the kitchen sink was thrown into the effort to re-sign him.
Furthermore, expect to see more contract extensions once the Byrd situation is determined. Guys like Dareus, Hughes, and even C.J. Spiller could be on the docket once the numbers become clearer in terms of what is available in terms of cap space. This front office is not sitting on their hands.
Only the hopelessly negative cannot see how different this front office is now that Russ Brandon is in charge. The criticism heard 'round the world last week that maybe the bean counters were still running the show with a bit too much "sway" as reported by Tim Graham were certainly addressed recently in no uncertain terms by Mr. Brandon on WGR radio.
However, before vilifying Mr. Graham for his aggressive reporting style, it should be noted that there is an important role to be played by the media in demanding transparency for the fan base. It would appear that Mr. Graham is quite comfortable in his role as agitator, and I don't believe he should be condemned for stirring the pot.
Anyone who has raised teenagers knows that it is understood that a teenager's developmental task (their job) is to push their limits as far as they can in order to find appropriate boundaries as they grow into adulthood. Likewise, it is the job of the media to push the limits of tolerance at times to force transparency regarding whatever topics they are paid to cover. Few would probably dispute that the manner in which this is done has certainly changed since the days of Larry Felser. Whether that is a good or bad thing is debatable.
Stay tuned Bills fans. There are a lot of moving parts right now that should excite Bills fans about the future. The most important thing fans can do now is to fill the stadium and support this team at all eight home games at The Ralph this upcoming season. It's our turn to show them the baby.