Greg Robinson- OT Auburn (Redshirt Sophomore)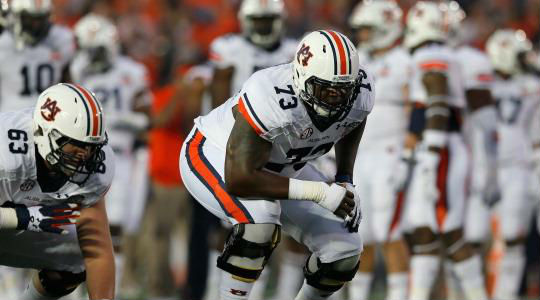 Tale of the Tape:
Height: 6'5
Weight: 332
4.92 40 Yard Dash (Official)
What They're Saying:
His speed and quickness should make him a top performer in the Underwear Olympics portion of the pre-draft process. – Andy Staples, SI.com
"Robinson has the size and strength of a road-grading right tackle, but the athleticism, length and agility to develop into a star at left tackle," – Todd McShay, ESPN
Pros:
Robinson is athletically gifted in both strength and quickness. He was able to improve tremendously over the past year in Auburn's run oriented offense, and shows the skills of being a lock-down left tackle in the NFL.
Cons:
Despite his overpowering play, he can get caught with his head down and whiff on blocks. He will have to improve technique and pass blocking skills as Auburn focused on the run more than the pass.
Robinson's offensive line coach at Auburn admitted that he still hasn't developed in terms of footwork, hands and pad level on a consistent basis. That said, he did state that it's fine tuning for Robinson and once it all clicks he will be dominate in every phase of the game.
Evaluation:
Robinson is raw compared to the other tackles in this year's draft class, but not as unrefined as some mock analysts will have you believe. Robinson dominated SEC Defensive Player of the Year, Michael Sam, to a blip on the stat sheet in the SEC Championship game.
Though he may be compared to last year's third tackle drafted, Lane Johnson, Robinson is much further along in his blocking ability. The size and speed combo could lead him to be a tackle in the Jason Peters mold, where his quickness to get out on pass rushers instantly neutralizes them. He is also so big that as a run blocker he can maul anyone over and create large running lanes.
I expect Robinson to fly up the draft charts, as we get closer to May, especially after the NFL Combine and his pro day. Robinson's athleticism and strength make him a top ten talent in the 2014 NFL draft.