Living in the middle of diehard Broncos territory for nearly 40 years (the Rocky Mountain region), I did not think there would ever come a time when I was not the butt end of a joke or snide remark for being a Bills fan. That comes with living away from the home base and it's never bothered me a bit. I am a Wyoming Bills fan, and the locals here just have to deal with it. So far, they only consider me to be insane, which might be more truth than fiction.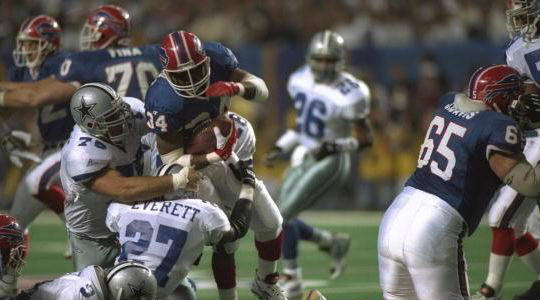 The years of assault on my fan-hood only served to remind me that there really are only die hard Bills fans left in this world. There are no other types of Bills fans left. They last known bandwagon Bills fans hopped off the wagon after Bledsoe left. They are way past the endangered species list at this point.
So, after the Broncos were annihilated in the Super Bowl, I'm presented with a rather odd dilemma. Do I use this opportunity to inflict pain upon Broncos fans by reminding them of this Super Bowl "Horror Show" every time they go after my 'loser' image as a Bills fan?
There is little doubt regarding the power that comes with the remark, "Your team stunk in Super Bowl 48" as an auto-retort whenever Broncos fans start launching their chortles in my direction. It seems like a great weapon of defense in the battle for respectability for this long suffering Bills fan. Should I go that route?
Maybe being battered and bruised as a Bills fan for more than a decade has turned me into a 'softie'? Arguably one of the most important lessons to learn from being a fan of a chronically bad football team is that you better have thick skin if you don't live in the motherland that is Western New York.
The temptation was more difficult than I'd like to admit. I decided the best course of action would be to show restraint and offer support to local Broncos fans. Besides, it seems best to tuck those weapons away for future use if necessary. I learned a long time ago that being a Bills fan means storing an ever-ready supply of zingers.
What actually happened surprised me. Is it the old "misery loves company" thing? Lately it seems like I'm back in the counseling chair offering support to wounded Broncos fans by the dozens. I can only surmise they gravitate toward me for comfort because they think I am the only person around them who can truly relate to them.
To be a life long Bills fan undoubtedly requires thick skin. What other fan base (other than arguably Cleveland) possesses the necessary skill-set to handle annihilation and humiliation to the extent Bills fans have endured since 2000?
If one assumes a healthy strategy in life is to learn from every challenge we are presented, Bills fans should polish up their LinkedIn profile and add "mentors sports fans unaccustomed to losing" as an added skill. Polishing turds seems like an essential function in most work settings. Never underestimate the knowledge to be gained from these important life lessons. In order to make sense of the nonsensical, one must step away and look at the infinite possibilities that exist in order to gain wisdom through suffering.
The 'suckage' of the Bills over the last decade and a half might be considered a gold mine in this regard. It's one thing to be cliché about gaining wisdom from adversity, but it's an entirely different matter when one must actually apply this concept in life.
As Bills fans, we are experts in rationalization and denial. We have much to offer those who have not suffered the ill fate of becoming a laughing stock in the world of sports for decades. Don't underestimate what this powerful gift might provide for yourself and others.
Of course I write all of this tongue-in-cheek, but the fact remains that there are choices that sports fans make in order to cope with chronic losing. One of them is to decide whether or not to be a victim and whine about it, or turn it into some useable life skill and learn to apply that knowledge to other aspects of life.
That is why I chose to assist Broncos fans in licking their wounds. I taught them how to find gems among the rubble left after the Seahawks destroyed their beloved team in the Super Bowl. We have a tremendous opportunity as fans to share our wealth of experience at loving a losing football franchise. It will make rising out of the ashes even sweeter when the Bills become a winning and relevant football team again.