Are you the kind of person who enjoys looking at a list of players in an order they likely won't be selected during the NFL draft? Me too.
I take the strange obsession to a new level each offseason by constructing the list, or mock draft as it's generally referred to, multiple times leading up to the actual thing which is a little over two months away (May 8th).
So without wasting anymore time, let's take a look at the pre-free agency mock draft.
1. Houston Texans – Blake Bortles, QB, Central Florida
He's not a name that many knew heading into the season, but he's someone just about everybody should know now. He's drawn comparisons to Ben Roethlisberger through the draft process, and those comparisons seem pretty fair. He's a big pocket passer with the awareness and feet to make plays others can't. Jadeveon Clowney will be tempting, but the Texans NEED to go quarterback here.
2. St. Louis Rams – Jadeveon Clowney, DE, South Carolina
I don't believe this pick actually ends up staying with St. Louis, but since I'm not projecting trades yet, I'll say they go with Clowney. Imagine a defense with Chris Long, Robert Quinn and Clowney. He'll get consideration for the first overall pick, and there's already talk about teams moving up to get him. Is he all hype? Time will tell.
3. Jacksonville Jaguars – Teddy Bridgewater, QB, Louisville
Bridgewater was considered the clear number one quarterback in the draft throughout the season, and it looked like the Jaguars were on a crash-course to landing him first overall. The Jags ended up at third with a couple of wins, but they still might get their man.
4. Cleveland Browns – Johnny Manziel, QB, Texas A&M
This marriage has been more publicized than Kimye. Cleveland cleaned house, and the new regime will likely want to get "their guy." There are still a lot of differing opinions on Manziel. His size and playing style are too major questions marks as many scouts say they'll both cause him major problems in the NFL. Still, the talent is too much to pass up for Cleveland at the top of the draft.
5. Oakland Raiders – Sammy Watkins, WR, Clemson
In a perfect world, Oakland gets a shot at one of the top three quarterbacks in this draft. It doesn't work that way in this scenario, so they'll have to provide their current quarterback with a true top wide receiver. Watkins has the speed and hands to be elite. His size isn't ideal, but he plays much bigger and targets the ball at its highest point to bring down balls in traffic.
6. Atlanta Falcons – Khalil Mack, DE/OLB, Buffalo
Atlanta will have plenty of discussions about moving up to get Clowney, but there's a growing opinion that Mack isn't just a consolation prize among front-seven prospects. He gets knocked for playing in a lesser conference, but his best game came against powerhouse Ohio State. The Falcons won't consider anything but upgrading their offensive or defensive line with their first pick.
 7. Tampa Bay Buccaneers – Anthony Barr, DE/OLB, UCLA
Barr didn't look as good on film this year as he did last year, but he's still an elite prospect with everything a player needs to get to the quarterback. In a division that features Drew Brees, Matt Ryan and Cam Newton, the Bucs have to disrupt the pocket on a consistent basis. Tampa Bay's defense should be back near the top if they can mix quarterback pressure with that fantastic defensive backfield.
8. Minnesota Vikings – Derek Carr, QB, Fresno State
Carr has drawn comparisons to Matthew Stafford, for better or worse. Minnesota has seen firsthand what Stafford is capable of, and they'll take the chance that he's that and maybe a little more (or less when it comes to risky decisions). They don't have a quarterback on the roster right now capable of helping them contend in what has become one of the better divisions in football.
9. Buffalo Bills – Jake Matthews, OT, Texas A&M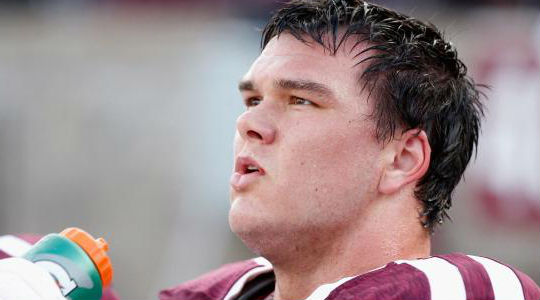 Depending on how everything falls in front of them, the Bills could go in many directions. Skill position? Watkins if available or Eric Ebron. Defensive front seven? Mack or C.J. Mosley could be options. Instead it's Jake Matthews, the best offensive tackle in the draft. Auburn's Greg Robinson has risen above Matthews on a lot of boards, but I think Matthews would be the better pick to help protect EJ Manuel. He and Cordy Glenn could give Buffalo one of the best tackle combinations in the league. That's one way to keep a quarterback upright.
10. Detroit Lions – Darqueze Dennard, CB, Michigan State
Dennard had a good combine which should solidify his position as the best corner in this draft, and being picked up the Lions allows him to stay in the same state he played college football. It won't automatically fix Detroit's secondary, especially after they opened another hole by cutting Louis Delmas, but it's a start.
11. Tennessee Titans – Greg Robinson, OT, Auburn
The Titans spent big on the offensive line last summer, but it still needs some work. Enter Greg Robinson. He's another player who had an outstanding combine after his stock was already on the rise. Adding Robinson should make Tennessee's offensive line elite, but it'll be interesting to see what happens behind it with no legitimate quarterback and Chris Johnson's potential upcoming release.
12. New York Giants – Taylor Lewan, OT, Michigan
Lewan saw his stock start to slip a bit before putting up a great performance at the combine. The only thing in the way of Lewan ending up in New York might be the Giants doing what they reportedly want to do — spend big on the offensive line in free agency. If they don't make the move there, then the decision is easy here for one of New Jersey's two teams.
13. St. Louis Rams – HaHa Clinton-Dix, S, Alabama
The last time Clinton-Dix was in the news the president got impeached.  Ha Ha, real name Ha'Sean, was a big part of one of the best defenses in college football for two years which obviously doesn't hurt his draft stock. St. Louis has needed to get an elite safety for years now, and they'll get one with their second pick of the first round.
14. Chicago Bears – Aaron Donald, DT, Pittsburgh
Donald's stock soared after one of the most impressive combine showings I've ever witnessed. He ran a 4.68 at 285 pounds, and pumped out 35 reps of 225 pounds to prove that he's a true three-technique. If you're wondering what that term means, Donald will be lining up on the outside shoulder of the guard and contain plays to the inside or disrupt the middle of a play.
15. Pittsburgh Steelers – Justin Gilbert, CB, Oklahoma State
After releasing Ryan Clark, the Steelers could go for Louisville safety Calvin Pryor here. I think they'll go for secondary help but not at the safety spot. Gilbert blazed the field with a 4.37 40-yard dash in Indy and he would give Pittsburgh a new leader of the secondary once Troy Polamalu and Ike Taylor move on.
16. Dallas Cowboys – Timmy Jernigan, DT, Florida State
If Jerry Jones really wants to help Tony Romo then he'll look to improve the defense significantly in the off-season. In 2013, Romo did plenty to shakeoff the "un-clutch" trait so many slap on him, but his defense constantly nullified anything he was able to do. Jernigan and Donald will likely battle for the top defensive tackle taken in the draft.
17. Baltimore Ravens – Mike Evans, WR, Texas A&M
Torrey Smith is a good target when Joe Flacco decides to throw the ball as far as humanly possible, but Baltimore doesn't have much outside of Dennis Pitta when it comes to intermediate plays. Evans has the size to make plays in the red zone and bring the safeties in on passing plays.
18. New York Jets – Odell Beckham Jr., WR, LSU
Geno Smith, Michael Vick, Hair-Bandchez… Whoever is throwing the ball for the Jets next season will need something to look forward to. Beckham would give them one target to work with, which is one more than they've had in recent years. Nothing stunts offensive progress like dropped passes and bad routes. Beckham does the opposite of both.
19. Miami Dolphins – Zach Martin, OT, Notre Dame
The reason for this pick can't be any more obvious. Richie Incognito bullies the wrong team, and Jonathan Martin, another one of their offensive lineman, will likely have to move on because of it. That leaves two holes, and they'll hope this Martin fills one of them for a long time.
20. Arizona Cardinals – Kony Ealy, DE, Missouri
Ealy isn't the Missouri defensive player with the most buzz, but he's the most talented one. Arizona's defense is already one of the best in the league, and Ealy only makes them stronger. Ealy can come in and help the Cardinals in chasing down Russell Wilson and Colin Kaepernick on a consistent basis.
21. Green Bay Packers – Eric Ebron, TE, North Carolina
This could be one of the players Buffalo targets at nine, but he could also slide quite a bit if he doesn't go there. Here, he replaces Jermichael Finley in one of the top passing offenses in the NFL. A healthy Aaron Rodgers and the addition of Ebron should ensure that the Packers compete for another Super Bowl next year.
22. Philadelphia Eagles – Calvin Pryor, S, Louisville
Philadelphia got lucky last year that Nick Foles came out of nowhere to create a high-scoring offense. Without Foles, the Eagles defense is even more scrutinized after putting up consistently poor performances all season. Pryor will help in the pass defense, and he's a hard-nosed player who will put his hat in the run defense, too.
23. Kansas City Chiefs – Marqise Lee, WR, USC
There's a pot of gold at the end of Dwayne Bowe, but there aren't any copper pennies after him. The Chiefs have a big body in Bowe that will eat up a lot of red zone targets from Alex Smith, but Smith will need Lee to balance out the offense and create more opportunities underneath and over the top.
24. Cincinnati Bengals – Ryan Shazier, OLB, Ohio State
I believe that Shazier is a bit of a reach here for the Bengals, but he's still a good fit for what the team needs. They've got Vontaze Burfict and Rey Maualuga right now, and Shazier will round out that group to allow for new defensive coordinator Paul Guenther, former linebackers coach, to focus elsewhere when coaching.
25. San Diego Chargers – Jason Verrett, CB, TCU
The Chargers need to improve their pass defense if they want to give Philip Rivers an opportunity to get to the promised land. Here they go with help on the back end with Verrett to get things started, and they'll have to move their attention to the pass rush after making this pick.
26. Cleveland Browns – C.J. Mosley, ILB, Alabama
This pick might've gone in a different direction if the team hadn't just released D'Qwell Jackson. They'll have to replace him, and the best inside linebacker in this draft will immediately do just that. Mosley should be ready to step in immediately after playing at 'Bama. Watch the tape on this kid. There isn't much not to like.
  27. New Orleans Saints – Dee Ford, DE, Auburn
Ford made some noise at the combine with claims that he's better than Jadeveon Clowney. He isn't really on the same level as Clowney, but the Saints will need him to try his best to be that good after releasing Will Smith. The defense has never been quite right for the Saints, so they'll continue to work on it.
28. Carolina Panthers – Brandin Cooks, WR, Oregon State
He doesn't have a lot of size, but neither does Steve Smith and he's done just fine. Smith is coming to the end of his career, and Cooks will spend a few years under him learning how to use his lack of size to his advantage. Everybody knew he was fast before he ran a 4.33 40-yard dash.
29. New England Patriots – Jace Amaro, TE, Texas Tech
New England used to have two of the best tight ends in the game. Now? One is constantly fighting injuries and the other is apparently fighting other inmates. New England might be weary of Amaro's previous arrest, but New England loves to take on projects with previous legal issues — even if they try to act like they didn't know.
30. San Francisco 49ers – Kyle Fuller, CB, Virginia Tech
If you watched Virginia Tech at all this season then you probably noticed that Kyle Fuller is ALWAYS around the ball. Jim Harbaugh loves players like that, and will be ecstatic to add him to an already outstanding defense. The only red flag is injury issues during his time in college.
31. Denver Broncos – Louis Nix III, DT, Notre Dame
Nix will fill gaps without much effort at 342 pounds. Denver doesn't really have many holes, so this is kind of a best pick available selection. However, Nix will still get plenty of snaps on the defense as that's the only place that a lot of help might be needed. Peyton Manning will do the rest.
32. Seattle Seahawks – Ra'Shede Hageman, DT, Minnesota
The champions will go through a bit of a shakeup as some of their star players get paid richer contracts. When some players get richer, other players will have to make a move out of town. Red Bryant is the first example of these players, and Hageman will have to fill that role on the defense.