Eric Ebron, TE, North Carolina (Jr.)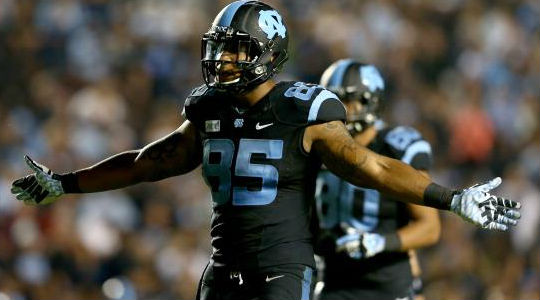 Tale of the Tape:
2013 Mackey Award Finalist
Set school, career, and single season records for receptions, receiving yards as a tight end.
4.6 40 yard dash (Official)
What They're Saying:
His combination of size and speed makes him ideal for a team that likes to flex its tight ends to create coverage mismatches. – Andy Staples, SI.com
"He is simply too fast and explosive for most linebackers to shadow down the seam, but is too big and physical for safeties and nickel corners to hold up in coverage." – Bucky Brooks, NFL.com
Pros:
Ebron is a physically imposing receiver with size and speed. He played consistently in 2012 and made the most of it. Ebron quadrupled his receptions between his freshman (10) and sophomore (40) seasons, and tripled his yardage going from 207 yards to 625 yards.
Ebron brings enough speed and shiftiness to gain yards after the catch. The tight end only scored eight touchdowns in his three seasons, but if coached well at the next level he could become an imposing red zone threat in the mold of a Tony Gonzalez or Antonio Gates.
Cons:
Ebron is still lacking in his blocking technique and is susceptible to dropping the ball. He may lack concentration and attention to detail, but physically can play on the level of San Francisco's Vernon Davis or New Orleans' Jimmy Graham.
For as physically imposing as Ebron is, he doesn't use his strength to fend off defenders and can get easily rerouted in press coverage.
Evaluation:
Ebron is getting compared to former ACC tight end Vernon Davis and rightfully so. According to Ebron, he has an "illegal" combination of size and speed.
At North Carolina, Ebron was split in the slot or outside on more than 75% of his snaps. This means he is already a good route runner and will be a match-up nightmare for cornerbacks and linebackers. However, it also means that teams can scheme around controlling Ebron if other weapons aren't present on his team.
In the NFL, Ebron needs to improve his concentration from play to play and become a better blocker. In the meantime, he will be able to make an immediate impact in the passing game. Ebron will be a very good jump ball target out of the gate, but will still need to improve on the little things to reach the potential he carries.