The combine has started and the 2014 NFL draft will be here before you know it. Recently, I asked the Bills Mafia a simple question on Twitter, "Who do you want the Bills to draft at ninth overall?" Well, the Bills Mafia answered and the top prospects the fans wanted the team to draft were Sammy Watkins, Eric Ebron, Greg Robinson and Khalil Mack. In response, we created this series of draft profiles of each player.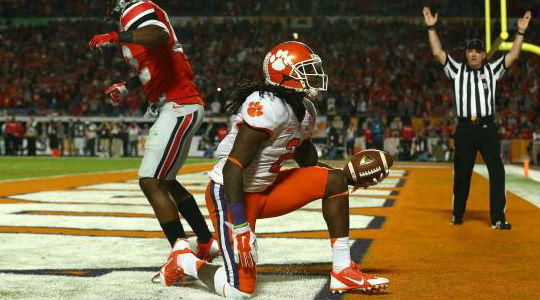 First up, Sammy Watkins.
Sammy Watkins, WR, Clemson (Jr.)
Tale of the Tape:
Height- 6'1″
Weight- 211 lbs.
4.43 40-yard dash
A 3 year starter for the Clemson Tigers in which he is first in school history in receptions, receiving yards, tied for first in receiving touchdowns and second in all-purpose yards.
2013 Second team All-American by AP.
2013 Biletnikoff Finalist
What They're Saying:
"I usually don't get too excited about wide receivers in the top 10, but this kid is different," – Mike Mayock, NFL Network
"To me, there is no debate here. I think Sammy Watkins, based on what I've seen, is the best receiver in this draft," – Greg Cosell, NFL Films senior producer
Pros:
Watkins is the best wide receiver to come out since A.J. Green in 2011 and may or may not be available when the Bills are on the clock with the ninth overall pick.
Provides speed on the outside and is superb at high pointing the ball when it's in flight.
Was used in different areas on the field, including at half back his freshman year, and is a yards after catch play maker with his speed and agility.
Cons:
Watkins will have to adjust to not being the fastest guy on the field.
Lighter body size means he will have to learn new ways to get out of double teams and bump and run coverage. Without being able to outrun defenders, he will have to improve technique to avoid injuries and adjust to the physicality of the NFL.
Evaluation:
Watkins is the best receiver to come out since A.J. Green; period. Any knock on him is minor and inconsequential to what he brings to the table as a physical talent and football player. He will have to improve his technique in releasing from a defender's hold, as well as route running, but his big play potential and speed clearly make him the most game changing offensive player that isn't a quarterback in the draft.
What is most impressive about Watkins is that once the ball is in his hands he gets maximum yardage. He will have to learn that he can't outrun or dodge every defender, so he has to run more north-south then east-west. This is something he will learn once he steps onto an NFL field.
Watkins is the complete package as a receiver as he possesses speed, height, leaping ability and field awareness. He doesn't have any serious injury concerns, which only makes him more attractive to NFL teams.
Wherever he lands, Watkins should provide an immediate impact.