Su'a Filo, OG, UCLA: The UCLA line was young and talented, but no one stood out more than Filo this year for the Bruins. Filo is a guard that carries enough speed to stop a quicker tackle and upper body power to stop a bull rusher coming through middle. He brings strength at the point of attack and after the turnstile at left guard last year, Filo has to be seen as a major upgrade. He is being mocked anywhere from late first round to second round.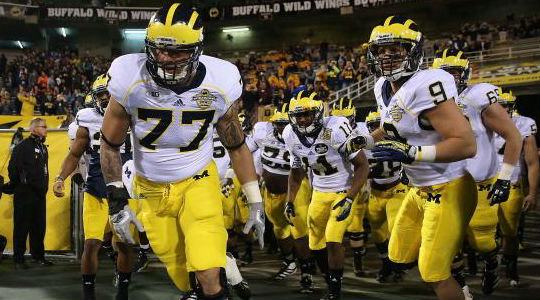 Cyril Richardson, OG, Baylor: He was once considered the top player at his position, but Richardson has been falling down draft boards because of his weight. Pushing 350 pounds means that Richardson is a mountain to get around for defensive players, but also slow to react. If Richardson gets his mitts on a defender they are instantly neutralized, but he can also be taken in by double moves and speed. He's being graded as a second or third round pick, but if he gets his weight under control and increases his stamina the Bills could get quite the steal.
Taylor Lewan, OT, Michigan: Lewan right now is projected as the third best tackle in this draft, despite being a likely a top five pick a year ago. In 2013, Lewan refined his pass blocking skills. He isn't the most athletic tackle prospect, but he is the most polished tackle in this class. Lewan would instantly start at right tackle for the Bills, and improve the team's pass and run blocking. Lewan could certainly be a Bills target at pick nine.
Sammy Watkins, WR, Clemson: Selecting Sammy Watkins would be a no-brainer in the first round. Watkins is the best receiver in a deep receiving class. He's a game-changer on the outside, but there's no guarantee that he'll be available when the Bills pick in round one. EJ Manuel would benefit from this selection as Watkins has the ability to be a top-tier wide receiver in the NFL. The Bills will have a tough choice of selecting a need or best available player when they are on the clock, but Watkins trumps all if he's available.
Kelvin Benjamin, WR, Florida State: Reuniting Benjamin with his former collegiate quarterback brings instant chemistry to the Bills. Benjamin is a wide receiver that has similar attributes to Terrell Owens. He is tall, fast and physically imposing against defensive backs. The Bills lack a big target and Benjamin would be that for the Bills. It's realistic for him to start in a specialized role early until his route running gets better. Benjamin could be a late first round pick, but could fall into the second round due to how deep the receiving class is this year.