The NFL draft is right around the corner and for the first draft in quite some time, the Bills do not have multiple holes on both sides of the ball to fill. In the first round, the Bills can truly select the best player available.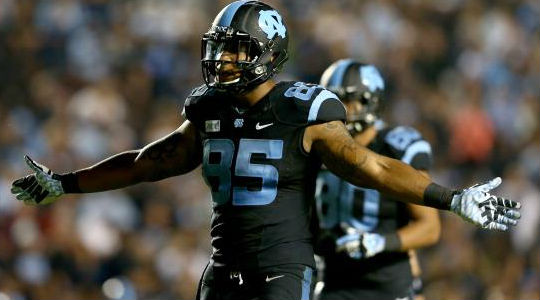 This season showed some real progress in multiple areas, but most notably the defense. The 2013 season led to the emergence of Kiko Alonso and a sack-happy defensive line. While there are still some holes on defense to fill, the offense should be the primary focus of the Bills in this upcoming draft. Granted, the Bills did draft two wide receivers last year and continue to be set at running back, but there is room for improvement. When you look at the league as a whole, and then look at Buffalo's roster, you'll notice one glaring hole: a large athletic target for the quarterback. This is in no way meant as a slight to Stevie Johnson, who is a very good wide out, or to Scott Chandler, who has proven to be a solid pass catcher; it is merely a simple statement of fact.
Last year the Bills drafted Robert Woods, who seems to be on track to develop into a solid possession receiver, and Marquise Goodwin, who has the ability to beat almost any defender down the sidelines.  The Bills already know what they have in Stevie Johnson and T.J. Graham seems to be an obsolete piece in the offense after drafting Goodwin. Scott Chandler is about to hit free agency and the remaining tight ends have question marks. So where exactly has this gotten the Bills, taking into account the fact the EJ Manuel only played 10 games, as a rookie, and that it was two of these receivers rookie seasons? It got them to 28th in the league in passing average per game, a measly 193.9 yards. Now I am not stating that this was merely due to the fact that the Bills possess insufficient targets for their quarterbacks to throw to, but I believe they do need a BIG sure-handed target for the quarterback to lean on when needed.
Look no further than the Bengals. I would like to think that most Bills fans would agree that they would like our team to be in the shape that Cincinnati finds themselves in (Andy Dalton argument aside). So, taking a closer look at their passing attack can maybe give us an idea of what the Bills should be aiming to emulate. Cincinnati was not the best passing team in the league, but they were one of the better ones, ranking in at 8th in the league, averaging 258 yards per game through the air. Looking a bit closer at the numbers, who were two of the team's top targets? That would be A.J. Green (6'4″) and Jermaine Gresham (6'5″), who accounted for 40% of Andy Dalton's completions. These two both possess great down field catching ability, and both create match-up issues with any team that they play. Cincinnati also has promising weapons in Marvin Jones (6'2″) and Mohamed Sanu (6'2″) accounted for 51 and 47 receptions respectively.
Now let's take a look at the Bills' numbers. Stevie Johnson (6'2″) and Scott Chandler (6'7″), Buffalo's top two pass catchers, accounted for 35% of completions made this past season. While the pass catching percentages are not that large of a difference, the athleticism of these two players don't compare to Cincinnati's wide receiver and tight end duo. Going down the line of Bills receivers, Woods measures in at 6'0'', Goodwin is 5'9″ and Graham measures in at 5'11". These are very large differences between Buffalo and Cincinnati's other wide notable wide receivers. Height isn't everything, but in my opinion the Bills should use their first round draft pick on a large target in order to aide the development of EJ Manuel.
The draft is still months away, but right now there are two large targets that are likely to be available at pick nine of the draft. The receiver most resembling the type of build that A.J. Green possesses is Texas A&M wide receiver Mike Evans. The big bodied, athletic tight end who may be available at pick nine is Eric Ebron of North Carolina. Evans is 6'5″ and 225 lbs, while Ebron stands at 6'4″ and 245 lbs. In my mind both are the exact type of target that Manuel needs to have. Whether it is in a pressure situation, a broken play, or a set play to exploit a match-up, this type of target can fill a variety of roles. The value that pass catchers like this can have to a young quarterback's development is critical. This value is not purely conjecture; there are numerous examples across the recent history of the league that shows how these big targets can help the development of a young quarterback. The three most recent that come to mind are Matt Stafford who has Calvin Johnson, Matt Ryan with Julio Jones, and of course Andy Dalton who has A.J. Green. While I understand that not every team has a tall, fast number-one wide receiver, and that all offensive systems do not necessitate it, I think that the league has shown that the match-up problems created by these players are extremely valuable to any team.
Since I feel that the Bills would be best served by drafting one of these players, I am also raising another question. Is there room for Scott Chandler and Stevie Johnson on this team? I like Stevie Johnson, and I feel he is a good wide receiver, but if there is a chance to upgrade the position, I believe the team must do it. Stevie would be a great complimentary receiver to a player like Evans, but he would then take the place of either Woods or Goodwin, both of whose potential is yet to be fully known. If the Bills instead choose to go the tight end route by drafting Eric Ebron is there room for Scott Chandler? You don't draft a play maker at nine, only to sit him behind a veteran.
There are plenty of questions that the Bills need to address when it comes to drafting a position player because of what they already have on their roster. Unlike previous years where the player being replaced may have merely been a fan favorite, the Bills are now faced with decisions of replacing skilled or established players. This is not a bad problem to have, and we should all look forward to what the Bills decide to do.