1.) Houston Texans- Teddy Bridgewater, QB, Louisville: Houston addresses the most important position by taking the Louisville quarterback.  Bridgewater will provide some instant competition with Case Keenum in Houston and provide stability at the position once he wins the job.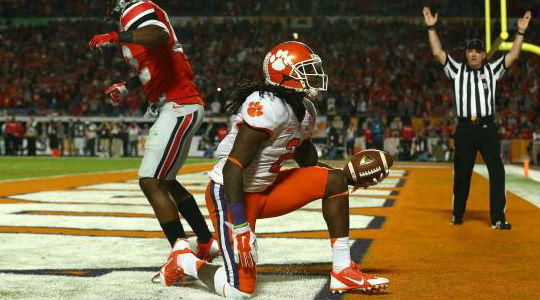 2.) St. Louis Rams (via Washington)- Greg Robinson, OT, Auburn: After seeing Sam Bradford go down with another injury and one of their starting tackles set to leave via free agency, solidifying the offensive line should be a priority for St. Louis.  With the luxury of a second pick later in the first round, the Rams can take the best available player now and fill another need later.
3.) Jacksonville Jaguars- Jadeveon Clowney, DE, South Carolina: Gus Bradley loves a pressure based defense, and though there will be some calls for either Johnny Manziel or Blake Bortles here, Bradley gets the defensive force he's looking for.  Don't be surprised if Jacksonville tries to trade back into the first round to get their quarterback of the future.
4.) Cleveland Browns- Johnny Manziel, QB, Texas A&M: I'm sure Mike Pettine wants to go with a defensive player here, but after the lousy play at quarterback last year the Browns hope they find their guy in Manziel.  With a deep threat in Josh Gordon and a solid tight end in Jordan Cameron, Manziel enters with built-in weapons.
5.) Oakland Raiders- Aaron Donald, DT, Pittsburgh: Name a defense that lacked pass rush and toughness against the run more than the Raiders.  They will address a lot of concerns via free agency and quarterback is a need, but Donald helps the team more now than any quarterback would. This may seem high for Donald, but this is a team that was going to select D.J. Hayden at third overall a year ago. Donald has a great chance of shooting up the draft board with his Geno Atkins comparison.
6.) Atlanta Falcons- Jake Matthews, OT, Texas A&M: The Falcons run a front office that identifies weaknesses and targets them.  A year ago, they drafted two cornerbacks consecutively, and they aren't afraid to trade up (Julio Jones). Protecting franchise quarterback Matt Ryan is the team's biggest need, so the Falcons take the best tackle available.
7.) Tampa Bay Buccaneers- Eric Ebron, TE, North Carolina: This seems like an out of left field pick, because it is, but the Bucs defense is set on defensive talent for new head coach Lovie Smith.  He's got what he needs to install his Tampa-2, so the focus rests squarely on improving the offense.  Adding an intermediate pass catcher in Ebron will give quarterback Mike Glennon a safety blanket in year two.
8.) Minnesota Vikings- Khalil Mack, LB, Buffalo: Two of the Vikings three picks last year were on the defensive side of the ball, and that theme continues this year.  The Vikings will look to address their quarterback issues later on, but Mack provides the team a pass rushing threat that they will lose in Jared Allen.
9.) Buffalo Bills- Sammy Watkins, WR, Clemson: Watkins is the most dynamic offensive player in this draft and the fact that he falls this low is shocking. The Bills hope that Watkins provides the team with another weapon to help second year quarterback EJ Manuel.
10.) Detroit Lions- Darqueze Dennard, CB, Michigan St: The Lions will always be in games with Matthew Stafford throwing to Calvin Johnson, but the Lions were not able to closeout games when they had the lead. One reason this happened was the team's weak secondary.  Taking a shutdown corner like Dennard, the Thorpe Award winner, will help the Lions improve as a whole.
11.) Tennessee Titans- Anthony Barr, LB, UCLA: The Titans invested a lot into the offensive line last year, which will allow new head coach Ken Whisenhunt the opportunity to bolster the defensive pass rush.  Barr is a monster along the edges and fits a big pass rushing need.
12.) New York Giants – Kony Ealy, DE, Missouri: Giants GM Jerry Reese loves drafting physically gifted pass rushers and Ealy is exactly that.  The inclination is to take a tackle to help protect Eli Manning, but a falling talent like Ealy will help bolster a declining defense.
13.) St. Louis- Blake Bortles, QB, Central Florida: The falling quarterback is taken by St. Louis as a backup option in case Sam Bradford does not step up this year, or gets injured again.  Now, with a top ten defense and the tackle position fixed, the Rams can focus the rest of their picks on getting more weapons for either Bortles or Bradford.
14.) Chicago Bears- Tim Jernigan, DT, Florida St: With an aging defense that could lose Julius Peppers, Jernigan provides a youth infusion.  His penetrating play and aggressiveness will be welcomed, especially if they keep Peppers for another season.  Jernigan had a dominate game against Auburn in the National Championship and will be a day one starter for Chicago.
15.) Pittsburgh Steelers – Louis Nix III, DT, Notre Dame: It's another case of an aging defense that needs a youth movement.  Nix III provides the ability to be a run stuffing nose tackle in Pittsburgh's 3-4 defense or play a little defensive end and hold the edge.  Either way Nix III helps the defense get better and younger.
16.) Baltimore Ravens- Mike Evans, WR, Texas A&M: The Baltimore offense stalled with Anquan Boldin in San Francisco and tight end Dennis Pitta hurt much of the year.  Evans will be considered a gift to quarterback Joe Flacco.  He's an immediate deep threat in the mold of Boldin, and his addition helps the offense get back on track.
17.) Dallas Cowboys- Stephon Tuitt, DT, Notre Dame: Both Notre Dame tackles are gone within three picks.  Tuitt fits the mold for a penetrating 4-3 defensive tackle and it's needed after the worst Cowboys defense EVER last season. They need to create pressure up front that allows DeMarcus Ware to see less double and triple teams and Tuitt does exactly that.
18.) New York Jets- Marqise Lee, WR, USC: Jets fans won't boo this pick. Okay, maybe they will, but providing a deep threat and target for second year quarterback Geno Smith is paramount.  With the defense addressed last year, this is the year the Jets focus on the offense and Lee is a good first step.
19.) Miami Dolphins- Zack Martin, OT, Notre Dame: Again another golden domer picked!  The Dolphins were the worst team in the league at keeping their quarterback upright in 2013, so this picks makes plenty of sense.  The Dolphins missed drafting Lane Johnson last year, instead opting for the seldom used Dion Jordan, and correct that mistake by drafting the best tackle available.
20.) Arizona Cardinals- Taylor Lewan, OT, Michigan: Lewan comes in to help keep Carson Palmer upright and give the run game an extra push.  The Cardinals are a good team and don't have many holes, except along the offensive line, and Lewan helps fill at least one spot.
21.) Green Bay Packers- Justin Gilbert, CB, Oklahoma: The Packers have been filling in different defensive positions via the draft the past couple of years, and now they turn their attention from the front seven to the secondary.  With passing attacks in Detroit and Chicago improving, the Packers help their secondary by selecting a physical corner that can blitz in Dom Caper's scheme.
22.) Philadelphia Eagles- Hasean Clinton-Dix, S, Alabama: After watching Drew Brees and Jimmy Graham throw them out of the playoffs, the Eagles take the most versatile safety available.  Clinton-Dix is as tough against the run as he is in coverage.
23.) Kansas City Chiefs- Jason Verrett, CB, TCU: Yes the Chiefs defense is very good, and yes they had two players go down with injuries that helped the Colts come back and win in the playoffs, but those injuries show the lack of depth in the secondary. Verrett helps an imposing Chiefs defense get that much stingier.
24.) Cincinnati Bengals- Dee Ford, DE, Auburn: The Bengals are set to lose Michael Johnson in free agency, so they need to replace his productivity. Ford may be able to do this.  With no worthy quarterback to draft here to challenge Andy Dalton, the Bengals go with the safe pick.
25.) San Diego Chargers- Louchiez Purifoy, CB, Florida: Purifoy provides versatility in the secondary as he can play either corner or safety, and will help the Chargers improve from their 29th ranked pass defense.
26.) Cleveland (via Indianapolis)- Cyril Richardson, OG, Baylor: The Browns will be tempted to take another wide out to pair with quarterback Manziel, but Richardson is a mountain of man who could form a dominate pairing with left tackle Joe Thomas.  This works especially well if they re-sign center Alex Mack.
27.) New Orleans Saints- Dominique Easley, DT, Florida: Easley is falling down draft boards because he tore his ACL three games into the season, but when you watch the tape you see a defensive tackle that wrecks plays.  Easley will fit well into Rob Ryan's aggressive scheme, and he will be allowed to rush the passer and disrupt plays.
28.) Carolina Panthers- Kelvin Benjamin, WR, Florida St: The Panthers need to add some young weapons for Cam Newton and Kelvin Benjamin is a nice start. The large wide receiver will give Newton a nice jump ball target.
29.) New England Patriots- Ra'Shede Hageman, DT, Minnesota: The defense was terrible against the run after Vince Wilfork went down, and Hageman provides injury insurance and a changing of the guard.  Hageman is strong at the point of attack, which is needed to free up the linebackers in the Patriots scheme.
30.) San Francisco 49ers- Bradley Roby, CB, Ohio State: Roby provides additional depth to the secondary, and he could be moved to safety if the team is unable to re-sign fellow Buckeye Donte Whitner.
31.) Denver Broncos- Cyrus Kouandjio, OT, Alabama: Peyton Manning didn't have time in the Super Bowl to pass, and the running game stalled without All-Pro left tackle Ryan Clady.  Kouandjio can help solidify the line at the right tackle position and shift to the left after his rookie year if the team parts with Clady.
32.) Seattle Seahawks- Jace Amaro, TE, Texas Tech: Zach Miller could be a cap casualty this off-season, and Amaro is the second best tight end in the draft according to most big boards.  The ability to block and be a threat as a pass catcher provides Russell Wilson another weapon to keep the offense moving along as the team hopes to repeat.