When news broke that Andre Reed was being inducted into the Pro Football Hall of Fame, I went through a range of emotions.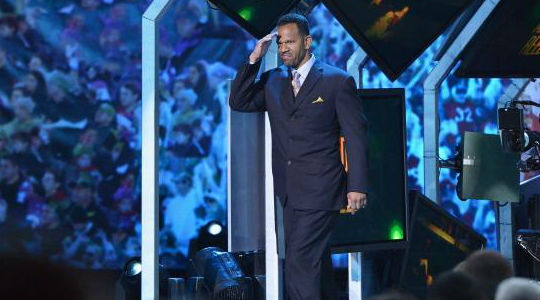 First, there was obvious excitement for Reed. The wide receiver had an excellent career with the Bills and is very deserving of the honor. Reed was a class act over the years as he was passed over time and time again, so I'd like to think that football fans in general were happy for him.
Next, I experienced happiness. I've said from the get-go that when Andre Reed made the Hall of Fame, I'd be in Canton. While I consider myself a diehard Bills fan, I've never made the trip to the Pro Football Hall of Fame. I've missed Billy Shaw, Marv Levy, Jim Kelly, Joe DeLamielleure, James Lofton, Thurman Thomas, Bruce Smith and Ralph Wilson Jr. There's no way I'm missing Reed too. Plans have already been made and I'll be in Canton to see Reed's induction.
Sadness struck me shortly thereafter. The reason boils down to one question: Who's left? I'm not trying to be a Debbie Downer here, but Andre Reed is likely the last Buffalo Bill to make the Hall of Fame for a loooooooooooooong time. Don't believe me? Let's start with the Super Bowl Bills.
Darryl Talley, Cornelius Bennett and Kent Hull were all excellent players and legendary Buffalo Bills, but they unfortunately aren't Hall of Fame players.
Steve Tasker? Jim Kelly and his teammates want Tasker to be next, but the special teams specialist isn't sure that he belongs:
"I had a nice career and in some ways a unique career, but to be mentioned in a group with even the five guys I love so much in Bruce, Jim, Thurman, Andre and James, I'm uncomfortable because I was different," he said. "And because I was different I don't know if I belong in there."
Tasker did make the Pro Bowl seven times as a specialist, but if Tasker ever makes the Hall of Fame it'll likely be after a very long wait. Move past the Super Bowl years and it's slim pickings.
Ruben Brown? Brown had a fantastic career, but was it Hall of Fame worthy? Brown played 13 seasons and made the Pro Bowl in nine of them, but many of them were based on reputation and not his play on the field. Brown was a terrific guard, but I don't see him as Hall of Fame bound.
Drew Bledsoe? He could make the Hall of Fame someday I suppose, but it won't be based on his time in Buffalo.
How about Terrell Owens? T.O. is a future Hall of Fame inductee in my eyes, but like Bledsoe it'll be based on his production with other teams. The bulk of Owens' stats came with the 49ers, Eagles and Cowboys. I'll be happy for Owens when he makes the Hall, but I won't make the trip.
My intention in writing this article wasn't to depress you, it's to motivate you. Book a hotel room, buy an induction ceremony ticket, gas up the car and make your way to Canton on August 2nd. Bills fans need to come out and show their support to Reed and the Bills. Realistically, the 2014 Hall of Fame ceremony will be the last Bills Hall of Fame induction for a long time.