Bills fans are used to the Super Bowl's appeal only lying in the general sense of football being awesome. A finale with a five-touchdown margin may have been anticlimactic, but it was far more exciting than consistently being one of 20 teams to watch it happen. The season's coda made the Mafia again realize how easy it is to not even think of their team winning it, but Seattle becoming the 19th franchise to prevail should inspire dreams about potential, even for clubs in perpetual hibernation.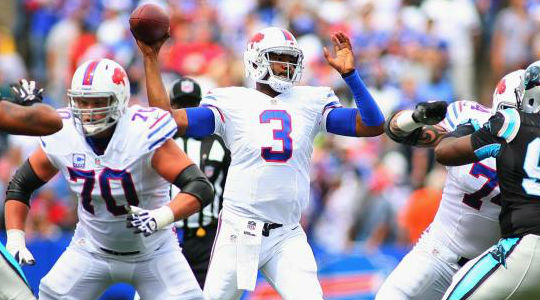 Every Super Bowl is a chance for Bills fans to ponder what they would give for the chance to be despondent after losing it again. Life is about perspective, which is to say learning from experience that things can get much worse. It's not a particularly nice lesson, but sucking it up is a crucial life skill to obtain.
Coping is easier when you win sometimes. Seattle is no longer in competition with Buffalo and Cleveland for most frustrated sports town. The title game was made fun personally by getting to watch it with the fabulous Dahlhalla, Jet City native and embodiment of sophistication despite her taste in boyfriends. Sunday evening's joyous-by-proximity result culminated in a post-game Skittles feast fueled in part by knowing Daddy Dahlhalla was finally getting to enjoy another Seattle sports championship. It's been enough decades since the then-Sonics paraded around a trophy.
It was nice to cheer for one side instead of just appreciating the spectacle while reveling in one last football dose. I'm thankful to see lifelong fans in the Pacific Northwest rewarded for their dedication, even if I'm cheering for the Rust Belt.
There was also the vague awareness for us Gothamites that the Super Bowl was sort-of in town, although we'll skip whatever they pretend to call Times Square the next time the Super Bowl is held nearby. The line for the toboggan run is probably still snaking past the Disney Store, and we were reminded why we steer clear of Tourist Town even if it means not getting to dine at Bubba Gump.
Even holdout admirers of pizzeria spokesman Peyton Manning and/or loathers of L.O.B.-type brashness in Buffalo should be glad for Seattle. They're not the only cities with unmistakable if dissimilar personalities, but also similar sports towns. Up until Sunday evening, each suffering metropolis had two surviving major league teams who had never won championships in the Super Bowl era.
Aside from football, Mariners fans can sympathize with what it's like to cheer for the Sabres despite regularly feeling heartbroken as a reward. Also, both areas know the pain of losing an NBA franchise. Even in retirement, David Stern is equally unwelcome at both the Broadway and Pike Place Markets.
When your team hasn't played this year, your mind can gloomily drift to realities like Tarvaris Jackson getting a Super Bowl ring. The championship bout meant the Bills could re-ponder if they could have coped with Marshawn Lynch's petulance, who again showed that a low yardage per carry rate doesn't reflect determination. Consistent losing records inspire rueful reflection. Nobody needs a millionth reminder that Russell Wilson was available for the Bills to draft, but sports build character by reminding us that we don't get do-overs.
Seattle's relentlessness stands in contrast to how long the Bills have been prey. Don't figure the percentage of your life that has expired since Buffalo won the AFC Championship as a habit unless you feel compelled to bring mortality to mind.
The attitude of Buffalo's fans may have shifted significantly since then, as well. In the early '90s, I vowed not to buy another Bills commemorative t-shirt unless they won a Super Bowl, as I had a surplus of divisional and conference championship items. Filling another drawer with garments celebrating intermediate success hasn't been an issue.
A watered-down cocktail wouldn't be as intoxicating. The prospect of playoff expansion means we should enjoy more exclusive knockout brackets while we have them. Giving two more teams a shot might sound appealing as a cheap thrill, but it should be hard to make it. After all, they're competing for a chance to win the title, an opportunity that shouldn't necessarily be extended to a third-best wild card team. If the league decides to dilute the regular season by letting two okay teams in the tournament, the Bills will know that they failed to make it when only 37.5 percent of teams did.
Long-sighing Bills backers may still imagine how life would be different if their guys had won one during the New Kids on the Block era. At least they can take comfort in knowing they're pretty darn dedicated to still be here. The regular Super Bowl appearances seem like both a hundred years ago and just yesterday.
Regardless, Seattle finally winning should spur optimism that anyone can prevail, just like the presently disappointed John Elway winning his first was cause for admiration, not envy. Aspiration just may require a lot of patience. Waiting longer makes wine better, so have plenty of beer on hand until this team finally matures.