After San Francisco 49er Justin Smith bowed out of the Pro Bowl, the Buffalo Bills added a fourth player to the roster in Marcell Dareus. Having Dareus join Jairus Byrd, Mario Williams and Kyle Williams was big for a few reasons.  First, this will be Dareus' first Pro Bowl. Dareus, the 3rd overall pick of the 2011 draft, becomes the 8th player in the top ten of said draft to make the Pro Bowl.  Second, this marks the first time the Bills have sent four players to the all-star event in Hawaii since 2004, when the Bills sent Takeo Spikes, Sam Adams, Terrence McGee and Nate Clements.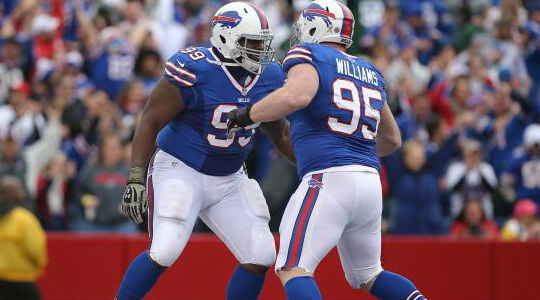 Despite the uptick in selections, seven in the past two years, the players the Bills are sending to Hawaii have been predominantly on the defensive side of the ball.  In fact, the Bills have sent only two offensive players in the past five seasons, Marshawn Lynch in 2008 and C.J. Spiller in 2012.  That's two running backs in five years.
Granted, Pro Bowl nods shouldn't be the measuring stick of how successful a team is, but it is an indicator of the talent level that is present. Needless to say, the Bills haven't had much on the offensive side of things in a while.
The multiple selections are still a sign of positive change after the talent cave-in between 2005 through 2011.  Those seven seasons saw a total of nine players selected to go to Hawaii.  Those players were Aaron Schobel twice, Jason Peters twice, Brian Moorman twice, Kyle Williams, Jairus Byrd and Marshawn Lynch. From 2000 to 2004, the Bills had 17 Pro Bowlers and that was just as the playoff drought began.
It is uncertain where the Bills are heading, though it looks promising.  For fans, they hope that the amount of Pro Bowlers go back to the pre-2000 seasons when the Bills were sending up to six players a year on a Hawaiian vacation.  Those plane tickets meant that the team was at least in the playoffs and most years a title contender.