This is the second part of the discussion between Bills Mafia Editor-in-Chief Ryan Talbot and contributor Jason DeHart on how they think the Buffalo Bills should address the top three positions of need.  This week the defense is the focus of the piece.
Inside Linebacker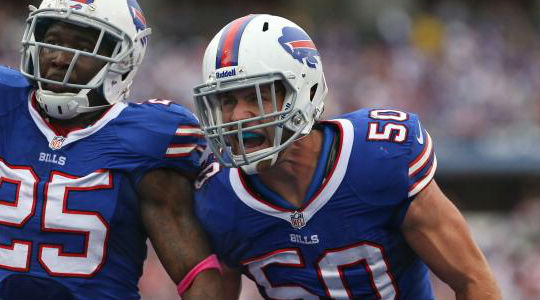 Jason – Draft: Kiko Alonso was a second round pick and right now the Bills are looking for the NaVorro Bowman to Kiko's Patrick Willis.  First round linebackers are typically your edge rushers, so a tough run stuffer can be found in rounds two or three. I expect this is when the Bills will look for another inside linebacker. I also think the Bills will re-sign free agent Arthur Moats for insurance reasons.  C.J. Mosley would be ideal, but the Bills could get some good linebackers in the middle rounds. Targets include Max Bullough of Michigan State, who had the best run defense in the country, or in a perfect world, Shayne Skov of Stanford.
Ryan – Draft: I'm going to go draft here, but getting a veteran inside linebacker isn't a bad idea. C.J. Mosley is a name you'll see linked with the Bills, but there are other inside linebackers who'll be appealing to the Bills after the first round. Some options include Shayne Skov, Yawin Smallwood, Chris Borland, DeDe Lattimore and Christian Jones. For what it's worth, I still believe that Nigel Bradham could contribute in this role as well.
Cornerback
Jason- Draft: The fear here is that in an NFL that passes so much you can never have enough cornerbacks. Buffalo showed how this could be problem in 2013 when Justin Rogers played significant time when injuries occurred.  They can find depth at a cheap price in the draft and find solid contributors in round three or later.  Maybe local UB product Najja Johnson is in the cards around round four or five?  One player I'd really like is Louchiez Purifoy of Florida, as he represents an athletic freak at the corner spot.
Ryan- Free Agency: Buffalo is very young at the cornerback position. Leodis McKelvin is Buffalo's veteran at the position at 28 years old. After McKelvin, Buffalo has plenty of youth in Stephon Gilmore, Nickell Robey, Ron Brooks and Brandon Smith. It'd be nice to add a veteran who can contribute when called upon and provide veteran leadership to the Bills' young secondary.
Defensive End
Jason- Free Agent:  Despite the Bills improvement along the edges and up the middle, the off tackle run still gashed the Bills in 2013.  It didn't help that Alex Carrington, who was set for a breakout season, got injured early in the season.  Carrington is set to be a free agent, so if the Bills can retain him it will help. However, there are other free agent options that can hold the point of attack and help free up the linebackers for tackles. Arthur Jones of Baltimore and Tyson Jackson are two appealing names on the free agent market.
Ryan- Both: Yes, I did the same thing on the offensive piece and chose both. With Mike Pettine leaving the Bills, it'll be interesting to see who replaces him and what type of scheme they run. I could see the Bills targeting a value free agent who they think fits their scheme and add a defensive end in the draft as well. Right now, it's important that the Bills build depth to their defense, and adding defensive ends via free agency and the draft is something I fully support.
BillsMafia, who are some specific defensive players you'd like to see the Bills target in free agency or the draft? Let us know in the comment section!