Ryan Talbot & Jason DeHart decided to get together and discuss three positions per unit that the Bills need to address. After choosing three areas of need, Ryan and Jason discussed if the team would be better off pursuing talent in the NFL draft or free agency.
First up, let's take a look at the offensive side of the ball.
Offensive Line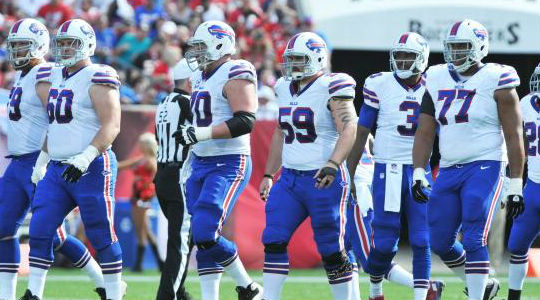 Jason- Draft: The Bills should do their best to go out and draft an offensive tackle and guard this off-season after getting little on their free agent signee a year ago.  The ideal fit for the Bills would be Taylor Lewan. The offensive tackle will be projected among the top three at his position and could be available when the Bills draft at number nine.  Lewan can plug in immediately at the right tackle position or allow the Bills to slide Cordy Glenn inside to guard.  In either case, he's a tough lineman with a mean streak. He has the ability to neutralize edge rushers and that will go a long way to helping the running backs and quarterback EJ Manuel improve.
Ryan- Both: I'm not sure if I'm allowed to answer both, but that's the direction I'm going. At pick 9, Buffalo could have some intriguing options at tackle. Right now, Greg Robinson, an offensive tackle from Auburn, is someone being mocked to the Bills. He's extremely talented and I wouldn't be opposed. The same can be said about Jake Matthews of Texas A&M. Right now he seems like an unlikely option, but anything can happen between now and May. Guards can be drafted in the middle rounds and turn out to be productive starters.
In free agency, the Bills have some money to spend and there are some intriguing names at tackle and guard. Buffalo will do their due diligence and I'm fine with them spending some money to upgrade their line.
Tight End
Jason- Draft: Bills fans on Twitter are all for drafting a tight end high, but I'm not sure it's necessary, especially if Tony Moeaki is healthy. He will provide the same production that Scott Chandler did and be more of a threat as a pass catcher. With that said, I think the Bills would be wise to focus in on drafting a tight end in the third or fourth round.  Namely, if Colt Lyerla drops as is expected with his checkered background, the Bills could be smart to take a flyer on him.  With former teammate Kiko Alonso and others providing a solid support group, Lyerla possesses the athleticism needed at the tight end position in today's game.  First round tight ends don't always live to the hype and the Bills have bigger issues to address.  Grabbing a falling pass catcher later is ideal.
Ryan- Draft: I'm not sold on drafting a tight end in the first round, unless the Bills trade back. However, in round two there may be options such as Austin Seferian-Jenkins or Troy Niklas who are intriguing options. C.J. Fiedorowicz is another strong tight end option and there are a few other guys I like well enough. It'll be interesting to see how or if the Bills address this position in free agency or the draft. The team does have intriguing options in Moeaki and Chris Gragg, someone who is just as athletic as a guy like Eric Ebron in my opinion.
Wide Receiver
Jason- Free Agency: The Bills already have four wide outs on the roster, depending on what happens with Stevie, but the problem with rookie wide outs is the transition time needed.  That being said, if Sammy Watkins is there at nine then I have no problem with the Bills taking him. However, I think a mid-tier free agent is a better way to go for this team.  The person I would target is James Jones.  He's played third fiddle in Green Bay but he'd be a nice target for EJ Manuel. If the Bills can secure him, he provides the physical tools to be the jump ball receiver the Bills need.  If not Jones, there may be a player like Kenny Britt that could take a one year incentive laden deal to show he still has something left in the tank.
Ryan-Draft: If we're talking about a game changer, then draft is my choice. A guy like Eric Decker for example will not be worth the money he'll get on the free agent market. I'm okay with the team bringing in a guys to compete in free agency, but the draft is the better option this year.
There's no shortage of talented wide receivers in this year's class: Sammy Watkins, Marquise Lee, Jordan Matthews, Mike Evans, Kelvin Benjamin, Allen Robinson and so much more. Seriously, this draft class is loaded at wide receiver. If the team is looking for a number one receiver, I rather they try to find their guy in the draft.
Next week, we'll take a look at three of Buffalo's biggest defensive needs.