There were a lot of changes for the Buffalo Bills and their offense in 2013. After reviewing the tale of the tape, the improvements made only had a small effect on the big picture.  The theme of the offense this year was starting anew.  The Bills had a new coach, new offensive coordinator, new quarterback and new scheme (read-option).  What transpired over the season can best be described as incomplete, much like EJ Manuel's rookie season.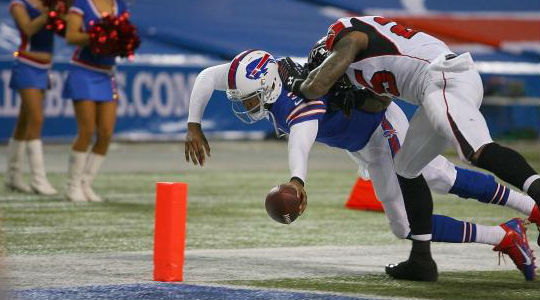 Here's the review:
Passing Offense
2012: 309 completions on 511 attempts for a 60.5% completion percentage.  Ryan Fitzpatrick threw for 3,269 yards, 24 TD and 17 Interceptions.   Fitzpatrick also averaged 204.3 yards per game and took 30 sacks for a sack rate of 5.5%.
2013: 299 completions on 522 attempts for a 57% completion mark. Buffalo's quarterbacks passed for 3,103 yards, an average of 10.3 yards per completion. EJ Manuel, Thad Lewis and Jeff Tuel had a TD/INT ratio of 16-to-15. The quarterbacks averaged 193.9 yards per game, and took 48 sacks for a sack rate of 8.4%.
Rush Offense
2012: Accumulated 2,217 yards on 442 attempts and scored 12 TD while averaging five yards per rush. Bills running backs averaged 138.6 yards per game.
2013: Finished first in the league in rushing attempts with 546 and gained 2,307 yards and 15 touchdowns.  Between all of the backs the Bills averaged 4.2 yards per attempt and 144 yards per game.
Notables Stats
2012: 983 total offensive plays, 344 points scored, 5.6 yards per offensive play and 34 turnovers committed. The team also had 36 offensive touchdowns and a 50% red zone touchdown percentage.
2013: 1116 plays run (3rd in the NFL), 339 points scored, 4.8 yards per offensive play and 27 turnovers. Totaled 31 touchdowns with a 47.73% red zone touchdown percentage.
To sum everything up, the offense never really progressed from a year ago.  The run game improved only slightly in yards (+90) despite a large increase of carries (+104).  The Bills were able to score three more touchdowns, but injuries to CJ Spiller and Fred Jackson clearly hindered the dynamic duo from running rampant on opponents.
The aerial attack stayed relatively even between Ryan Fitzpatrick and the three-man attack of EJ Manuel, Thad Lewis and Jeff Tuel.  The trio hit nearly the same amount of targets and yardage, while throwing fewer interceptions.  Fitzpatrick outpaced them in touchdown throws by eight, but the 2012 Bills were behind later in games that necessitated Fitzpatrick to throw more.
The problem with evaluating the passing game is that Manuel played only 10 games due to injuries.  Had he been healthy the entire season there's a strong chance that the team's total completions, attempts and yardage would have exceeded last year's numbers based on his average rate.
The most discouraging sign of stagnation was that despite getting off 133 more plays than the 2012 Bills, they went backwards in points scored and lost over a half yard per offensive play (-.8). The 133 plays are equivalent to an extra eight plays per game, or essentially another long drive.  Based on the amount of extra plays ran, the 2013 Bills should have put up more points than the 2012 squad.  That along with the team's sub .500 percentage of converting red zone attempts into touchdowns hindered the Bills from scoring more.  These problems can be corrected with better quarterback play and play calling in general.
In comparison to the other side of the ball where the defense was greatly improved from last year, this year's offense did little to better themselves.  Despite being able to get off more plays, the offense shortchanged the team with an inability to score touchdowns.
If the Bills are to make a run at the AFC East next year, an evaluation of how to get better needs to be done.  This starts with head coach Doug Marrone, carries through to offensive coordinator Nathaniel Hackett and trickles down to other coaches and the team's personnel. Marrone has already announced Manuel as the starter next year. Beyond the coaches, the improvement of Buffalo's offense will rest squarely on the quarterback's shoulders.