Buffalo's front office was rather busy in 2013. Whether it be through free agency, the trade market or the NFL draft, the Bills found ways to add good fits to their roster. Which move was the best of all according to the BillsMafia?
The candidates for Best Front Office Move:
Signing Manny Lawson in free agency
Trading Kelvin Sheppard for Jerry Hughes
Signing Dan Carpenter before Week 1
Trading back in the first round of the 2013 NFL draft
Bringing back Brian Moorman
Trading Chris White for Thad Lewis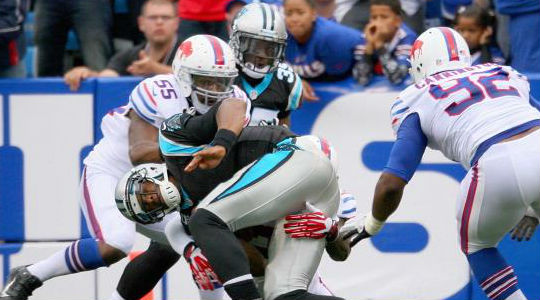 The Buffalo Bills' Best Front Office Move in 2013: Trading Kelvin Sheppard for Jerry Hughes (47% of the votes)

When Mike Pettine became defensive coordinator of the Bills, it was important to find good fits for his aggressive scheme. In the NFL draft, Buffalo drafted Kiko Alonso to play inside linebacker. The pick showed that the Bills doubted Sheppard's versatility. Two days after the draft concluded, the doubt in Sheppard was confirmed when Buffalo traded him to Indianapolis.
In exchange, the Bills received Jerry Hughes. The Colts' fan base was ecstatic about the trade. Don't believe me? View a message board thread on the trade from Scout.com (Signup Required). You'll get a few chuckles, I promise.
Buffalo's GM at the time, Buddy Nix, felt the trade was good for the Bills:
"We think he can fit at the rush end and at SAM linebacker," said Nix. "We think he can swing two positions there and then be a rusher in subpackages."
While Nix thought Hughes was a good fit, it's doubtful that he had any idea just how great the trade would pan out for Buffalo.
In 2013, Hughes finished with 46 total tackles, 10 sacks, two forced fumbles and two passes defensed. All of the aforementioned stats were career highs for Hughes. Pro Football Focus' analytics backed up Hughes' strong play (Subscription Required).
The site graded Hughes as the 8th best outside linebacker in a 3-4 defense with a +19.7 rating. In terms of pass rush, Hughes finished third among 3-4 OLBs behind Elvis Dumervil and Robert Mathis. Pro Football Focus credited Hughes with 39 quarterback hurries and nine quarterback hits.
Hughes' outstanding season earned him the Maffie for Best Front Office Move. There's no doubt that Hughes is an excellent fit in Pettine's defense and the best may be yet to come for the Bills. Future opponents, and especially their quarterbacks, best be prepared.