Buffalo Bills rookie quarterback EJ Manuel's rookie season is in the books. Even though he played only 10 games due to injuries, we can look back at how well he performed in certain situations and look at the situations where Manuel can improve.
Note: The Atlanta overtime period was not included and all stats come from from Pro Football Reference's box score & play by play. Some passing completions/attempts were eliminated due to penalty and this does not account for three fumbles lost when running.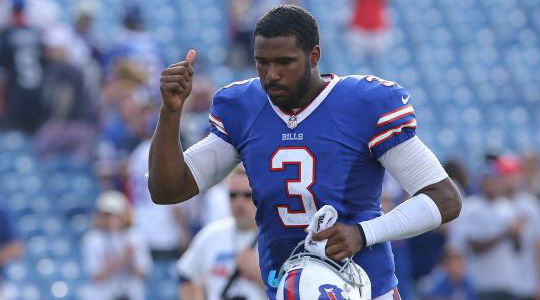 Here is the breakdown of EJ Manuel passing stats per quarter:
1st Quarter:
30-of-60 (50%) for 316 yards and one interception
2nd Quarter:
49-of-77 (63%) for 519 yards, four touchdowns, three interceptions and one fumble
3rd Quarter:
48-of-80 (60%) for 586 yards, three touchdowns, three interceptions and two fumbles
4th Quarter:
44-of-82 (53%) with 517 yards, four touchdowns and two interceptions
From the breakdown above we can see that Manuel was a slow starter as a rookie.  Though he had only one turnover, he failed to produce an aerial touchdown as well in the first quarter.  The statistics show that Manuel needs to get off to better starts. Part of Manuel's slow starts are due to play calling, the rest is his own confidence and progression reads.  If he can improve his completion marks to something similar to his second and third quarter statistics, the Bills should find themselves in better position early in games.
As the first quarter shifts to the second, we can see that Manuel and the offense starts to open up a bit.  He finishes with an even touchdown to turnover ratio, but his completion percentage hits its highest total (63%).  Manuel's performance created momentum for the team heading into the  half as they were either with a lead or within one score, which is certainly not out of the game.
After halftime struggling Manuel shows up again though.  Five of his 10 total turnovers occurred in the third quarter.  Any momentum that the Bills had built in the second quarter was essentially gone.  The big picture shows that Manuel struggles out of breaks, whether that is at the beginning of the game or of the start of the half.  Though he threw three touchdowns, the third quarter was Manuel's worst quarter in terms of total turnovers.
After his third quarter struggles, good Manuel returns.  He protected the ball very well in the fourth quarter committing only two interceptions compared to his four touchdown passes. This was the only quarter where Manuel had a positive touchdown-to-turnover ratio.  Manuel's completion percentage isn't ideal, but he still led the team to one come from behind victory against Carolina.  This, along with a second quarter charge to victory against Jacksonville, shows Manuel can overcome deficits.
A key step in the progression of EJ Manuel as a franchise quarterback will be to gain consistency in terms of completions, touchdown passes and lack of turnovers.  Beyond that, it comes down to the coaching of Doug Marrone and Nathaniel Hackett to help create a sense of rhythm for Manuel early in games.  This play calling fix may be the greatest external improvement that can help Manuel.
As Manuel's confidence builds he can start to exert his will on opposing defenses. Next year is crucial for the Bills, as Buffalo's offense will only go as far as Manuel takes it. We know the Bills have skilled players in place; they just need the quarterback to get them the ball consistently enough.