The holidays are a joyous time for many reasons, not the least of which is a chance to gorge on the best that both college and professional football have to offer. The best part of all is that the playoff dance doesn't end for the professionals until the first Sunday in February.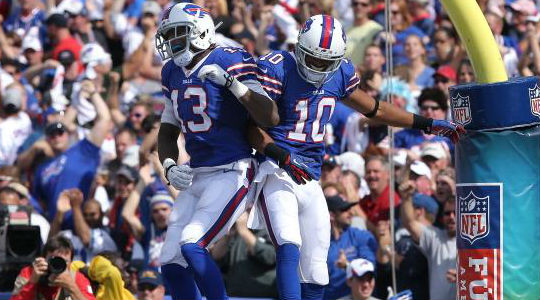 However, Bills fans are painfully aware that they have been left out of the playoff party since the beginning of this millennium. Bills fans getting ready to enter high school have lived their entire lives without Buffalo making the playoffs. I can go on, and as usual, I will do so.
The last time the Bills were in the playoffs, I was a middle-aged freak at the peak of my career. Now I am a fossil; an elderly Bills fan that sometimes longs for the times when there were almost as many kegs of beer in the aisles as people in venerable War Memorial Stadium. Good times and great memories from when professional football was a much different kind of sport than it is today.
After the wash, rinse, repeat of 6-10 seasons, the media had to resort to asking what's different about this 6-10 team than any of the previous ones? Some believe that you are what your record indicates, and nothing more. Others look more at quality indicators, such as how close the scores were in each game played to identify some indication that this team is finally on the right path to get back into the playoffs.
So, are the Bills now closer to their goal of returning to the playoffs, and beginning to rebuild a nationally recognized respectable franchise? On paper (or computer screen), one might say that on the surface, this season resembles many of the same seasons experienced by the last four head coaches.
Perhaps the most consistent thing about the Bills miserable record over the last 14 years is that they seemed to have evolved into being one of the worst teams as far as drafting, developing, and retaining talent. I won't rehash the nightmare because Bills fans have endured the pain and don't need reminders about how difficult it has been to endure.
The key question exasperated fans want an answer to is when this team will make the playoffs again. Of course no one can predict the future, but there are a few flashes of light that are beginning to show where this team is going in the next few years.
First, while many fans may believe this was no big deal, the firing of wide receiver coach Ike Hilliard came as a mild surprise to me. Like many other Bills fans, I thought if any Bills coach would get the axe, it would be Danny Crossman for his not-so-special teams this season. However, a solid argument could be made that this talented young group of wide receivers did not develop as much as they should have this season.
T.J. Graham is the guy who I believe is most likely to benefit from a change in position coaches. He struggled with too many dropped passes this season. He also did not make the leap in production that you hope to see in young players from their first to second season.
I would like to remind any fans who believe that Graham should not be on the team next year to remember what happened with Eric Moulds. It took Moulds three years to emerge as a wide receiver. Moulds' skill-set is much different than Graham's, but the fact remains that the game doesn't automatically come to all players right away in their respective careers.
The other common issue discussed among fans is whether or not Stevie Johnson should be traded. There's a whole lot wrong with that idea from my vantage point, and while I could see it easily happening a few weeks ago, circumstances have changed my opinion somewhat on the matter.
First, Stevie has shown immense talent running unconventional routes and getting separation from the best corners in the league. Though he may not be thought of as a true number one receiver by many Bills fans, his presence requires that defenses pay attention to him as if he is a top receiver.
Yes, Stevie has had his moments of dropping passes in key situations. I doubt that he would disagree that he's dropped the ball too many times in clutch situations at this point in his career. However, the Bills need Stevie to be their closer, the guy who can drive that last nail into the coffin of an opponent. Can he be that guy for the Bills?
Before tragedy struck with his young mother dying suddenly at 48 years of age, Stevie seemed content to enjoy his life to the max and have fun with his celebrity status. Some thought he was pushing the envelope with tee-shirts, pants sagging, and the "Why So Serious?" stuff. I was one of those fans who wanted to see a more serious Stevie, someone who would focus more on football instead of being the team comedian.
However, when a young man like Stevie suddenly loses his mother, his rock, it changes a person forever. A young man in the prime of his life is suddenly thrown into a position of great responsibility.
He must now be "the rock" of his family, an elder whose role and function within his family just took a giant twist. That kind of shift in family dynamics often results in a forced and sudden maturation of an individual. One often develops a better understanding regarding the fragility of human life after losing a parent.
We may or may not see a different Stevie if he returns to the Bills next season. Even prior to his mother's sudden death, Stevie talked about how he wanted to move forward as a veteran leader of the team. Don't be surprised if Stevie returns with a new dedication to his craft in honor of his mother.
Sometimes it only takes one person to shift gears to transform an entire team's collective psyche. The Bills are close to returning to the playoffs. They have most of the pieces in place, but still must do some tinkering in the off-season to improve the offensive line and the productivity and consistency at the quarterback position.
The jury is still out on whether EJ Manuel is the answer. Unfortunately his rookie season generated more questions than answers. In the next few weeks, I'll start taking a closer look at Manuel's season from a behavioral perspective, along with some other players and coaches.
Stay tuned!