In 2013, the Buffalo Bills adopted an aggressive defensive scheme by bringing in Mike Pettine and it paid off greatly.  For a defense that didn't perform very well in 2012, the 2013 season was a marked improvement.  Some of the credit goes to Pettine, where as the rest can go to the improved play of some notable players.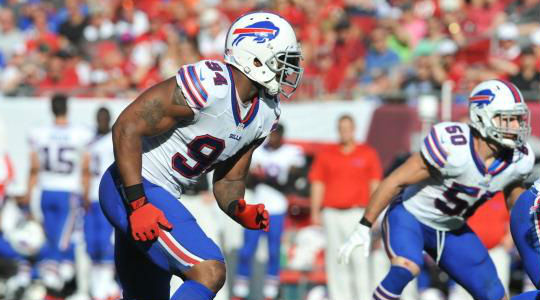 Buffalo's defense led the league in sacks and set a new franchise mark with their team total of 57. This emphasis on pressure helped spurn some of the other defensive areas to improvement as well. Here's a look at how much better the defense was in 2013.
Pass Coverage:
2012: 57.1% Completion Percentage, 217 Yards Per Game, 25 TDs Allowed, 12 Interceptions
2013: 55.3% Completion Percentage, 204 Yards Per Game, 28 TDs Allowed, 23 Interceptions
As you can see the pressure provided by the Bills front seven allowed the defensive backfield to take chances on more errant throws. In 2013, the Bills nearly doubled their interception total from a year ago.  That, in combination with the emergence of Aaron Williams and Leodis McKelvin, helped solidify a defensive backfield that could return whole again depending on what the Bills decide to do with Jairus Byrd. The only area where the Bills did not improve was touchdowns allowed.
Run Defense:
2012: 5 Yards Per Rush, 145 Yards Per Game, 23 TDs Allowed
2013: 4.4 Yards Per Rush, 129 Yards Per Game, 10 TDs Allowed
The Bills decreased the yardage they gave up, but were still not as stout as they could have or should have been. Seen at various points in the season, Buffalo's run defense was still its Achilles' heel. The average yards per rush and yards per game are baby-steps, but the touchdowns allowed is very encouraging. It's certainly a positive when your defense gives up 13 less touchdowns on the ground.
Other Improvements:
2012: 44% 3rd Down Conversions, 5.6 yards per play, 435 Points Allowed
2013: 37% 3rd Down Conversions, 4.9 yards per play, 388 Points Allowed
The Bills were able to get their opponents off the field more consistently in 2013. Whereas third down conversions were extremely problematic in 2012, a 7% drop in 2013 is nothing to scoff at. The team also gave up seven-tenths less yards per play and 47 less points for the season. These are encouraging steps as we look towards the 2014 season.
Overall, the defense was vastly improved under Mike Pettine. The defensive coordinator allowed players like Mario Williams, Marcell Dareus and Aaron Williams  to play within roles more suited for their skill-sets. He also found ways to use new additions like Kiko Alonso, Jerry Hughes and Manny Lawson. Last, veterans like Kyle Williams thrived in their roles and we saw improvements in our secondary. There's no denying that the defense was frustrating at times in 2013, but they're clearly headed in the right direction.
What the Bills do in the off-season to take the defense to the next level is unknown, but it'll be exciting to watch. Next week, we'll take a look at Buffalo's offense and how they fared in 2013 compared to the 2012 season.