No, you don't get used to it. A game with zero impact on postseason dreams shouldn't induce such bleakness. Yet a lackluster finale leaves Bills fans even further from memories of drinking with joy. Waiting until next season has been the plan ever since a year starting with the numeral 2 was a novelty.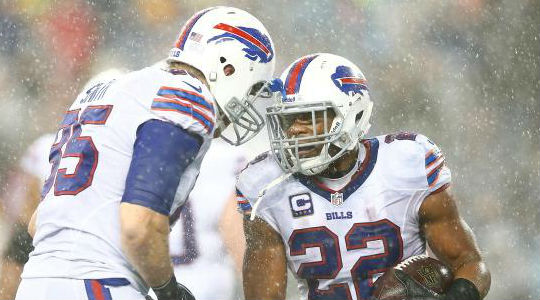 Even the diehards enduring the season's final moments may have secretly hoped CBS would cut to the Chargers wedging their way into the playoffs. Instead we got to endure every last second. Um, thanks television producers. As has been their habit for more than a few seasons, Buffalo dragged to an emblematic end as they continue to represent falling short during the salary cap era. A team that could have been a pleasantly surprising exception turned out to be another example confirming the definition. We can only hope a season like this is part of shifting the meaning.
This fan base certainly didn't need another dreary reminder of who gets all the breaks at the expense of whom. Football is not a zero-sum game where everybody can come out ahead. Unlike economic transactions where both the buyer and seller can walk away from a deal happy, every sports winner obviously creates a loser. The Bills again ended on the wrong side of a two-game disparity with those damn Patriots.
They couldn't even make the road to the Super Bowl slightly more ominous for a despised enemy. Unlike the visitors, the Patriots had something on the line and played like it. Satan's favorite AFC squad would have sunk to fourth in seeding with a loss, those poor things. Sadly, impacting the dreams of the division's strongest foe remains in the realm of theory. A rugby fan watching his first American football match could determine which team was completing its 13th consecutive season with a winning record and which hasn't made the playoffs in 14 straight. One just keeps rucking over the other.
At least nobody walked away with inflated hopes. The fade-away in New England featured stretches where watchers got only the vague sense that the defense's goal was tackling. Promising to pull down rushers next season when the playoffs are possible is insufficient. Also, the disgraceful kickoff coverage following a few satisfactory drives gives Doug Marrone a chance to prove with a firing that competence outweighs loyalty.
May a handful of bright individual efforts sustain you through another lengthy dark period. Every person should make it their goal to work as relentlessly as Fred Jackson no matter the situation. Meanwhile, T.J. Graham did what he could to get targeted more next season, although dropping a fourth-down pass could temper expectations. Scott Chandler remains a dogged contributor, but who knows if he'll be back as Chandler's a free agent. There wasn't much sunshine Sunday, literally or not.
All we sought was to savor the final moments of yet one more swear-word-inducing campaign that was more frustrating than fun. Instead, it took energy just to stay engaged with the contest. Bills fans are beyond tired of regular action ending like the preseason does, with the standings not mattering and a thin roster limping to an uninspiring coda.
Call it part of a rebuild or transition, but nothing qualifies how the Bills still finished with double-digit losses. Again. Another challenging season means the eventual reward will feel that much more gratifying. There's a payoff coming, right?