Doug Whaley's first year as Buffalo Bills General Manager is in the books. Although the Bills finished 6-10, Whaley did do a nice job of adding talent and depth to the Bills roster. While Whaley wasn't officially named GM until May 16th, I'm giving him credit on a few guys who were signed before that date. Buddy Nix may have held the title of Bills General Manager, but Whaley certainly had plenty of say in personnel moves. This article is focusing on some bargain bin type of deals that Whaley made in year one.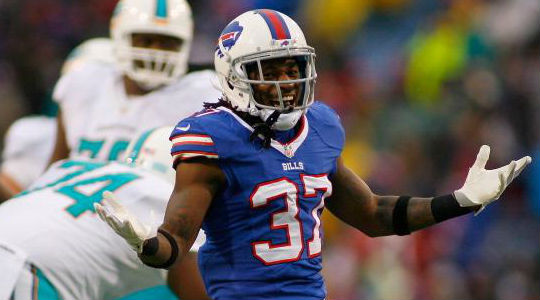 6. Jim Leonhard
I'm not going to sit here and pretend that Jim Leonhard is anything more than an average player in the NFL. He's simply a depth guy at this point in his career.
However, when the Bills needed safety help prior to Week 1, Whaley looked to Leonhard. The veteran knew Mike Pettine's defense well and could be plugged-in to play immediately. Whaley signed Leonhard to a 1 year deal for $840K. Leonhard finished the season with four interceptions after playing in all 16 games, starting in seven of them.
5. Stefan Charles
This was a sneaky-good signing by Whaley. On October 30th, the Bills announced that they had signed Charles off of the Titans' practice squad. Whaley signed the defensive tackle to a three-year deal for $1,485,000. This season, Charles made $405,000 and played in eight games. According to Pro Football Focus (Subscription Required for All PFF Links) Charles only saw 82 snaps on the season, but he did well with limited snaps. PFF gave Charles an overall grade of +3.4 for the season. He finished with 12 tackles, one sack and one forced fumble. Charles looks like a quality depth signing that went under the radar.
4. Alan Branch
On April 2nd, the Bills agreed to a one year, $3 million deal with the Bills. Branch called it a "prove-it" year for him and apparently the Bills noticed. Buffalo recently inked Branch to a three year deal worth $8.5 million. Branch finished the season with 39 total tackles, but his play did not go unnoticed at Pro Football Focus. On the site, he was rated the 19th best 3-4 defensive end with a +10.2 grade. Branch's area of expertise is in run defense, where Branch received a +17.5 rating. It was good for 6th in the NFL among all 3-4 defensive ends.
3. Dan Carpenter
Dustin Hopkins beat Rian Lindell in Buffalo's kicking competition, but an injury put him on the shelf for the season. Whaley quickly weighed his options and signed Dan Carpenter to a 1 year deal for $715K.
In 2013, Carpenter tied Steve Christie's record of makes at 33 and made four kicks of over 50 yards. His field goal accuracy for the season was 91.7% after hitting 33-of-36 field goals. Carpenter's play was consistent all season and is one of Whaley's most productive signings.
2. Jerry Hughes
Bust. That's what Jerry Hughes was referred to in Indianapolis during his three-year career with the Colts. On April 29th, Hughes was given his chance at career redemption when the Bills traded Kelvin Sheppard for him. Whaley and the Bills front office thought Hughes would be a good fit in Pettine's defense, but I doubt they had any idea how productive he'd be. Hughes finished the year with 46 tackles, 10 sacks and two forced fumbles. All of these totals were career highs for Hughes. The pass-rusher finished 8th on PFF's 3-4 outside linebacker ratings with a +19.8 rating. During the season Hughes accounted for 39 quarterback hurries and nine quarterback hits. Hughes' base salary in 2013 was $870K and he's signed through 2014. His strong play in 2013 has triggered an additional $2.9 million getting added to his 2014 salary, but he was worth every penny in 2013.
1. Nickell Robey
Robey was passed over in the 2013 NFL draft due to his height (5'7″). It didn't matter that he was productive at USC; teams felt that Robey's height would prevent him from being productive in the NFL. Every team was wrong. Doug Whaley and the Bills signed Robey as an undrafted free agent following the 2013 draft and Whaley looks brilliant because of it. Robey signed a three-year deal worth $1.485 million. This season, Robey's base salary was $405K.
Robey's final stat-line for the 2013 season was impressive: 39 total tackles, 3 sacks, 1 forced fumble, 1 fumble recovery, 1 interception, 1 touchdown and 10 passes defensed. Robey finished the season 5th in slot performance at PFF and had an overall rating of +5.4. The undrafted rookie played 629 snaps and played in all 16 games, starting two of them. Robey's production and salary earns him my top spot in Whaley's bargain-bin.
As free agency approaches, a second edition of "People of WhalMart" will come your way. We'll take a look at some possible free agent bargains that the Bills could sign based on need.