As any Hall of Famer will tell you, every game has meaning. Sure, all sporting events could be seen as not mattering if one takes the position that we're merely seeking out existence in a coldly uncaring universe. However, if we operate under the presumption that finding things about which to care is humanity's central motivation, then players better be earning game checks. Anyone unwilling to compete no matter the team's record should begin researching careers in their college majors.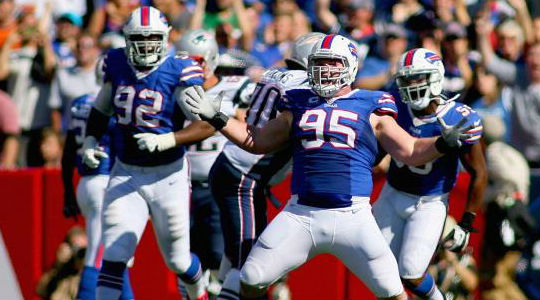 This Buffalo squad remained motivated even though they were yet again done before the Thanksgiving turkey. Unfortunately, this franchise is historically skilled at having to search for purpose at schedule's end. That said, shutting out a despised rival that, snow be damned, couldn't even compete in the rain must be used as the start of a trend. If making the anti-Bills miserable was a blast, imagine what it would feel like to top Miami with a rabid fan in each seat. Three or four more wins by now would make enthusiasm that much easier to muster.
Even a thorough victory is tempered by who wasn't out there. Fans and the front office alike couldn't, and won't, get one more evaluation of the young man who may or may not save the franchise. This is one of the benefits of playing games that don't impact immediate Super Bowl hopes, but with EJ Manuel knee injury the Bills will be forced to provide another audition for his understudy.
Thad Lewis used his fifth NFL start to establish his credentials as a serviceable backup. He threw some errant passes and none of the ones he completed ended in a score. However, Thad Lewis was accurate when necessary to the point of making himself a competitor for the same job next season. He did well enough, even if the finale marks the moment that Bills fans have seen him play enough.
As depressingly established by the city's other professional sports team, it's irrelevant what you do on defense when you can't score. The key difference is that the Sabres' football counterpart inflicted that lesson on a visitor. Not being to protect Ryan Tannehill is what should really make Dolphins offensive linemen cry. They deserve to hear plenty of salty language after being thrashed by the Bills. Bryant McKinnie's sluggish play didn't quite ease the pain of drafting all-time lump Mike Williams over him, but this was a day for being happy with the present.
Also, right now this defensive line remains singularly intent upon ruining delusions of passing. They're aided by well-timed visits from friends in the secondary like Nickell Robey and Da'Norris Searcy and good coverage. They joyfully exploited a befuddled offense which spent an entire afternoon stubbornly refusing to believe anyone could attack Ryan Tannehill from the edge. That lack of peripheral vision blinded the Dolphins.
A game that didn't impact their playoff assignment also gave the Bills a chance to learn about their special teams. For one, they are discovering that maybe letting Leodis McKelvin focus on stifling receivers would be the best use of his talents. His new-found awareness of where and when the ball's coming on defense can't counteract his cornerback hands, notwithstanding a gift-wrapped interception from his Secret Santa, Matt Moore. If Marquise Goodwin is able to return for the finale, he should get a chance to see if his speed and fielding skills could be deployed on punt returns, as well as kickoffs.
On the plus side, Dan Carpenter solidified his status as Buffalo's future kicker by outscoring his former team 13-0 this week and 24 to 21 for the season series. Why Miami let him go is beyond me, but who knows or cares? He's ours now and he's capable of making many teams wish they had such a dependable foot-based scorer.
The prospect of potential benefits will again have to suffice. As always, fans hope this is the team that can set the tone for next season by beating the Patriots in their home, for once. They could improve to one-and-something in the intimidating venue named for a safety razor brand. Avoiding yet another double-digit loss season is the attitude Doug Marrone should foster instead of miserably angling to draft a bit higher in May.
The relentless pass rush that we've seen throughout the year could prompt success in the finale. Sending every able-bodied defender to hit Tom Brady will have to qualify as the best end-of-season present for Bills fans.
The Bills can keep working now toward making games in December 2014 truly significant. Competing for the sake of it is noble, but doing so for the right to advance into the playoffs would be even better. On Sunday, Buffalo has one more chance to start proving they're as sick of good efforts in losing seasons as we are. It's time to make it count.