Buffalo 19 – Miami 0
How did the Bills win this game? Who had the largest impact? Here are my thoughts.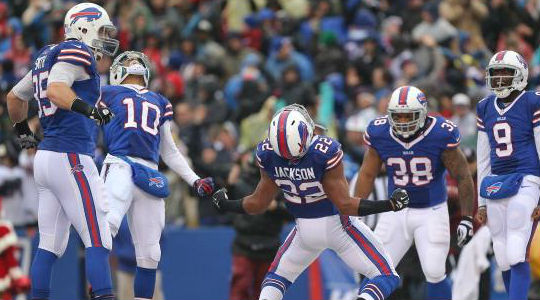 Yesterday's win against the Dolphins was an excellent Christmas present for Buffalo Bills fans. The title for today's rapid reaction comes from a big-time Buffalo Bills fan, Meatloaf. While I'm not a fan of his music, I heard "Two Outta Three Ain't Bad" on the radio Sunday and altered the title a bit.
Wow, what a surprise this game was for Bills fans. It was the first completely dominant and inspiring performance that the defense has produced all year. Buffalo controlled the game from start to finish and although it took the Bills sixteen weeks for it happen, it was well worth the wait.
The win was impressive due to the fact that the Bills were without EJ Manuel, Stevie Johnson and Aaron Williams. Throw in Dareus' benching, Goodwin's injury and Woods' ejection and now that's a really impressive win. On Sunday, the defense seemed to know what was coming from the Dolphins and they delivered in a big way and the offense was able to sustain drives. I'm aware that many were unable to see the game, so let's look at this game a bit closer to see what Bills fans can take away from it.
The Defense: Cynics will ask, "Where was this defense when it mattered earlier in the season?" That's a discussion for the off-season, but defenses need time to grow. Also, injuries really hurt them early in the season. That said, today we should be able to sit back and enjoy one of the best defensive performances that any Bills team has put forth in recent memory. Here's a few numbers to look at and enjoy:
QBs: Ryan Tannehill – 10/27, 82 yards
Matt Moore – 2/6, 53 yards and two interceptions
RBs: Lamar Miller 3 carries for 8 yards
Daniel Thomas 9 carries for 6 yards.
Yes, those are the statistics for the Miami Dolphins' quarterbacks and running backs for the entire game. In the first half, the Dolphins' 30 total plays went for a measly 56 yards. They did even worse in the second half and finished with 103 yards for the entire game. How exactly did this happen?
Well, Nickell Robey happened. What a performance! Robey's stat-line included four total tackles and two third down sacks. Not only was Robey outstanding in coverage, but Mike Pettine blitzed him off the weak side three times on third down. Twice, he successfully went untouched past Miami's offensive linemen and sacked Tannehill. Robey is turning out to be one of the Bills' most consistent defenders, and he has really established himself this year as a solid nickel cornerback. Not too bad for an undrafted rookie.
Secondly, as has been the case most weeks this season, Kyle Williams led the way on defense. Williams had two more sacks, giving him 10 on the season. Number 95 consistently pushed his man off the ball and into the opposing backfield on Sunday. Mario Williams also returned to the sack list, and with Jerry Hughes adding another sack the Bills now have three players with at least 10 sacks. Most importantly in this game, the defense was not one-dimensional. Despite the high sack total and quarterback pressure, the defense was also excellent against the run. Yes, Miami abandoned the run, but holding the Dolphins to a season low 14 yards rushing is still an impressive feat.
Finally, thanks in large part to the timely third down sacks, the Dolphins were 2-for-14 on third down conversions (14%). Buffalo forced ten Miami punts on Sunday and seven three-and-outs.
The Offense: Just enough. That's what the Bills offense did on Sunday. However, we were treated to a few encouraging signs along the way from Buffalo's offense.
For the second week in a row, the Bills decided they were going to run the ball regardless of the results. Fred Jackson led the way with 111 yards on 19 carries, including a beautiful 9 yard touchdown run. Spiller was no slouch either, adding 77 yards on 20 carries. The latter did inexplicably run out of bounds to stop the clock near the end of the first half on a third down run that didn't go for a first down. Miami had no timeouts remaining at this point, but Spiller's gaffe gave  Miami the ball with 45 seconds remaining in the half. It turned out to be harmless, but hopefully this was only a temporary lapse of judgment. Regardless, the Bills' running game was the reason that the team was able to sustain drives on offense.
While the running game led the way, Thad Lewis also had his moments. Lewis was able to do enough to move the chains and get his second win of the year. Starting in place of injured quarterback EJ Manuel, Lewis completed 15-of-25 passes for 193 yards and an interception. These numbers don't necessarily jump off of the page and impress, but he did a few things very well. First, he was able to extend drives, including a 19 play, 92 yard drive that lasted nine minutes and sixteen seconds. Lewis had three plays during the drive that resulted in first downs. Lewis also ran the ball effectively. He didn't post big yards, but he was able to exercise the read option in a few key situations. Finally, Lewis was able to complete four passes of 15 yards or more, including a beautiful pass down the sideline to Robert Woods and a seam pass to tight end Lee Smith.
Final Thoughts:
Despite not having EJ Manuel in this game, the Bills still provided plenty of good signs for the future. They were able to strike a balance between aggressive pass rushing and stout run defense for the first time all season. Most importantly, it occurred with the Bills playing a Miami team that was essentially playing for its playoff life. Also Lewis' play should have him considered for a permanent role as the Bills' backup quarterback to EJ Manuel. His numbers may not be striking, but they are certainly serviceable. Finally, Robert Woods played yet another outstanding game, even if he was ejected for throwing a punch at a Miami defender early in the third quarter. With Stevie Johnson out, Woods stepped up and led the team with three receptions for 70 yards.
Sunday's game against Miami was a game that all Bills fans could enjoy. Despite it being a low scoring affair, Buffalo's defense was a treat to watch. Games like this is how you reignite a rivalry. Now it's time to see if the Bills can win in New England and finish with a winning record in the AFC East for the first time since 2007.