Sigh, NFL draft talk has begun in Buffalo.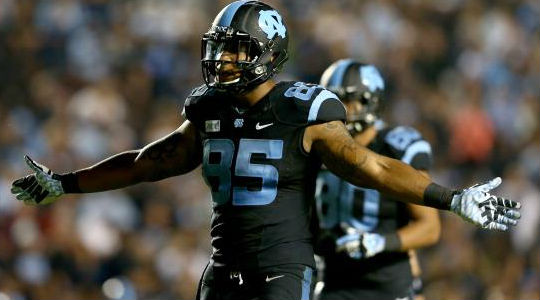 I love the NFL draft, but this is the time of year when many fan bases are talking about the playoffs. Unfortunately, our FAMbase is once again discussing who Buffalo should be taking in the first round of the 2014 NFL draft.
Right now, tight end Eric Ebron of North Carolina is one of the popular choices.
Just a few examples floating out there in the Twitter-verse.
Doing a little NFL Draft prospecting for the Bills right now. Man, UNC tight Eric Ebron would be niiiice. 6'4″ 245 & he can MOVE. 1st Round.

— Jonah Javad (@JonahJavad) December 19, 2013
Right now the #Bills would have the 10th pick in the draft. I like that a lot, right in the perfect area to select Eric Ebron or CJ Mosley.

— Joe Marino (@TheJoeMarino) December 16, 2013
Nooooooo! MT @NEPD_Loyko: 10) #Bills -Eric Ebron, TE, North Carolina – Ebron will go higher than many even realize. #LoykoMock

— PatriotsXLVIII (@PatriotsXLVIII) December 17, 2013
Every person mentioning Ebron above is someone I respect as a writer and/or broadcaster. At one point, I was all-aboard the tight end train in the first round, but how much impact do first round tight ends really have? To find out, I looked at the first tight end taken in each of the last five draft classes and their rookie stats.
1st Round Tight Ends/First Tight End Selected (2009-2013)
2009- Brandon Pettigrew (11 games played): 30 receptions, 346 yards, 2 touchdowns

2010- Jermaine Gresham (15 games played): 52 receptions, 471 yards, 4 touchdowns

2011- No tight end selected in the first round.

First tight end selected:

Kyle Rudolph (15 games played): 26 receptions, 249 yards, 3 touchdowns

2012- No tight end selected in the first round.

First tight end selected:

Coby Fleener (12 games played) : 26 receptions, 281 yards, 2 touchdowns

2013- Tyler Eifert (14 games played): 38 receptions, 439 yards, 2 touchdowns*
*- Still in-season
Some of these rookies have had more success than others, but are any of them considered as top tight ends? No. Eifert certainly has everything you want in a tight end and may reach that level and Fleener is only in year two, but the latter three haven't been able to consistently play at a high level, especially out of the gate.
Ebron is a large target at 6'4″ and he has speed to boot. He has all the intangibles you'd look for in a franchise tight end, but currently lacks the polish.
Now I don't own a crystal ball, so it'd be foolish for me to guarantee that Ebron can't contribute significantly right out of the gate or emerge into a top tight end, but recent history isn't on his side.
Bottom line, taking a tight end in the first round would be a risky move for the Bills.
What Should the Bills Do?
Buffalo's current starting tight end, Scott Chandler, is scheduled to hit the free agent market this off-season. It almost feels as though Chandler is under-appreciated by a lot of the fan base. Through 14 games, Chandler has 48 receptions for 569 yards and 2 touchdowns.
Chandler's 48 receptions ranks 15th for tight ends. His 569 yards? Good for 14th among fellow tight ends.
Re-signing Chandler should be one of Buffalo's top priorities in the off-season. He won't break the bank and you're not losing a quality player. If Buffalo feels inclined to still draft a tight end, they can do so after round one and develop him.
Top Tight Ends Needed Time

Top tight ends in the NFL didn't emerge overnight. Don't believe me? Look at the most productive tight ends in the league:
Jimmy Graham? Emerged in his second season.
This is his third season in the league for Jordan Cameron.
Tony Gonzalez, a future Hall of Famer, took three seasons to break out.
The same can be said for Antonio Gates, Julius Thomas, Jason Witten and a slew of others. Immediate results just aren't there with tight ends for the most part.
Although the Bills have more pressing needs, if Buffalo selects Eric Ebron or another tight end in round one it's fine by me. Just don't expect immediate results and be patient.