It doesn't matter who the opponent is each year, the result is the same. Playing a Bills football "home" game in Toronto is like slowly starting to "split the baby" (Biblical reference).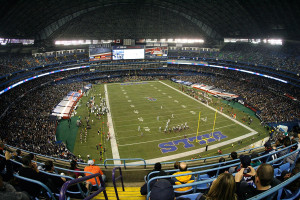 I've come to the conclusion after trying to embrace "The Toronto Game" for several years now that no matter what moniker "regionalization" is sold, it is really just purgatory for all affected by a one game per season international departure from The Ralph. No one wins… it's simply put, a game of perpetual purgatory. Say that fast five times!
Clearly the Canadian Football League cannot be pleased. I'd become an Argonaut fan if they move the Bills to Toronto just to spend money on a rival league if they ever move the Bills out of WNY. Toronto and Buffalo are heated rivals in hockey. This kind of forced melding can prove to be a detriment to all parties involved.
You can't just pick up Team A and insert it into City B and expect it to work. There is a cultural identity that goes with team loyalty, and the Bills have a fan base that has shed itself of every bandwagon fan that ever hopped aboard the wagon in the 90's.
So whenever THIS game happens every year, I grouse a lot but understand that under the guise of "regionalization," this is the penance (lots of religious references today) we pay as Bills fans. I really don't need the Russ Brandon School of Political Correctness lecture about why regionalization is important. I GET IT.
However, it doesn't mean I have to like it. After having returned to The Ralph for the Jets game a couple of weeks ago, I realized how much "home field advantage" means. For the last several years, I've been attending Bills games in Miami, Denver, and San Diego.
When I came home to see a game at The Ralph, it was completely rejuvenating as a Bills fan who lives a couple thousand miles away. I looked around the stadium and just marveled at the sea of Bills blue, and realized that there were more Bills fans sitting at The Ralph than the entire population of Casper, Wyoming. Casper is one of two cities in Wyoming with a population over 60,000.
So this year's game in Purgatory is against the 2-9 Atlanta Falcons. The demise of the Falcons this season is a bit of a mystery to me. That stated, the Bills could cement a foundation for a turnaround if they beat the Falcons on Sunday.
One thing I won't be able to count on is being able to tell what happened if I look away from the television set. It's too hard to tell when something big happens if you are not watching because the fans at the Toronto game have no idea when to cheer or boo. It's like the Bills are playing a game on Pluto.
So, once again I'll pinch my nose and try to embrace Purgatory Week for the Buffalo Bills. This time, for the first time in many years I'll be watching with a different perspective. Is this the game where we see the big turn? Is this the year that the Bills finally finish a season strong with a sense of purpose moving forward?
I was struck by a comment that Marrone made in his weekly radio interview with Howard Simon on WGR550 yesterday. Marrone said he is looking forward to the day when he gets up in the morning in the middle of a snowstorm and goes to work at The Ralph preparing for a January playoff game in Buffalo. That was like music to this old Bills fan's ears.
When was the last time the Bills were a relevant team during Christmas holiday sport discussions? When was the last time that Bills fans did NOT have a lump of coal in the bottom of their stocking on Christmas morning? HINT: Bill Clinton was President.
So indeed, when Coach Marrone makes references to living and being a long time member of the WNY community, it makes this old Bills fan smile.
In fact, it makes me smile in a special way having just returned from the homeland. I took a drive around part of the city where I lived while working at Roswell and going to college at UB. Had not cruised those neighborhoods in the over 30+ since I left WNY.
What I came away with was priceless. The streets were pristine and not a piece of litter to be found anywhere. Homes were well cared for and those that were not were secured. E & W Ferry, Masten, Michigan, Humboldt, Huron, Elmwood, The Broadway Market… they were a joy to behold.
Going by the old War Memorial Stadium area where it all started for the Bills was incredible. Enough infrastructure is still left in the area for it to honor its storied past. This is the birthplace of the Buffalo Bills. That old standing buffalo is a favorite for a reason.
Cruising the streets of the East Side and downtown was one of the best experiences of my life as far as giving me hope for the future. Buffalo has survived Armageddon and is turning around. Wouldn't it be fitting if the Bills did the same?
In the meantime, plug your nose, look up the definition of purgatory and prepare to watch another Bills game on Pluto.